Description
Breastfeeding: Daddy Duties
Breastfeeding is deemed mainly the mother's responsibility and effort.
We think that though this ring's true (it is the mother's body that we're referring to after all), her environment and a support system is utterly important in her journey. Who better to take this role than her husband. After all, it takes two to tango!
Whether you're a new or seasoned parent, join us for this unique workshop - you're bound to learn something new!
What expecting parents will learn from this workshop:

The basics of breastfeeding

Understanding what mommies will experience after birth with regards to breastfeeding

How Daddies can be superheroes and save the day for mommies and little ones

Building a support system for mommy
SPEAKER
Gina Yong, Breastfeeding Counselor, Success Coach
Gina Yong is a highly energetic and driven Entrepreneur who enjoys sharing knowledge and experiences with others. She has more than 15 years experience in the area of training & coaching. She attained most of her training in USA and had progressively gained more skills in the area of Human Development and Coaching.

Gina who is a mother to 4 beautiful and healthy children, believes that Health (which starts with being breastfed) is the most important thing in Life and that it is our responsibility to preserve it. Gina advocates Natural Parenting – from a healthy pregnancy to a natural gentle birth which will lead to naturally breastfeeding. She failed to breastfeed her eldest son but after much determination and research, she successfully breastfeed her three younger ones.
Since 2002, Gina has helped thousands of parents successfully breastfeed their babies and coached them in giving the best of life to their children. She is also the author of 'Love Breastfeeding'. Trained in USA, Gina is much sought-after as a speaker in various groups for her knowledge of Breastfeeding, Holistic Wellness and Fitness Nutrition.
Gina founded the largest and most active Facebook-based breastfeeding support group in Malaysia : The Breastfeeding Advocates Network (TBAN) with more than 100,000 members and are receiving more than 100 new members daily. New parents receive help and support in the group to breastfeed their babies. TBAN aim to educate the modern parents on breastfeeding and to normalize breastfeeding in our society.

After kick-starting a new era of postnatal service centres in 2012, she founded Gina's Place : The Breastfeeding Postnatal Centre in 2014 to support mothers in their postnatal rejuvenation and help them meet their breastfeeding goals. She is currently also a consultant at Kimporo Postnatal Rejuvenation Centre.
Gina is passionate and dedicated to helping others exceed excellence. She hopes that through her education and research, more babies will be added to the growing statistics of "Exclusively fed on Mommy's Milk".
Who better to guide a new mama than a mama who's been through it all?
EVENT AGENDA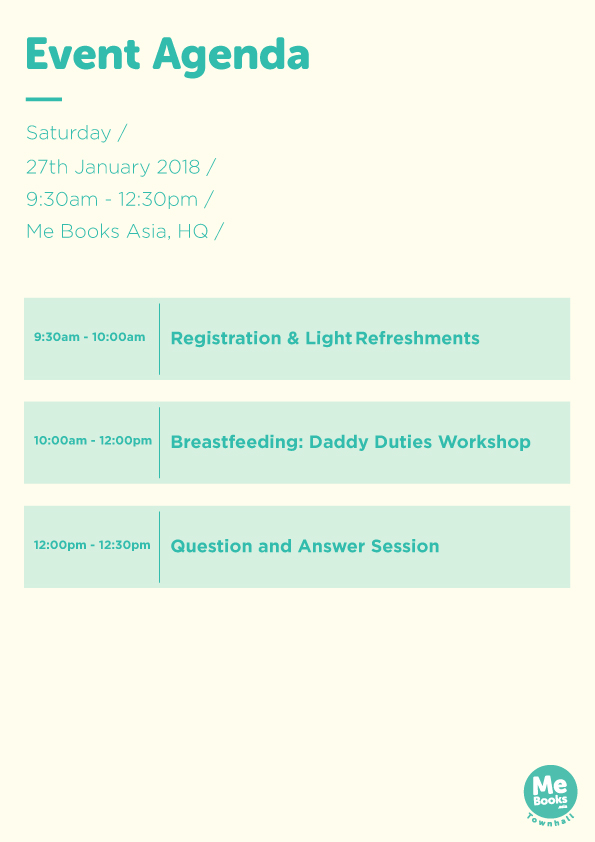 TICKETING INFORMATION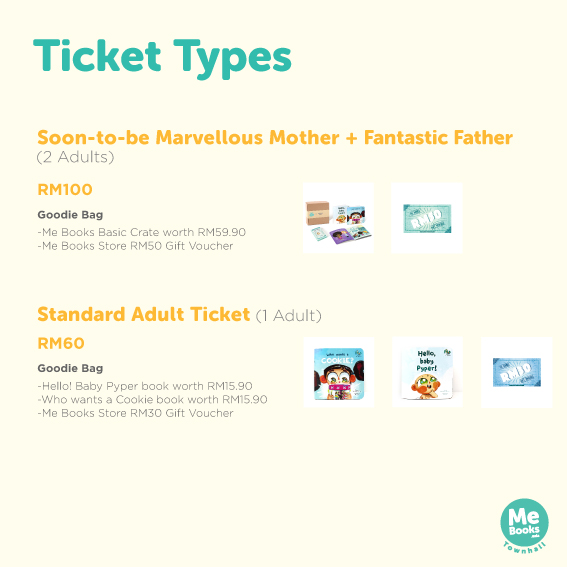 More information on Me Books Crate can be found here.
TERMS & CONDITIONS
All registered attendees will automatically receive future communications from Me Books Asia
FAQs
What are my transportation/parking options for getting to and from the event?
There is ample parking available at UOA Business Park, Glenmarie. Alternatively, for a little bit of family adventure, it is a comfortable 5 to 10 minute walk from the Subang Jaya LRT or KTM station.
When will I receive my event goodie bag?
Goodie bags will be given to attendees at the workshop.
Is the Me Books Store gift voucher available for all products?
Yes! It sure is.
How can I contact the organizer with any questions?
Do drop us an email at hello@mebooks.asia or alternatively, we can be reached at +603 5569 3159 (Monday to Friday, 9.30am to 6pm)
If you can't find the answer to a question that you have here, please do not hesitate to contact us at hello@mebooks.asia and we'd be happy to look into it.