Breakthroughs in Medical Cannabis for Autism - ICare4Autism 2019 International Conference
When and where
Location
Albert Einstein College of Medicine Robbins Auditorium (South Campus) 1300 MORRIS PARK AVE Bronx, NY 10461
Refund Policy
Refunds up to 1 day before event
Description
The ICare4Autism International Conference "Cannabinoids, Medical Cannabis, Neurodiversity and Autism" is a unique opportunity to connect with a diverse international community of professionals that care about the future of individuals with special abilities.
Our goal is to create a collaborative forum on Autism Spectrum Disorders (ASDs) that will increase awareness, knowledge of medical & educational research findings, evidence-based clinical best-practices, inform policymakers, and empower people with ASDs and their family members.
Featured Speakers:
JOSHUA WEINSTEIN, M.B.A., PH.D.

,

Founder and CEO, ICARE4Autism and Shema Kolainu-Hear Our Voices

ERIC HOLLANDER, M.D.

,

Chairman, ICARE4Autism Advisory Committee; Director-Autism and Obsessive-Compulsive Spectrum Program, Prof. of Psychiatry and Behavioral Sciences, Albert Einstein College of Medicine and Psychiatric Research Institute at Montefiore-Einstein

JONATHAN ALPERT, M.D., PH.D.,

Chairman, Department of Psychiatry and Behavioral Sciences; Professor, Departments of Pediatrics, Neuroscience, and Psychiatry & Behavioral Sciences, Albert Einstein College of Medicine

MICHAEL DOR, M.D., M.P.A.

,

Senior Medical Advisor of the Medical Cannabis Unit in the Israeli Ministry of Health

GAL MEIRI, M.D.,

Head, Preschool Psychiatry Unit, Soroka University Medical Center, Lecturer, Faculty of Health Sciences, Ben Gurion University, Israel

SOPHIE MOLHOLM, PH.D.

,

Professor, Departments of Pediatrics, Neuroscience, and Psychiatry & Behavioral Sciences; Director of Research, Children's Evaluation and Rehabilitation Center; Associate Director, Rose F. Kennedy Intellectual & Developmental Disabilities Research Center, The Cognitive Neurophysiology Laboratory Albert Einstein College of Medicine

STEPHEN SHORE, ED.D.

,

Assistant Professor of Education, Adelphi University; NY Member of the ICARE4Autism Advisory Committee

CASARA JEAN FERRETTI, M.S.

(Research Associate at Albert Einstein College of Medicine) Ph.D. Student, Clinical Psychology Health Emphasis Program, Class of 2021 – Ferkauf Graduate School of Psychology, Yeshiva University

CHINAZO CUNNINGHAM, M.D., M.S.

,

Associate Chief, Division of General Internal Medicine, Professor of Medicine, Montefiore Medical Center, Albert Einstein College of Medicine

MAIA SZALAVITZ,

journalist and author of a NY Times Bestseller- book entitled: Unbroken Brain.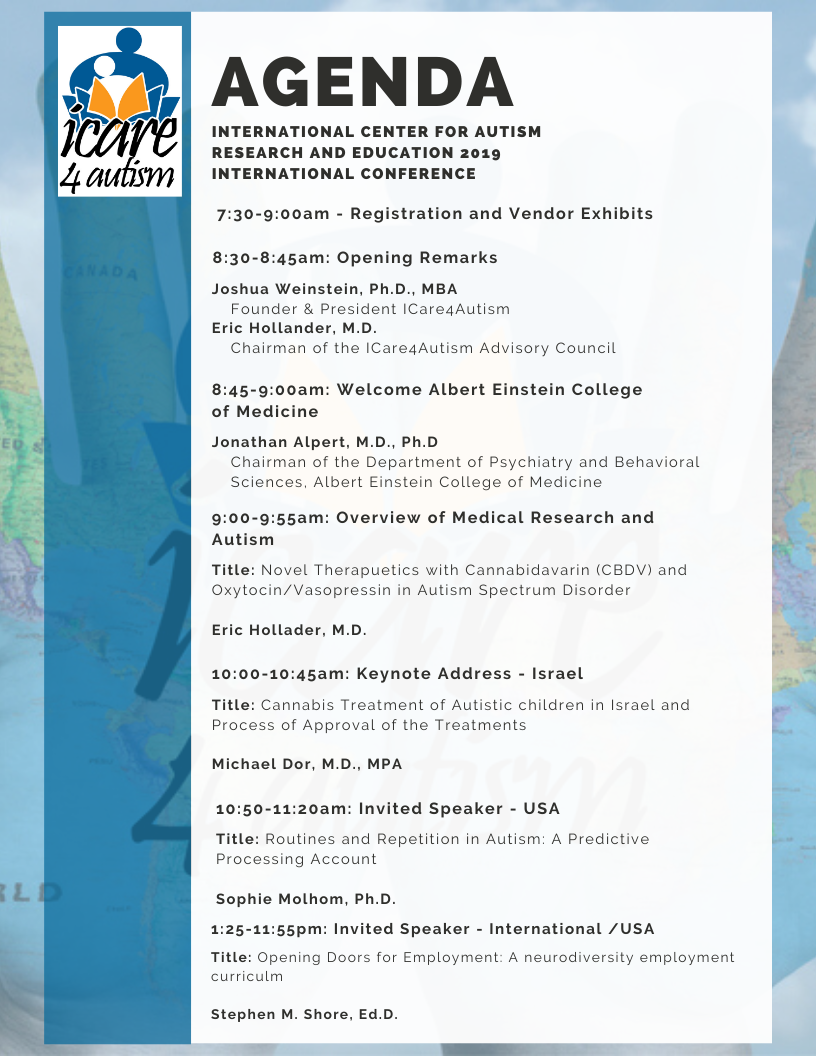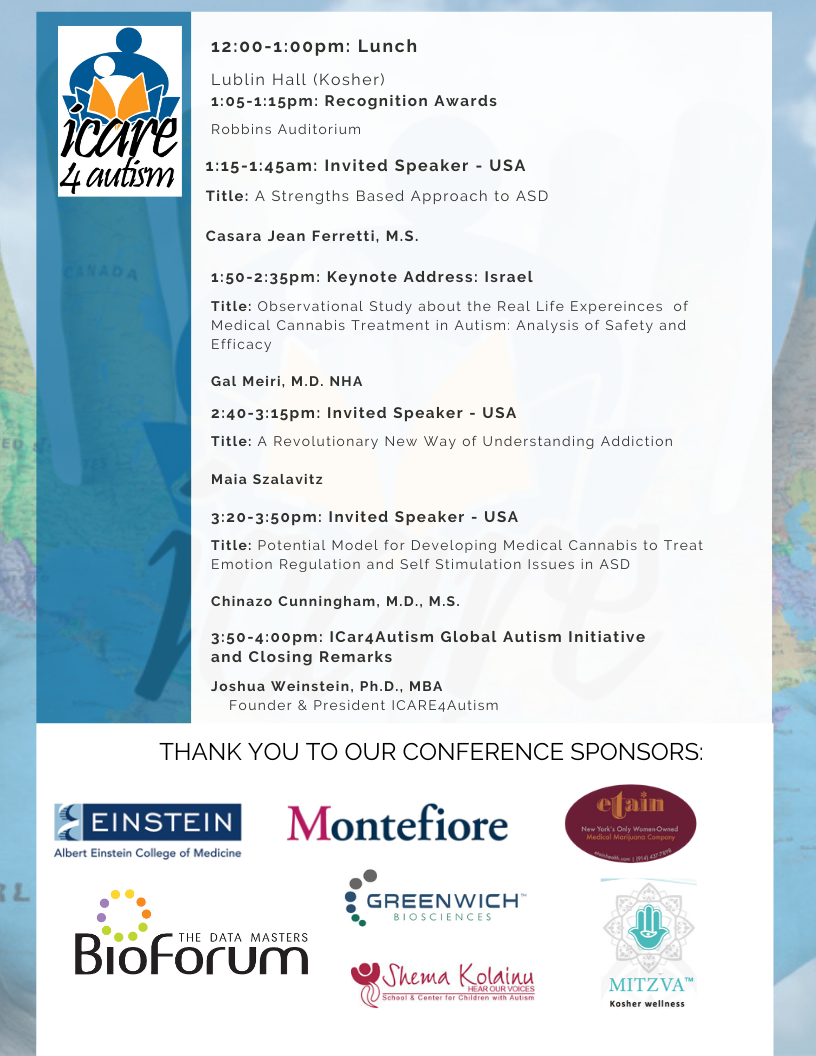 Forchheimer Building, 1300 Morris Park Ave, The Bronx, NY 10461 VIEW MAP
Guests of the conference should enter through the front lobby of the Forchheimer Building security will check in guests at the front lobby (guests may be required to show ID)
LUNCH:
Kosher lunch service available

STUDENTS:
Please bring your student ID.
PARKING:
If you do plan to drive, on-campus parking is available. You may use the Kwik Park parking lot on Eastchester Road (at Stillwell Avenue) adjacent Einstein's student housing complex or the 24-hour Weiler Hospital parking lot on Sackett Avenue.
The Kwik Park lot (formerly managed by Kinney and PF) is located on the west side of the street of Eastchester Road at the intersection for Stillwell Avenue; it is one block north of Morris Park Avenue.. If traveling from Pelham Parkway, turn south onto Eastchester Road and then right at the second set of traffic lights into the parking garage. The lot is open between 6:30 a.m. and 8:00 p.m. The maximum charge for the day is $10.00.
Please note:
When using the Kwik Park lot,
you will not have access to your car after 8:00 p.m.
(Call 718.430.7021 for additional information.)
The 24-hour parking lot by Weiler Hospital is located on Sackett Avenue; take the right fork where Sackett intersects with Eastchester Road, just after the Morris Park Avenue intersection (across from the car wash), when heading south. The lot is opposite Weiler Hospital, just a short walk to Einstein's Belfer building. To view the location of each parking lot, see the
campus map
.
**Street parking may be available as well.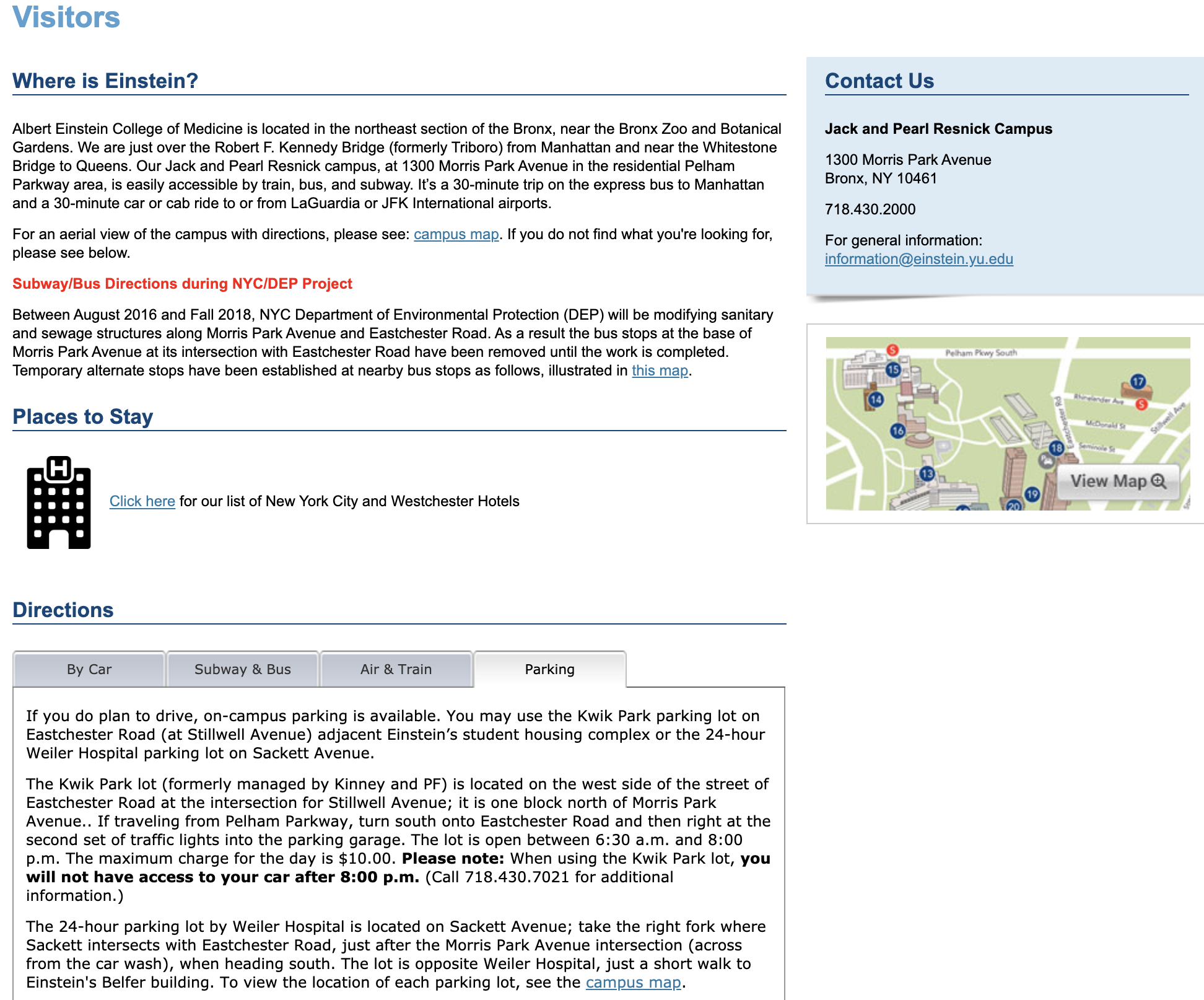 ---
OTHER KEY SPEAKERS TO BE ANNOUNCED