Description
Learn the secrets for creating results-driven goals that deliver!
In this engaging 90-minute workshop, inspirational speaker and founder of U & Improved Jodi Low will teach you how to create goals that deliver the results you want. Whether it's for your business or your personal life, learn the strategies and techniques that successful businesses and individuals use to obtain their desired outcomes and reach their dreams.
In this workshop, U will:
Uncover the critical components of effective goals

Identify where you've been and where you want to be

Discover the 5 Stepping Stones of Success

Learn how to create an action plan to reach your goals!
Part of U & Improved's Breakthrough Series, this workshop was created to give you the tools to U need to reach your personal and professional goals. Whether you're a CEO, small business owner, entrepreneur or lifelong learner, you will gain the insights and techniques to shift your mindset, empower those around you, realign with your goals and get results!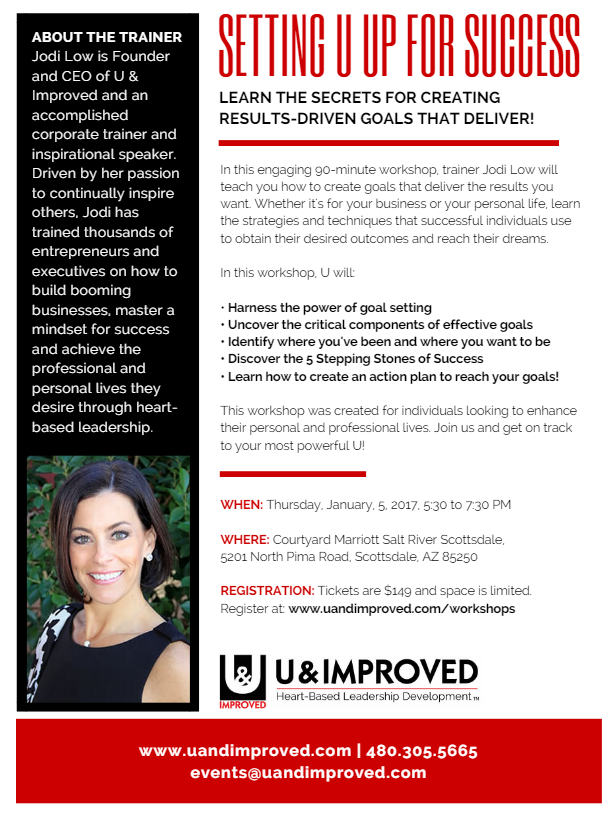 ---
About the Trainer
Jodi Low is Founder and CEO of U & Improved and an accomplished corporate trainer and inspirational speaker. Driven by her passion to continually inspire others, Jodi has trained thousands of entrepreneurs and executives on how to build booming businesses, master a mindset for success and achieve the professional and personal lives they desire through heart-based leadership.
Learn more about U & Improved at www.uandimproved.com.