Description
Quit adulting, do fun shit, start loving life again, and live happily ever after!
Imagine taking a break from your stale and stressed out routine and jumping into a wilderness playground where there are no worries, lots of laughter and you can connect with people where we're all for one, and one for all.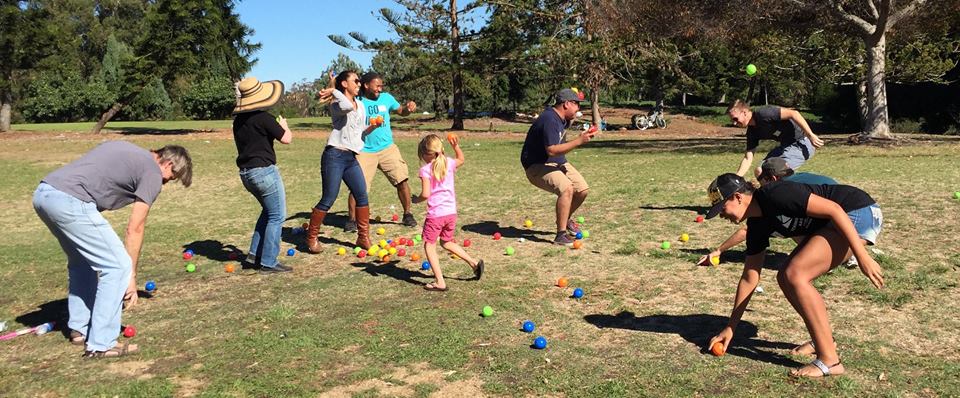 That's why we've created this retreat!
Whether you are frequently stressed out, battling burnout, feeling stuck, or just looking for that little something to get you to the next level in your life or career this retreat is for you. We get it, "adulting" can be a challenge, but it doesn't have to be. Here's what we're going to do: we're going to help you unlearn old habits so that you are well-equipped to deal with the day-to-day stresses of life. This is an investment that you'll carry with you forever.
We're bringing in amazing improvisers, a well-renowned chef, and other accomplished facilitators to create an experience where you can play silly games, have meaningful conversations, and make time to recharge and reconnect with yourself and nature. You may be thinking, "What if this doesn't work?" If you don't leave the event feeling revived and ready to tackle the world, we'll give you your money back.


How is the day structured
Without giving all the surprises of the day away here's a glimpse of what's instore...
8:00a You will arrive at the secret location where you will be greeted by your guides that will shuttle you to the event. During the shuttle ride we will provide you with breakfast and allow you to connect with the other attendees through some fun structured activities.

Morning: During the morning sessions we will focus on connection and discovery. You will learn about your play personality, and play some fun games to help you understand how to better connect with your inner-child to become more creative in all areas of your life.
Lunch: At this retreat you will be treated to an exciting hands-on experience where Chef Kat will teach you how to be more playful with your food, and will guide you in creating one of her award winning meals.
Afternoon: The afternoon will bring you back to the fun times you had at summer camp. We will have arts & crafts, fun challenges, and a few surprises.
Evening: We will end our jammed pack day with a goodbye party that will allow you to lock everything in from the day, and leave you feeling refreshed, energized, and ready to tackle adult life in a more playful way. You will then board the shuttle and be taken back to the check-point a new, more playful person.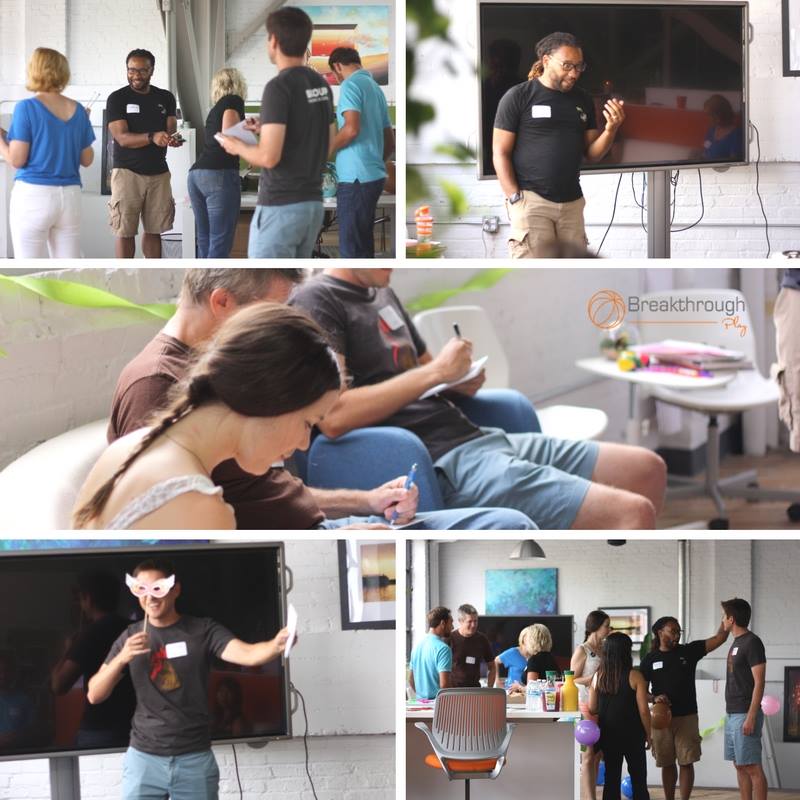 ---
Testimonials
"Gary's events are so fun, laughter-filled, silly, engaging, interesting, helpful, and memorable. Afterwards, I always end up telling everybody about all the fun stuff that we did and what I learned. It's addicting." - Ryan Walsh
"I had an incredibly eye opening experience! I was able to let go of inhibitions, baggage, & just play wholeheartedly for over and hour." - Claudia Sandoval
"I've taken two improv workshops with Gary and look forward to every event he hosts! His workshops are fun, funny and best of all I get to hang out and be silly with some amazing people. Gary enjoys teaching as much as his workshop participant enjoy learning. I would recommend Gary's improv workshops to anyone looking to gain more confidence in front of an audience or to anyone that wants to try something new." - Stephanie Liu
---
Meet our Playstructors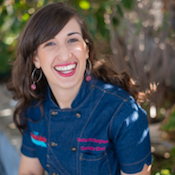 Chef Katherine Humphus
Chef Kat is an award winning, classically trained Chef that is graduate of Le Cordon Bleu in Paris, France. She has worked in Manhattan kitchens under famed chef Wylie Dufresne at WD-50, and also under world-renowned chef Thomas Keller at The French Laundry in Napa. Chef Kat now runs the meal delivery company Savory Made Simple where she helps people like you simplify their lives and cook amazing healthy meals while looking like a rockstar. Kat is not your average chef when she is not making lives better she can often be found skydiving, traveling the world, or playing Cards Against Humanity with a bunch of close friends.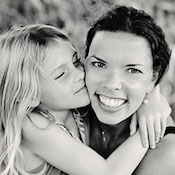 Sara Schairer
Sara Schairer is the founder and executive director of COMPASSION IT, a start-up nonprofit organization and global social movement whose mission is to inspire daily compassionate actions and attitudes. Sara encourages her audiences to "compassion it" in their daily lives. A Stanford-certified instructor of Compassion Cultivation Training (CCT), Sara has taught CCT at the UCSD Center for Mindfulness, Kaiser Permanente, the Naval Medical Center to name a few. When she is not helping people have more compassion, you can find Sara playing with her energetic daughter Hannah.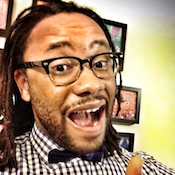 Gary Ware
Gary Ware will be your host for this adventure and runs the site Breakthrough Play where he helps professionals level-up their confidence, creativity, and happiness using play. To do this Gary incorporates techniques that professional improvisers use to create amazing experiences with no script. Gary has over half a decade experience with improvisation, and over 14 years in the field of Digital Marketing. Gary has helped hundreds of companies and thousands of professionals like you make major breakthroughs in their life. When he is not doing leading fun workshops you can find Gary on the stage performing improvisation at Finest City Improv. He is also a big fan of Star Wars, Disney, and Legos.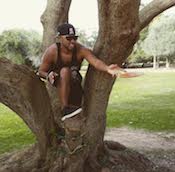 Kai Dickens
Kai is the founder of PLAYOLOGY where he is the head PLAYOLOGIST and Executive Leadership Consultant. After receiving one of the biggest wake up calls of his life when he got the call that his father had passed away (at the young age of 55) he walked away from a great job with amazing benefits and a nice paycheck to step into his life. Ultimately, what had once been his dream job as the director of a very large summer camp had left him passionateless, burnt out and over it from the long days and 70+ hour weeks month after month. For the next year and a half all he did was play and connect with friends. He was LIVING and LOVING life again. During this time, he noticed the more he played and included others, the happier everyone around him became. Knowing that he wanted more of that in his life he created PLAYOLOGY for the sole purpose of bringing adults back to play and happiness back to corporate culture.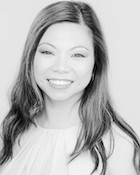 Rielee Rey

Rielee Rey is the founder of WendWell (wendwell.net) and a constant traveller (25 countries over 5 continents and counting!). She established WendWell to support transplants, expats and nomads land on their feet, make connections and to keep on going, wherever they find themselves. Rielee is a trained executive coach, with qualifications in Psychology. She has an Executive MBA (International Management), and completed aspects of her studies in Europe and Asia. When she is not jetting off somewhere, you'll find her at the movies; trying out the latest "foodie" restaurant; drinking a new coffee blend; on the dance floor or on a road trip. She is also a theatre, improv and [new] ukulele enthusiast.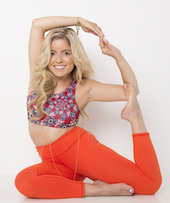 Elishia Ortiz
Elishia Ortiz is a Yoga Instructor for companies, children and adults. Her passion stems from her background as a competitive ballroom dancer. Through yoga and dancing, she passionately empowers people to become the best version of themselves, both on and off the mat. Upon completing her 200-hour Yoga Teacher Training at Corepower Yoga in 2014, Elishia has found her calling teaching Vinyasa Flow, Yoga Sculpt, Stand-Up Paddleboard Yoga and Kids Yoga. With her playful teaching style, she draws her students back into the present moment to focus on self love and sends them away feeling relaxed, renewed and ready to shine their light on the world!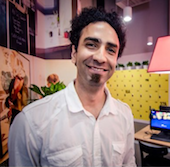 Arya Salehi
Arya's passion is to empower people to create flow and connection within their lives and organizations. He has a background in education and design with 4+ years of experience developing programs for employee engagement and leadership development, in small and large organizations. He believes experience drives learning and behavioral change arises with self-awareness. The discipline he teaches and follow includes storytelling, mind-body practice, goal-setting, and role play. What he learned over the years is to apply a targeted and personalized approach that engages the whole person in the process of change.
---
Is This Retreat For Me?
If you answer YES to one, some or all of these things, then this event is for you!
Does the idea of expanding your social circle sound appealing?
Does doing something for yourself sound unusual, needed, nice?
Do you say yes to everyone but yourself?
Do you feel your relationships are surface-level, that there's not a lot of substance to them?
Do you feel stuck in a rut?
Do you want to belong, to feel a part of a community?
Have you done everything you're supposed to do – the job, the condo, the schooling, the significant other – but still feel something is amiss?
Are you tired of feeling bad about yourself because you're ______?
Are you tired of trying to impress others, of being someone who you're not? Would you like to be yourself, around other people being themselves?
Are you looking for an answer to "What am I passionate about?" "What do I want to do?"
Do you wish you had more confidence in yourself?
Do you want to be doing something else professionally?
Do you find yourself constantly being envious of others' lives?
Are you ready for a change?
Do you think you have a superpower or two that may be of use to others?
Do you feel like you're treading water, constantly moving but never getting anywhere?