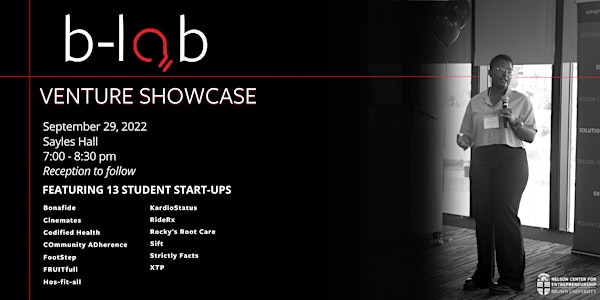 Breakthrough Lab (B-Lab) Venture Showcase 2022
Are you joining us virtually this evening? Below is the link to join the livestream. https://livestream.brown.edu/live2
When and where
Location
Sayles Hall 81 Waterman St Providence, RI 02912
About this event
About B-Lab
Brown University's Breakthrough Lab (B-Lab) is an intensive 8-week accelerator program that supports student entrepreneurs who are developing high-impact ventures.
B-Lab provides students with access to high-level, sector-specific mentoring, business and technical support, focused programming and dedicated space and a summer stipend. This summer's ventures span a wide range of market sectors and included ventures devloping solutions for healthcare technology, e-commerce, skincare products, gaming platforms for civic engagement, and many others. In B-Lab, we value the personal and professional development of our participants alongside the development of their ventures, and in so doing we aim to continue building an ecosystem of next-generation entrepreneurs.
Read about the 2022 cohort, here.
About B-Lab Showcase
B-Lab Showcase is in-person for the first time in two years! Join us for a celebratory evening to learn about what the B-Lab 2022 cohort has been up to this summer. B-Lab Venture Showcase presentations are a significant milestone for the students who spent their summer in Providence exploring, experimenting, and advancing their ventures.
Event Schedule
6:30-7:00 pm ET: Doors Open
7:00–7:05 pm ET: Welcome and Event Overview
7:05–8:30 pm ET: Student Venture Pitches
8:30–9:30 pm ET: Networking with the Ventures (Reception)
Recording Notice
All or portions of Brown University events and their participants may be captured by photography or video and used for news or Brown promotional purposes.