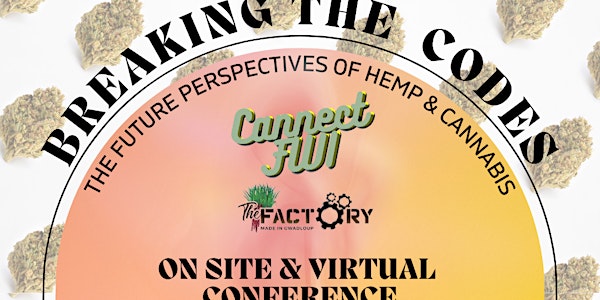 Breaking the codes : THE FUTURE PERSPECTIVES OF HEMP & CANNABIS
Cannect FWI presents "Breaking the codes", an on site and online conference on the future of hemp and cannabis. Infused tapas & cocktails..
About this event
***This event will be in French and in English***Cet évènement sera en français et en anglais***
La version française suit.
Friday, August 19th at 5pm, meet our global speakers :
Qlin Achat from Trinidad & Tobago, Malobi Ogbechie from Nigeria, Sabine Cophy from Paris, Hr Panama from Guadeloupe, Necole Hines from Vancouver, Gilles Baselto from Martinique, Solonje Burnett from New-York City, Ashley Athill from Toronto and Benjamin Coudriet from Réunion Island. This conference will highlight the work and actions of worldwide actors of the cannabis industry.
If you have the chance to be in Guadeloupe, the conference will be followed by a networking event where people will have the chance to experience tapas and cocktails infused with CBD x CBG & TERPENES.
Thank you for our sponsors LA CHANVRÉ PARIS & KUFF.
Thank you for our partners The Factory & ToniiVeg
Eventbrite link to RSVP : https://www.eventbrite.com/e/breaking-the-codes-the-future-perspectives-of-hemp-cannabis-tickets-401547367987
Vendredi 19 août à 17h, retrouvez nos intervenants internationaux :
Qlin Achat de Trinidad & Tobago, Malobi Ogbechie du Nigéria, Sabine Cophy de Paris, Hr Panama de Guadeloupe, Necole Hines de Vancouver, Gilles Baselto de Martinique, Solonje Burnett de New-York, Ashley Athill de Toronto et Benjamin Coudriet de La Réunion . Cette conférence mettra en lumière le travail et les actions des acteurs mondiaux de l'industrie du cannabis.
Si vous avez la chance d'être en Guadeloupe, la conférence sera suivie de réseautage où vous pourrez découvrir des tapas et des cocktails infusés aux CBD x CBG & TERPENES.
Merci à nos sponsors LA CHANVRÉ PARIS & KUFF.
Merci à nos partenaires The Factory & ToniiVeg
Lien Eventbrite pour RSVP : https://www.eventbrite.com/e/breaking-the-codes-the-future-perspectives-of-hemp-cannabis-tickets-401547367987