Breaking the Code to Top Secret Government Contracts & College Scholarships
We're are breaking the code to Government Contracts & College Scholarships: Kids and Teen Edition! Learn how to build generational wealth!
About this event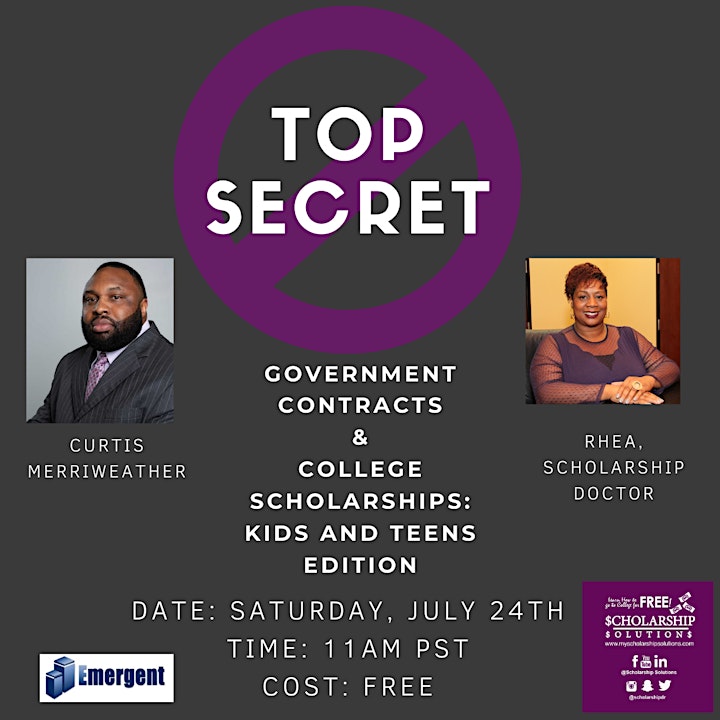 Mr. Curtis Merriweather, thought leader, strategist, and CEO of Emergent, Inc., is a leading expert in Government Contracts. Curtis has secured numerous multimillion dollar contracts and is ready to provide you with Seven Steps to Contracting with the Government.
Rhea, Scholarship Doctor with Scholarship Solutions, an internationally recognized expert on student financial aid and scholarships has helped students of all ages 0-90 earn over 200 million in scholarships and grants. she will provide you with the 1-2-3 of going to college debt free.
DON'T MISS THIS DYNAMIC DUO! JOIN US!
You can find Scholarship Solutions on all major Social Media platforms:
Instagram| Tik Tok| Clubhouse | Twitter | Snapchat: scholarshipdr
Facebook | LinkedIn | YouTube: Scholarship Solutions
Website: myscholarshipsolutions.com
Thanks and we will see you Saturday, July 24th @ 11am pst ~ The Scholarship Doctor
Call us with Questions: 702.623.9500 (office number)
Organizer of Breaking the Code to Top Secret Government Contracts & College Scholarships