Event Information
Location
Kossiakoff Center, The Johns Hopkins University Applied Physics Laboratory
11100 Johns Hopkins Rd
Laurel, MD 20723
Description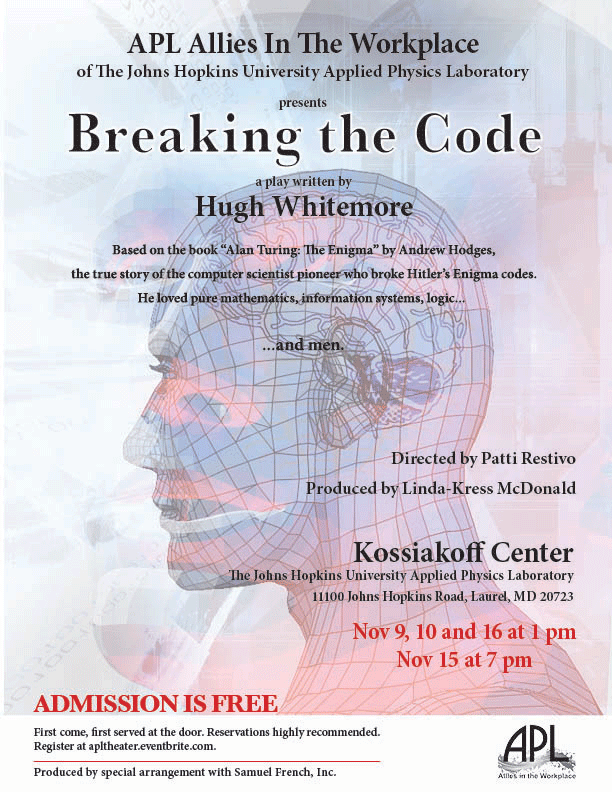 APL Allies in the Workplace of the Johns Hopkins University Applied Physics Laboratory presents the play version of the true story of Alan Turing, the British cryptanalyst and trailblazing mathematician who shortened World War II by breaking Hitler's U-boat Enigma codes.
In 1952, the British government convicted Turing of gross indecency under an 1885 law that targeted homosexual men, effectively destroying his career. Some of his colleagues have said that it's a good thing Turing's homosexuality didn't become public until after the war, because without him
World War II would have been lost.

Based on Andrew Hodges book "Alan Turing: The Enigma" and produced in cooperation with Samuel French, Inc., "Breaking the Code" will play for two weekends only at the Kossiakoff Center.
Allies in the Workplace is an APL employee group that advocates for a non-discriminatory and diverse working environment, specifically for issues of importance to the gay, lesbian, bisexual, transgender, and allied community. Allies in the Workplace seeks to develop a sense of community by providing networking opportunities and social events.
"Breaking the Code" is a recreational theatrical production and does not represent the views or position of the Johns Hopkins University, the Johns Hopkins Applied Physics Laboratory or its director, management or staff, including individuals participating in the production. This production is the equivalent of a "PG-13" rating and is not recommended for children.
Date and time
Location
Kossiakoff Center, The Johns Hopkins University Applied Physics Laboratory
11100 Johns Hopkins Rd
Laurel, MD 20723