Description
You are cordially invited to Students Talking Out Problems Inc.1st Fundraiser & Luncheon. In our 8 years of existence the dynamic board had a vision to jumpstart how we engage with the community. Starting in 2017, our board has commissioned an event to reach the community in a creative and innovative way while generating funds for our operational budget in order to reach more students. We choose to do so by empowering youth to raise their voice against bullying.
The legacy that we strive to leave is organic leadership that develops in generations at our forums and events. Through the course of our existence, we have hosted successful events independently as well as formed strategic collaborations to serve youth in Metro Atlanta.
We are asking you to support our Breaking The Chains Catalyst Fundraiser on Saturday, April 29, 2017 at the Saint Philip A.M.E. Church, 240 Candler Road, Atlanta, GA 30317.
*Red Carpet* *Silent Auction* *Live Entertainment*
*Vendors* *Youth Panel* *SWAG Bags*
*Anti-Bullying Videos*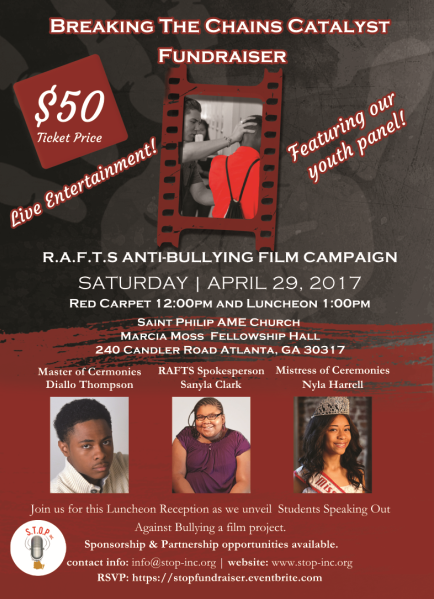 This year's theme is to Raise Awareness For Teen Safety and bring an end to the hurt caused by bullying. 1 in 7 students in grades K – 12 are either a bully or have been a victim of bullying according to statistics from the National Education Association, PACER Center, and StopBullying.gov. We have accepted the call to action by using the talents of youth change agents.
After the event, these videos will be used as resources during our rallies and seminars designed to teach students how to resolve conflict without violence and support one another in overcoming the negative impact bullying has on their self-esteem.
Let's mobilize and start a catalyst for change! Thank you in advance for joining us on our mission to serve youth throughout the year. Together, we can provide help, sustain hope, and positively impact the next generation.
Organizer of Breaking The Chains Catalyst Fundraiser & Luncheon
We believe that youth are the solution to today's problems. Tomorrows future is promising when the youth realize that they are the voice and catalyst for change.
S.T.O.P. Inc.'s Motto: "Breaking the Chains"
Our Vision:
♦ ENCOURAGE TEENS TO MAKE BETTER DECISIONS

♦ HELP OTHERS DEAL WITH NEGATIVE SITUATIONS

♦ PROMOTE THE ADVANCEMENT OF EDUCATION

♦ INFLUENCE POSITIVE LEADERSHIP

Our Purpose:
To alleviate the hardships students face on a daily basis by allowing forums where students can have open dialog in regards to cultural/ self-awareness, educational and career goals, and political and social issues that affect teens.