Description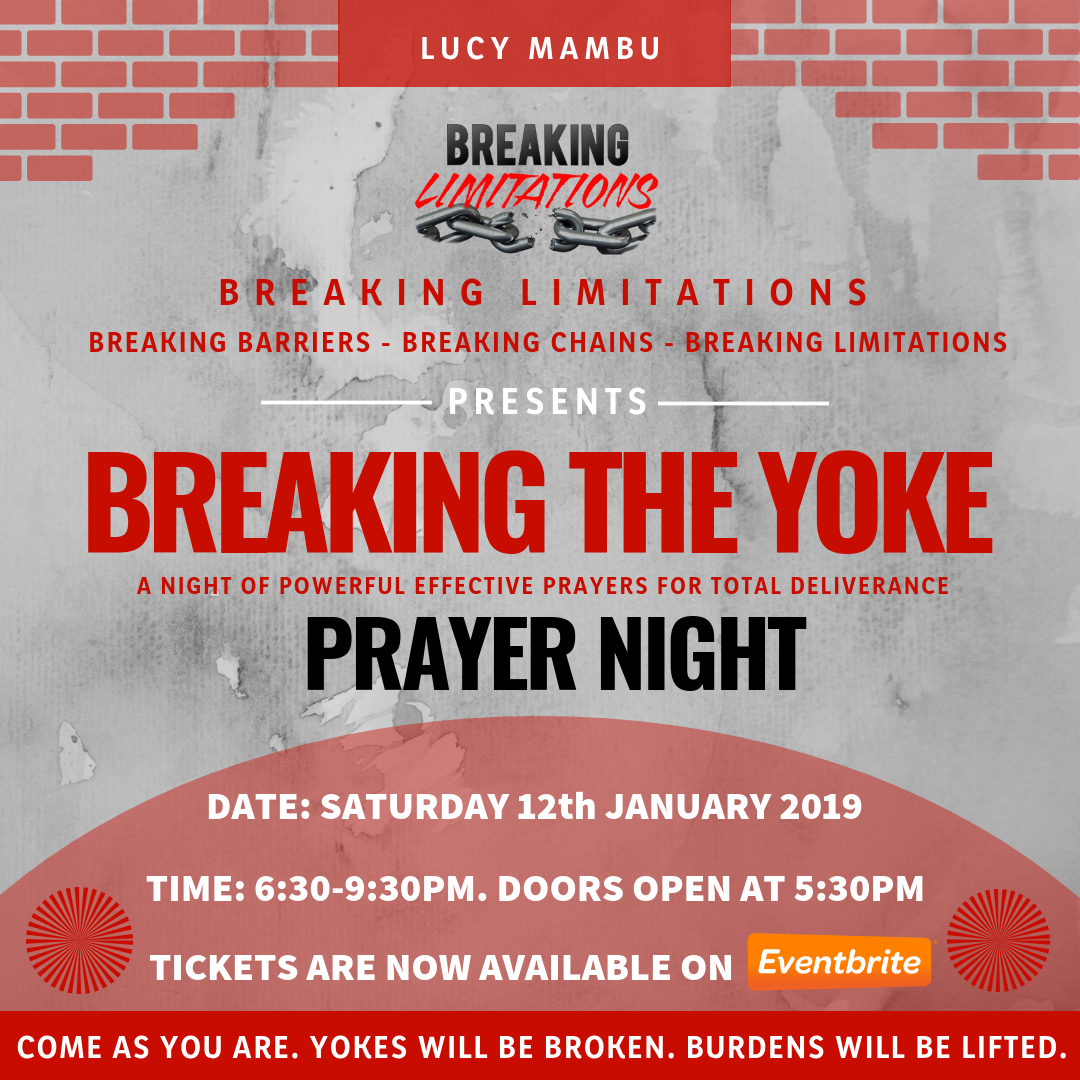 BREAKING LIMITATIONS - BREAKING BARRIERS - BREAKING CHAINS - BREAKING LIMITATIONS WAS FOUNDED BY MISS LUCY MAMBU ON THE 12th OCTOBER 2017 AND WAS LAUNCHED PUBLICLY ON THE 8TH JANUARY 2018 - THIS WAS A PERIOD IN TIME WHEN SHE LOST ABSOLUTELY EVERYTHING; BOUND BY STRONGHOLDS, IMPRISONED, CHAINED, OPPRESSED BY THE ENEMY AND RESTRICTED. SLEEPING IN A CHURCH WITH NO CLUE HOW SHE WAS GOING TO NAVIGATE HER WAY OUT OF THERE. AT THIS TIME IT WAS ONLY HER AND GOD, AFTER MUCH INTERCESSION AND TRAVAILING, BREAKING LIMITATIONS WAS BORN. BREAKING LIMITATIONS IS A VISION DESIGNED TO PARTNER WITH THROUGH EFFECTIVE PRAYERS TO BRING ABOUT DELIVERANCE TO THE BOUND, SET THE CAPTIVES FREE, GIVING SIGHT TO THE BLIND, BREAKING CHAINS OF ADDICTIONS, INSECURITIES, UNBELIEF, FEAR, TRAUNMA FROM PAST EXPERIENCES, BREAKING THE PRISON DOORS OPEN AND EVERYTHING THAT IS LIMITING AND RESTRICTING GOD'S PEOPLE FROM MOVING FORWARD AND LIVING THE LIFE THAT WAS PRE-DESTINED FOR THEM BEFORE THE FOUNDATION OF THE EARTH.
IT'S TIME TO BREAK THE LIMITS AND TAKE POSSESSION OF ALL THE TREASURES THAT WAS MADE AVAILABLE FOR US ON THE CROSS.
JOIN ME AND OTHER PRAYER WARRIORS COMING WITH RAW FIRE POWER PRAYERS FOR A POWERFUL NIGHT OF DELIVERANCE AND TOTAL LIBERTY.
IT IS YOUR TIME FOR A SUPERNATURAL BREAKOUT TO BREAKTHROUGH TO YOUR DIVINE DESTINY.
REGISTER......REGISTER....REGISTER......REGISTER.....REGISTER.....