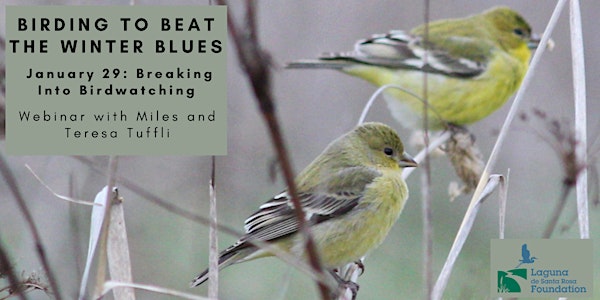 Breaking Into Birdwatching Webinar with Miles and Teresa Tuffli
Start your winter and spring with a webinar by Miles and Teresa Tuffli on how to grow your birdwatching abilities and keep learning.
About this event
We are pleased to share this virtual education event for free. To help minimize the financial impact of COVID-19 on our programs, please consider a donation of $5-$15 at registration. Your generosity has helped make the Laguna de Santa Rosa Foundation a leader in conservation and environmental education in the Laguna watershed for the past 30 years. Thank you for your continued support!
Calling all new birders, bird-curious folks, or seasoned birders looking to refresh! Miles and Teresa Tuffli are back with us again to teach how to break into the world of birdwatching. Start your winter and spring with their tips on how to grow your birdwatching abilities and keep learning.
Discover the best places and times to look for birds and how to locate them. Learn the art of HOW to look at a bird, including the most important things to notice when you see one you don't recognize. They'll give you tips on using binoculars, getting the most out of your field guide, and even how to start birding by ear! They'll touch upon bird behavior and discuss the importance of understanding the shared characteristics within some common bird families. To wrap up, they'll analyze photographs of some common birds in Sonoma County to demonstrate how to look at a bird you're hoping to identify.
Teresa and Miles Tuffli are avid birders from Guerneville who especially love helping "bird-curious" folks take the next step of getting into the field to enjoy the bird world! They lead guided bird walks and give educational presentations for local organizations like LandPaths, Sonoma Land Trust, Redwood Region Ornithological Society, Marin Audubon Society, PRNSA Field Institute, and the Point Reyes Birding & Nature Festival. Residents of West Sonoma County for 11 years, Miles and Teresa also enjoy writing about and documenting our local birds at their website: I'm Birding Right Now.
This program is the part of the Birding to Beat the Winter Blues series. Join us for 2 more programs this winter:
Migración: cómo conectan el mundo los pájaros (Migration: How Birds Connect the World): February 4
Waterfowl of the Laguna de Santa Rosa & the Pacific Flyway with Dave Barry: February 11
This free program is made possible with support from the County of Sonoma Board of Supervisors Community Investment Program.