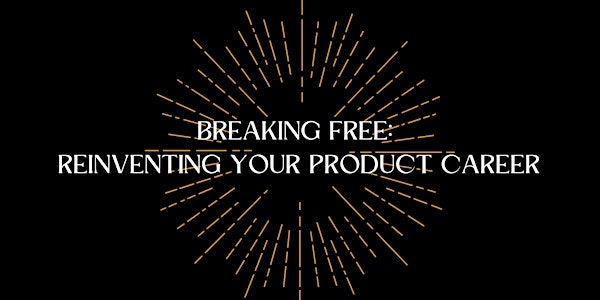 Breaking Free: Reinventing Your Product Career
We are on the precipice of a new work culture that better suits our bodies, minds, and lives—and femmes in product will get to shape it.
About this event
Attendees--please use this link to join the Zoom Webinar for BREAKING FREE: Reinventing your Product Career at 11am PT / 2pm ET.
https://us02web.zoom.us/j/89078231484
We are on the precipice of a new work culture that better suits our bodies, minds, and lives—and as creative leaders, women and femmes in product are some of the most influential voices in shaping what comes next.
Join us for a TWO-PART event that will shake you loose of disillusionment with your career, and leave you vibrating with possibility—and ready to invent a unique path to product leadership success, through sheer force of imagination and creativity, based on your desires and preferences, rather than what others approve of:
Designing a weekly calendar full of activities you're excited about
Reimagining your next career move so it's something that actually motivates you
Stop "paying dues" and skip to getting paid to learn
Reconciling the conflict of "work you love" vs "making big money"
Creating an abundance of time to do everything you care about
How to get paid like a product exec to only do things you like
Each of our speakers have gone back to first principles about what it takes to be a successful professional and will be sharing their stories and what worked for them–so you can make it work for you.
There are both external strategies and deep inner work required to architect this kind of career—breaking free of templates and generic career paths that leave you feeling trapped or unfulfilled:
DAY 1 (Aug 17 @ 2pm ET) will be a roundtable discussion among a set of senior tech and product leaders who took initiative to carve a unique career path, and have valuable lessons to teach for anyone looking to do the same.
DAY 2 (Aug 18 @ 2pm ET) will feature work-life balance and mental health experts about how to be happy at work—the physiological and emotional underpinnings of breaking free from constrained career "templates," and asking ourselves what we truly want to do with our time.
Stop worrying if you'll ever be happy at work or overcome your fears—this event will provide you with the energy and hard skills to experimentally carve out a product path that may never have existed before; a career that represents the freedom, joy, and fulfillment you're destined for.
FEATURED GUESTS
Deboshree Dutta (Product Leader, Founder and CEO, Criya)
Nelo Oyekwe (Data scientist and tech mentor)
Bosky Mukherjee (Product Leader and Founder, PMDojo)
Tara King-Hughes (Product Leader and Strategist)
Melody Wilding (LMSW, Executive Coach, Author of Trust Yourself)
Jackie Bavaro (Product Leader, Author of Cracking the PM Career)