Breaking Down the Seventh Circuit's Decision on Collection of Time-Barred Debt

Wednesday, March 19, 2014 from 2:00 PM to 3:00 PM (EDT)
Event Details
Learn how the Seventh Circuit's FDCPA Decision on Collection of Time-Barred Debt Impacts Organization  
Earn up to 1 Hour of DBA Continuing Education Credit
On March 11 the Seventh Circuit Court of Appeals found that a settlement letter seeking payment of a debt subject to an expired statute of limitations can state a claim for violation of the FDCPA. The Seventh Circuit's decision is contrary to decisions from the Third and Eighth Circuit Courts of Appeals.
Don Maurice, Joann Needleman and Tom Dominczyk will discuss the Seventh Circuit's opinion, as well as the state of FDCPA law from other Circuits on time-barred debt collection, other law (such as Section 5 of the FTC Act) impacting this space and the regulatory actions taken by the CFPB, FTC and others concerning time-barred debt. The panelists will share their experiences in litigating claims concerning collection of time-barred debt and offer suggested resources to assist your compliance efforts. Questions will also be taken by the panelists.
   Maurice       Needleman  Dominczyk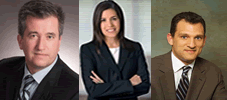 Because of the nature of the program, attendance is limited to the credit and collections industry and attendance is subject to approval. Because the program is restricted, attorney CLE credit cannot be provided. The program qualifies for one (1) hour of DBA International continuing education credit.  
Date: March 19, 2014
Time: 2:00 p.m. eastern - 11:00 a.m. pacific (1 hour)
Cost: $85 (1 hr DBA continuing education credits)           
Organizer
The Consumer Financial Services Blog
The CFS Blog examines news and developments impacting participants in the consumer financial services industry. Subscribe to the CFS Blog for webinars, live blog events and other features. The CFS Blog is brought to you by the attorneys of MauriceWutscher, LLP.