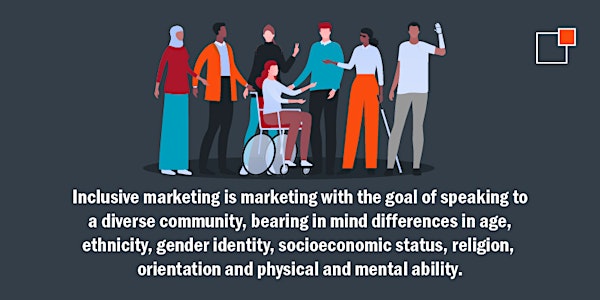 Breaking Barriers: The Power of Inclusive Marketing
Learn inclusive marketing: represent diverse audiences, address biases, craft resonant messaging and elevate your campaigns!
Date and time
Wednesday, June 14 · 1:30 - 2:30pm EDT
Location
Miami Virtual via Zoom Miami, FL 33101
Agenda
Who are we and why are we here?
---
We'll introduce ourselves & share the purpose of this workshop
What is Inclusive Marketing?
---
We'll break down the principles of inclusive marketing
What does inclusive marketing look like in practice?
---
You'll see the do's and don'ts of multicultural marketing
About this event
Join our one-hour workshop on inclusive marketing and learn how to create advertising campaigns that represent and appeal to a diverse audience. In this workshop we'll cover topics such as:
* Understanding the importance of diversity and inclusion in marketing
* Identifying and addressing implicit biases in your campaigns
* Crafting inclusive messaging and imagery that resonates with your target audience
Whether you're a content creator, marketer, or media professional, this workshop is for you. You'll walk away with practical tips and insights that you can apply to your next project. Don't miss out on this opportunity to improve your marketing skills and create campaigns that make a positive impact. Register now!
About the organizer
ThinkU is a consulting firm that connects media and marketing companies with the broader audience.