Technology is the fastest globally growing industry, but why are women in tech so underrepresented? Join the discussion to find out why.
About this event
We know that gender diverse workplaces perform better, hire better talent, have more engaged employees which they retain better. So why is there such a gender imbalance in the tech sector?
Lack of female role models in this industry is often blamed for the reluctance to enter the sector, so we've invited three inspirational women, all in the tech industry and at different points in their career, to share their journey and experiences with you.
So join us on Tuesday 25th January, where Katie Kelly, Board Member, CMI London, Andrea Palmer FBCS MBA, Chair BCS Women and Iryna Jurkiv, Software Engineer, KPMG UK, will explore the challenges and obstacles women currently face, and delve into the wealth of opportunities for women in tech and the needs and hopes for a more digitally gender balanced future.
Our Speakers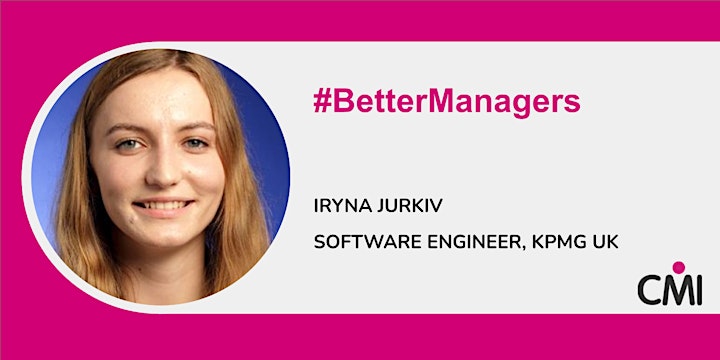 Iryna Jurkiv
Software Engineer, KPMG UK
Iryna is a Software Engineer for KPMG who is passionate about programming and the technology sector. She holds a BSc in Geography from University College London and began her career as a Technology Consultant working on IT transformation projects across Europe, North America and Asia.
She made her transition into Software Engineering through the BCS Software Developer Apprenticeship and now builds tailor-made software solutions for clients across both the public and private sector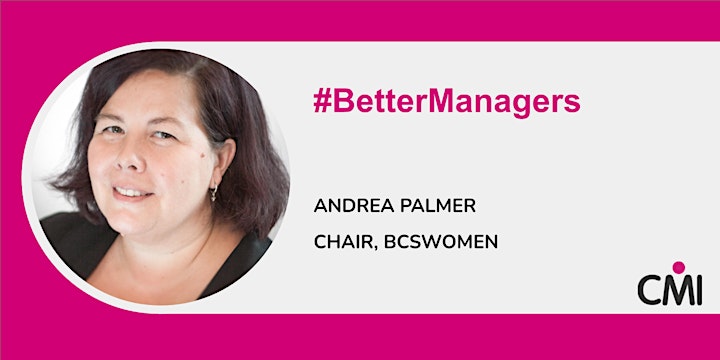 Andrea Palmer
Chair, BCSWomen
Andrea Palmer is the chair of BCSWomen and a member of the BCS Society Board, which focuses on making IT good for society. She is a digital transformation expert with more than 20 years of experience leading and delivering IT programmes in complex global environments and is currently working as consultant for Infosys Consulting. She is recognised as an empathetic and thoughtful leader whose commitment to leading by example has helped to build authenticity, psychological safety and trust. Andrea has lived and worked in London, Norway and India. She is an enthusiastic leader who champions diversity and inclusion to drive performance and compliance across organisations. Andrea was recognised by Computer Weekly as the 4th Most Influential Woman in UK Tech in September 2021. She acts with compassion to inspire and coach people of all ages through conducting mentoring programmes (primary school to early careers) and as a school governor.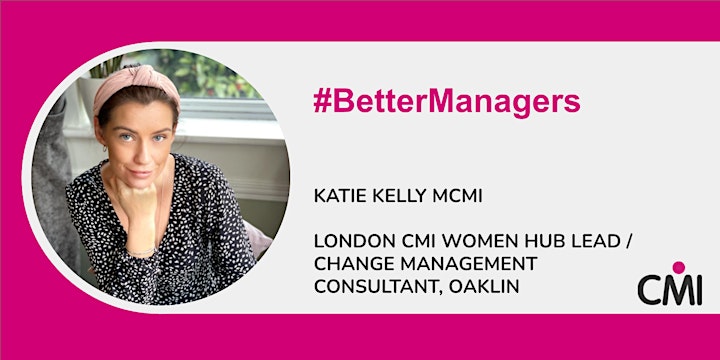 Katie Kelly MCMI
London CMI Women Hub Lead
Katie is a passionate and dynamic Business Transformation leader who is obsessed with the human side of change and continuous improvement. Katie has successfully led numerous change management workstreams for Digital, IT, process, and cultural Transformations across a breadth of industries both as an external consultant and through change management lead roles internally.
Katie has been a CMI member since 2014 and operates on the CMI London Regional Board as the Events Lead and also the London CMI Women Hub lead. Katie is passionate about ensuring traditionally under-represented groups have a voice and support network in the workplace, particularly in industries and functions where challenge of workforce diversification may be further compounded, such as Digital and technology.
In the meantime…
If you're a member of CMI, or subscribe to our content, don't forget you can find thousands of exclusive, practical development resources in ManagementDirect. Log in here and search for a topic to get started.
Not yet subscribed?
From free newsletters packed with the latest trends, insights and tips for managers and leaders, to the full suite of invaluable tools and benefits that come with being a CMI member, we've got something for everyone. Visit our website to find out more.