Description
The software industry is reported to grow to $4 trillion dollars in 2018. There are so many job opportunities in the tech industry just waiting to be filled. But what are they and how do you get one?
After attending our event, you'll know what technical and non-technical roles exist, how to apply for them, and tips for landing your first job in the industry.

Join us on Friday, November 16 for the third annual "Breaking Barriers: First-Gens in Tech," a day-long event for first-generation young people from the Greater Boston Area interested in learning more about what it really means to work in tech.
Who is considered a "first-generation"? For this event, we consider first-gens to be any person:
who was not born in the US OR
whose parents were not born in the US OR
who is the first in their family to attend college OR
who is the first in their family to enter the corporate world
Why should you attend?
Our goal for this event is to provide you with the context, community, and real life examples of other first-gen folks doing great things in tech. We will create an opportunity for you to:
Meet first-generation leaders thriving in Boston's tech scene
Hear from first-gen HubSpot employees from different departments about their experiences starting their careers
Leave with actionable tips and takeaways to help kickstart your career regardless of which career path you choose


We're excited to share our final schedule for First-Gens in Tech 2018: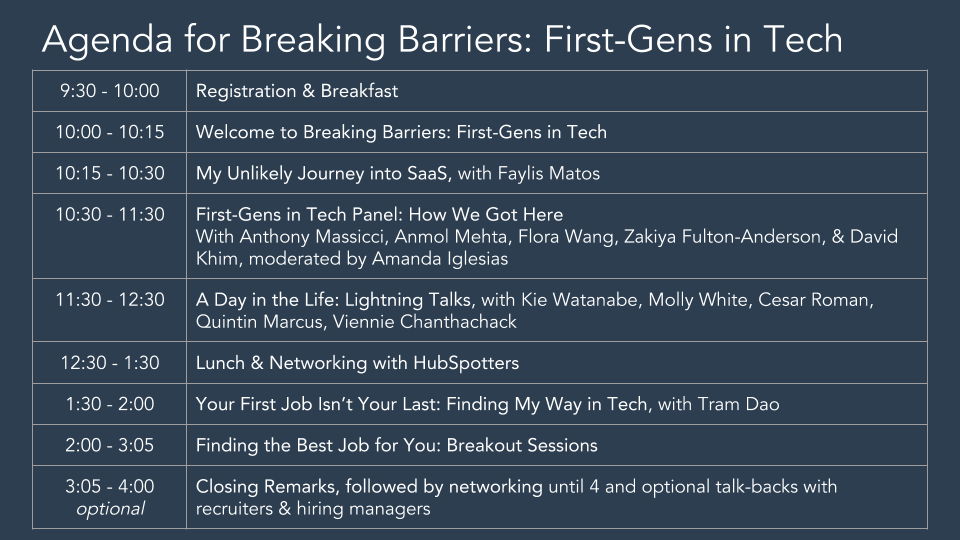 FAQs
Who will benefit most from this event?
You will benefit from this event if you identify as first-generation and are in higher education, continuing education, alternative education, or service year programs. You are looking to learn about how to break into the tech industry. If you are passionate and curious about the technology industry, you will find value in this event.
Who would not benefit from attending?
If you already have full-time working experience or are pursuing a graduate degree, First-Gens in Tech is not for you. This event is intended for those who are unfamiliar with a process you have already gone through. However, check back to our Eventbrite profile or "Like" HubSpot Life on Facebook for networking and professional development opportunities that are a better fit for your level of experience.
We are not able to accommodate school administrators, career counselors, or program managers at this particular event. If you have questions, email MObleada@hubspot.com
Do I need to attend for the full day?
Yes, please plan to be at the event from 10AM to 3PM. (Of course, we understand if you cannot stay all day, but there are valuable sessions throughout the day we'd hate for you to miss!)
Do I have to bring my resume?
It's not required, but we will have a talk that includes how to format your resume so you may want to take notes.
What should I bring with me?
Your self and a readiness to learn about tech! Also, bring the best way you take notes, whether that's pen and paper, a laptop, or a tablet. (We have outlets to stay fully charged.)
HubSpot helps millions of organizations grow better by building the software and systems that power the world's small to medium-sized businesses. Our company culture builds connections, careers, and employee growth. How? By creating a workplace that values flexibility, autonomy, and transparency. Through our commitment to creating a diverse and inclusive workplace and unique approach to company culture (our Culture Code has more than 3M views), we've redefined how people work and live.
HubSpot has been named Best Place to Work in the eyes of Glassdoor, Fortune, Entrepreneur, Inc. The Boston Globe, and the Boston Business Journal. Founded in Cambridge, MA in 2006, HubSpot has offices in Portsmouth, NH; Dublin, Ireland; Sydney, Australia; Singapore; Tokyo, Japan; Berlin, Germany; and Bogotá, Colombia.


Questions?
Contact Melissa Obleada, mobleada@hubspot.com
Our event space is wheelchair accessible, with ADA compliant entrances and restrooms. If you need any special accomodations or have questions, comments, or concerns, please email mobleada@hubspot.com.
HubSpot is committed to creating an inclusive environment at our events and we ask attendees to do the same. By attending this event, you agree to make everyone feel welcome regardless of their age, gender identity, race, ethnicity, sexual orientation, physical or mental ability, and perspectives. Let's have a great event that encourages diversity of people and of thought. Thank you!
Registering here provides HubSpot with contact information that we may use to reach out to you in the future about recruitment opportunities or to invite you to similar events. During this time, we won't share your information with anyone outside of HubSpot, except where necessary to help us in event preparations. These event preparations may take place in any of our offices, including in Cambridge, USA. We may keep the information you submitted for up to three years (don't worry though, spam isn't our thing). If you'd like to know more about how we use your personal data please visit https://legal.hubspot.com/privacy-policy