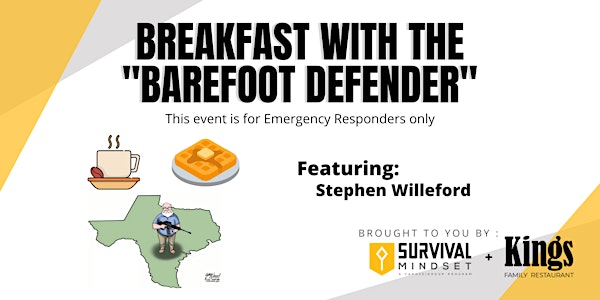 Breakfast with the "Barefoot Defender"
Enjoy breakfast as you hear S. Willeford speak on specific details of the Texas shooting that he has not shared with the general public.
When and where
Location
Kings Family Restaurants 201 Sierra Drive Altoona, PA 16602
About this event
Join us for Breakfast with the "Barefoot Defender".
NOTE: THIS EVENT FOR EMERGENCY RESPONDERS ONLY, LEOs, EMS, Fire, & 911.
The Barefoot Defender, Stephen Willeford, will be sharing intimate details about what happened inside and outside the Sutherland Springs, Texas, First Baptist Church, on the day of the worst church shooting in history.
You will get a glimpse into Willeford's thinking and mindset on that bloody Sunday morning that he does not share with the general audiences.
As this is a limited seating event, tickets will sell out quickly.
At this event, you will:
Hear specific details that Stephen does not share with general audiences
Enjoy a delicious breakfast buffet and coffee at Kings Family Restaurant
Get your specific armed intruder questions answered from Stephen Willeford and other expert intruder response instructors
Cost: $8.00 (does not include the cost of tip)
Over the last few years, we have seen a steady increase in armed intruder attacks which is why we are eager to share Willieford's story.
Knowing how to prevent, prepare, respond, and recover is the best way to save lives in a life-threatening situation.
At this event, we hope to empower you, your family, and your organization to make the right survival decisions should an attack occur.
_______________________________________________________________________________________
More about Stephen Willeford:
A native of Sutherland Springs, Texas, Stephen Willeford was raised in a family of five on a dairy farm near the First Baptist Church. He is the fourth generation to live on a few hundred acres of land in Wilson County.
Stephen has always relied on his faith to guide his life, and his deep roots in Sutherland Springs are a product of his family's commitment to their community. An avid sportsman, Stephen began shooting at a young age and honed his shooting skills by participating in shooting competitions as he grew older. He made sure his three children were trained in gun safety, passing along his expertise.
After the deadly mass shooting in November 2017, Stephen has become known across the country as the "good guy with a gun." Stephen credits his unwavering faith and penchant for preparedness as to why he was able to step in during this critical incident, believing that each day of his life prepared him for what happened on that Sunday morning.
Stephen has begun speaking publicly about his life and experiences, even delivering a lauded speech at the National Rifle Association Convention in May 2018. Because of his selfless service to his community, Stephen was also an honored guest of members of the Texas delegation at the 2018 State of the Union address in Washington, D.C.
More about the Sutherland Springs Shooting:
The Sutherland Springs shooting is known as the deadliest church shooting and the fifth-deadliest mass shooting in the United States.
On Sunday morning, November 5th, 2017, Kelley, the armed intruder, approached the Sutherland Springs Church opening fire on and killing two people outside the church and continuing to fire on the building itself. He then entered through a right side door, where worshipers were attending regular Sunday service.
Inside, he yelled, "Everybody dies, motherfuckers," as he proceeded up and down the center aisle and shot at people in the pews. Police found 15 empty magazines capable of holding 30 rounds each. Authorities stated Kelley fired approximately 700 rounds during the estimated 11-minute long shooting. According to investigators, the shooting was captured on a camera set up at the back of the church to record regular services for uploading online. The footage shows Kelley methodically shooting the victims, pausing only to reload his rifle.
Kelley was then confronted by and traded fire with Stephen Willeford, a local resident, and former NRA firearms instructor, ran out of his house in his bare feet with an AR-15 semi-automatic rifle after his daughter altered him that she has herd shots. Willeford had taken cover behind a truck across the street from the church and shot Kelley twice, once in the leg, and in the upper left torso under his tactical gear. Kelley, who had dropped his rifle upon the initial fire with Willeford, fired back with a handgun before fleeing in his Ford Explorer. Willeford fired one more round as Kelley sped north on FM 539. Willeford then noticed a pickup truck parked at the intersection of 4th St. and FM 539, driven by Johnnie Langendorff.
Willeford approached and entered Langendorff's truck on the passenger side. They then pursued Kelley at high speed for about five to seven minutes. According to Langendorff, they drove at speeds up to 95 miles per hour (155 km/h). While chasing Kelley, Langendorff called 9-1-1 and reported their location to the operator as they assumed that the police were on their way to the church.
During the chase, Kelley called his wife and spoke to her and his parents, informing them "I just shot up the Sutherland Springs church," and telling his father that he was injured and thought that he would not survive. Kelley repeatedly emphasized how sorry he was. Bleeding from his injuries, Kelley soon lost control of his vehicle, hitting a road sign before crossing a bar ditch at the Hartfield/Sandy Elm Road intersection and finally stopping about 30 feet into the field on the opposite side.
Willeford and Langendorff observed that he was motionless, and police took over the scene when they arrived. Police found Kelley dead in his car with three gunshot wounds, including a self-inflicted head wound. Two handguns were found in the vehicle: a Glock 19 9mm and a Ruger SR22 .22-caliber, both of which Kelley had purchased.