Description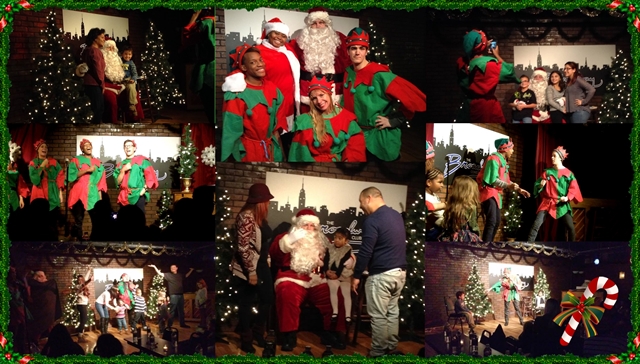 Saturday, November 25, 2017 at 9:30am
Saturday, December 2, 2017 at 9:30am
Saturday, December 9, 2017 at 9:30am
Saturday, December 16, 2017 at 9:30am
Saturday, December 23, 2017 at 9:30am
Close to Columbus Circle AND Times Square between 8th & 9th Ave
Short walk to A, C, E, N, R, 1, 2, 3, 7
Admission includes Continental Breakfast and Pictures with Santa.
BRING CAMERAS and VIDEO!!! We do not supply photos.
Breakfast with Santa Sing-A-Long & Elfprov
ELFPROV is back at the Broadway Comedy Club! Last year every show sold out so get your tickets early. Bring your own cameras and the Elves will help you capture memories
before taking stage to make you laugh with original music and comedy!
9am Our holding room is open to get you and the family out of the cold
9:15 VIP ticket holders invited in early to meet with Santa ahead of the crowds. Not to worry, every one will get time with the Big Jolly Guy in Red.
9:30 Breakfast is served for all. Continental Breakfast includes lots of carbs - bite sized bagels, croissants, muffins, donuts and pastries, variety of individually packed yogurt, cheeses, fruit, jam, coffee, juice and water.
10am ELFPROV
The interactive musical comedy show improvised by Santa's helpers based on audience suggestions and participation.
Sometimes Santa gets in on the fun!

10:30 SANTA SING-A LONG Santa also plays the piano and rocks out some holiday classics with the Elves and Children of all ages.
Santa, Elves and Carolers available for your next event. We host holiday parties for families and major firms and travel through out tri-state area
PLEASE Arrive by 9:45. Santa will hold the show for anyone in line. But if you arrive after the show starts you may miss out on meeting with Santa. Santa does not like naughty parents that keep children from seeing Santa on time.