Breakfast with Purpose: Increasing Employee Engagement
Description
Breakfast with Purpose: Increasing Employee Engagement
It's a matter of productivity, retention, and your bottom line.
Do you want to decrease your turnover, improve employee attendance, and grow your profitability? The answer is in improving workforce engagement. According to Gallup, higher workforce engagement results in increased performance and overall business results. However, the same study shows only 33% of the American workforce is engaged in their job; leaving room for significant improvement.
This Breakfast with Purpose will explore why employee engagement is so important and what you can do to increase engagement at your company. Key takeaways from this presentation include:
1. Why employee engagement is so important and its impact.
2. The top factors influencing employee engagement.
3. How to create a strategy and action plan to increase employee engagement.
Agenda:
7:30am - 7:45am Full hot breakfast and networking
7:45am - 9:30am Presentation by Lorraine Medici
Cost: $25, includes full hot breakfast
Location: Express Employment Professionals, 1760 44th St. SW, Suite 10, Wyoming, MI 49519
About Your Speaker:
Presented by: Lorraine Medici, Director of Training and Development, Express Employment Professionals
Lorraine Medici is the Director of Training and Development at Express Employment Professionals of Grand Rapids. She has successfully launched Purpose-Driven Leadership Training, a Leadership Academy targeted at helping develop managers and leaders at all levels in manufacturing and other industries. Lorraine is also certified in DISC and Emotional Intelligence training. She is an approved Training Partner with the Human Resource Certification Institute (HRCI). She is also an Associate Certified Coach and Master Practitioner for the Energy Leadership Index (ELI) Assessment. Lorraine has extensive experience as a personal development coach and workshop facilitator in the areas of leadership, teambuilding, and sales.
As a certified coach, Lorraine works closely with clients to help diagnose company challenges and provide action plans to enhance employee engagement, build stronger leadership teams, increase retention, and bring about cultural awareness through workshops and personal coaching.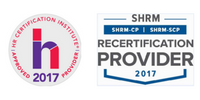 Approved for 1 HRCI or SHRM Credit
The use of this seal is not an edorsement by the HR Certification Institute of the quality of the activity. It means that this activity has met the HR Certification Institute's criteria to be pre-approved for recertification credit.