Breakfast with Purpose: 2017 West Michigan Workforce Outlook
Description
Breakfast with Purpose: 2017 West Michigan Workforce Outlook
Speakers: Kevin Stotts, President, Talent 2025; Lorraine Medici, Director of Training and Development, Express Employment Professionals
*This event sold out in February - this is a repeat event because of the high demand for this training*
This presentation will bring hard facts and statistics about the current condition of the West Michigan workforce and what this means for your company. There's a "perfect storm" brewing of decreasing unemployment rates, historically low labor force participation, and increased barriers for those re-entering the workforce. This is resulting in many employers struggling to attract and retain quality employees.
In this presentation, Kevin Stotts of Talent 2025 will explore the key factors impacting our local workforce and what the outlook for the labor market is in 2017 and beyond. Taking things a step further, this presentation will also address strategies for employers to tap into underutilized workforces, improve employee retention, and maximize employee engagement.
Agenda:
7:30am - 7:45am Full hot breakfast and networking
7:45am - 8:30am Presentation by Kevin Stotts on the workforce climate of West Michigan
8:30am - 9:00am Discussion by Lorraine Medici on employee development and retention
Cost: $25, includes full hot breakfast
Location: Express Employment Professionals, 1760 44th St. SW, Suite 10, Wyoming, MI 49519
About Your Speakers:
Kevin Stotts: Kevin is the president of Talent 2025, a West Michigan regional coalition of more than 90 CEOs that involves 13 Counties including Kent, Ottawa and Lake Counties, with a vision to make this a top 20 region in the nation. Talent 2025 is a catalyst to create a truly integrated talent development system designed to make West Michigan a magnet for both talent and jobs. Kevin has over 10 years of experience and success leading non-profit organizations with the goal of contributing to the success of the West Michigan community.
Lorraine Medici: Lorraine has successfully launched Purpose-Driven Leadership Training, a Leadership Academy targeted at helping mid-level managers and leaders from all industries. Lorraine has extensive experience as a personal development coach and workshop facilitator in the areas of sales, human resources, and manufacturing. As a certified coach, Lorraine works closely with clients to help diagnose company challenges and provide action plans to enhance employee engagement, build stronger leadership teams, increase retention and bring about cultural awareness through training, workshops and coaching. Lorraine is an approved Training Partner with the Human Resource Certification Institute (HRCI), an Associate Certified Coach, a Master Practitioner for the ELI Assessment, a Certified DISC Trainer and a Certified Emotional Intelligence Practitioner.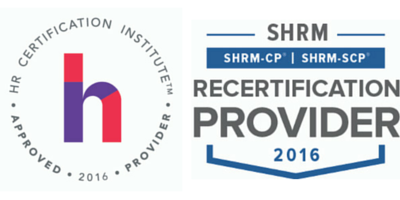 Approved for 1 HRCI or SHRM Credit
The use of this seal is not an edorsement by the HR Certification Institute of the quality of the activity. It means that this activity has met the HR Certification Institute's criteria to be pre-approved for recertification credit.