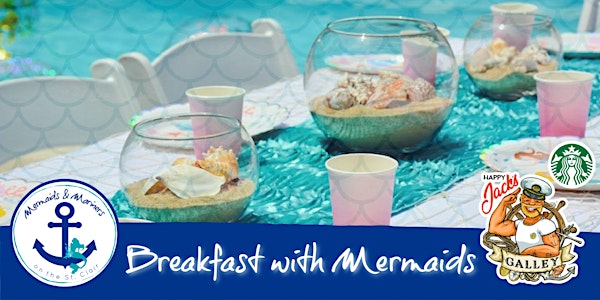 "Breakfast with Mermaids" - Mermaids & Mariners on the St. Clair
Location
Brander Park
4555 St. Clair Parkway
Port Lambton, ON N0P 2B0
Canada
Rise and Shine! It's "Breakfast with Mermaids" time! ☀️
About this event
Join us for an exclusive "VIP Under the Sea" experience and "Meet the Mermaids" at Mermaids & Mariners on the St.Clair's private "Breakfast with Mermaids" in our nautically-themed decorated pavilion. Enjoy a continental breakfast buffet (open seating) prepared by Chef Jack Clift of Happy Jack's Galley (Sarnia Yacht Club) also serving the famous double-tailed siren's Starbucks Coffee provided by Oak Acres Starbucks, Sarnia. Entertainment and speSHELL guest appearance by "The Little Mermaid's" Ariel.
Interact with our pod members, take your own #SHELLfies and start your day tails up! 🧜🏼‍♀️
Attendees are welcome, and eagerly encouraged, to join in the fun by dressing for the occasion in their own mermaid or nautically-themed outfits/costumes. ⚓️
Menu
• muffins 🧁
• cinnamon rolls 🥐
• donuts 🍩
• fresh fruit/yogurt/granola (mix yourself) 🍓🍌🥣
• juice 🍊
• Starbucks Coffee ☕️
Date & Time
Saturday, August 20th, 2022
10am-12pm
Location
Brander Park Pavilion
4555 St. Clair Parkway
Port Lambton, Ontario
Cost
$20/person (+ taxes/fees)
Tickets MUST be purchased in advance and redeemed upon entrance to participate. Tickets will be sold until availability for this portion of our event is full and/or no later than 11:59pm on August 9th, 2022; whichever comes first. (Please note that tickets are NONREFUNDALBLE and we are unable to accommodate special diet requests.)
Each ticket purchase printed and submitted upon entering the pavilion will also be included in a draw for a mermaid-themed gift basket! 🛍
LEARN MORE ABOUT OUR FULL SCHEDULE OF EVENTS AT MERMAIDS & MARINERS ON THE ST. CLAIR AND OTHER FREE ACTIVITES ON OUR WEBSITE @ WWW.MERMAIDSANDMARINERS.CA.
SWIM WITH US ON 👍🏼 FACEBOOK & 📷 INSTAGRAM TO MEET THE POD AND TO STAY UP-TO-DATE ON ALL OF OUR EVENT DETAILS!