Breakfast with Gene Baur

Sunday, December 4, 2011 from 10:00 AM to 12:30 PM (PST)
Event Details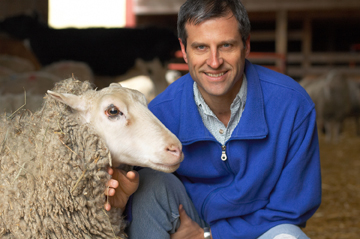 photo by Derek Goodwin for Farm Sanctuary
Please come have breakfast with Gene Baur, President of Farm Sanctuary at Sprig & Vine in New Hope, PA on Sunday, December 4, 2011. Your ticket will include Breakfast, Gene's book Farm Sanctuary: Changing Hearts and Minds About Animals and Food, and a year's membership in Farm  Sanctuary, which includes the quarterly newsletter, discount on the Bed  & Breakfast, and year round visiting privileges.
The ticket price covers the cost of breakfast. Any additional proceeds from the morning will be donated to Farm Sanctuary to assist in their work to rescue and advocate for farmed animals.
This intimate meet and greet event is limited to 46 people, so get your ticket now. We expect it to sell out well in advance.
The vegan breakfast will include:
toast, biscuits, doughnuts and fruit to share
choice of entree (french toast, pancakes, etc)
choice of one side per person or sides to share (home fries or tofu scramble)
choice of coffee or tea
pitcher of orange juice to share
Gene Baur is the co-founder and president of Farm Sanctuary. Gene holds a master's degree in agricultural economics from Cornell University. He has conducted hundreds of visits to farms, stockyards and slaughterhouses to document conditions, and his pictures and videos, exposing factory farming cruelty, have been aired nationally and internationally, educating millions. He has testified in court and before local, state and federal legislative bodies, and has initiated groundbreaking legal enforcement and legislative action to raise awareness and prevent factory farming abuses. He played a significant role in passing the first U.S. laws to prohibit cruel farming systems - including the Florida ban on gestation crates, the Arizona ban on veal and gestation crates, and the California and Chicago bans on foie gras. His book, entitled Farm Sanctuary: Changing Hearts and Minds About Animals and Food, was published by Simon and Schuster in 2008 and has become a national best seller.
All proceeds will be donated to Farm Sanctuary
When & Where

Sprig & Vine
450 Union Square Drive
New Hope, PA 18938


Sunday, December 4, 2011 from 10:00 AM to 12:30 PM (PST)
Add to my calendar
Organizer
From A to Vegan
Founded in 2011, From A to Vegan strives to share perspectives about veganism in the 21st century. From food to fashion, leisure to sustainability, our goal is to provide noteworthy and useful information to anyone thinking about or currently leading a life free of animal products. We think it's important to present different points of view and challenge common misperceptions about people and practices that are considered vegan. We hope to open minds to the possibility of a sustainable way of life through alternative choice. In the process, we hope to learn things about ourselves as well.