Description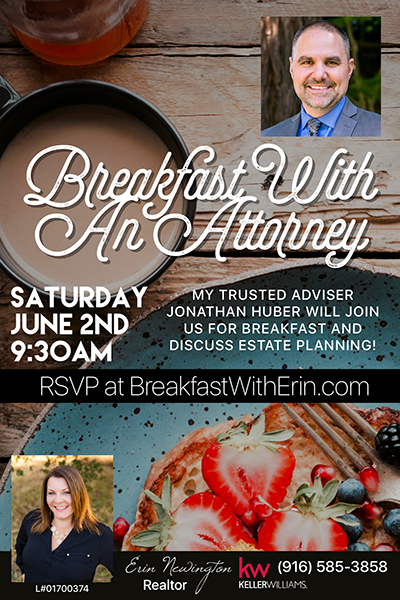 Join me for breakfast and let's discuss estate planning!
I recently lost my long time friend and past business partner. It's was shocking to lose someone so suddenly and I saw first hand what that did to her family.
It made me think about the burden I'd likely leave to my son too, should anything happen to me.
Most of my clients own their home as well as rental properties. Many have not taken the steps to protect their estate.
Have you thought about this recently? What would you leave your family with? It's the last thing we want to plan for and yet it's so important!
So join me for a FREE breakfast with my trusted adviser Jonathan Huber of Huber Law Group in Elk Grove.
Let's have a conversation about estate planning and discuss some items you should be thinking about.
We will discuss...
The advantages and disadvantages of wills and living trusts.

How to protect your children's

inheritance from ex-spouses, lawsuits, and other creditors.

How to protect your heirs from themselves, and ensure that the fruits of your hard work get put to good use.

Simple steps to keep the courts out of your private health care and financial decisions, and how to make sure someone you trust can legally speak for you in the event of disability or incapacity.

How you can provide a lifetime of care to a special needs child or grandchild.
Don't spend so much time and energy building an empire you can pass to your love ones and forget to protect it. Probate can cost your family thousands of dollars and add more stress to an already awful situation. Take the time and get your paperwork in order. You just never know when it's your time!
Not only will you get FREE legal education, we will provide breakfast as well! Save yourself hundreds of dollars in legal consultation fees and bring your questions with you!
I am dedicated and passionate about helping my clients. You don't get rid of me when you buy or sell with me. This is one of many events I have planned for the year! It's free and open to anyone who wants to join us. Just register below to RSVP!
You Must RSVP For This Event!!
Should you need any help with a real estate matter involving probate and/or an estate, please let me know and I can help you through this process!
If you have any questions about this event or a real estate matter just give me a call at (916) 585-3858!
I will see you at breakfast!
Organizer of Breakfast with an Estate Planning Attorney