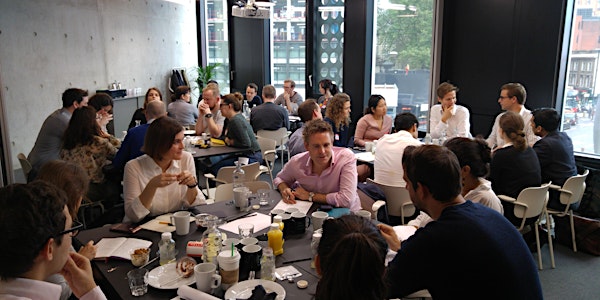 Breakfast Roundtable: How to Develop a Culture of Learning
Location
TOG Lounge, White Collar Factory
1 Old Street Yard
London
EC1Y 8AF
United Kingdom
Description
We run regular People Ops breakfast roundtables for the people to network and discuss the current challenges they are facing.
CONTENT
This month we'll start the conversation asking how to develop a learning culture and exchange ideas on how to do this as effectively as possible in a start up environment. As always, we will also have time for attendees to raise their own issues for discussion as well. If you'd like to submit a question in advance, please email may@learnitect.com.
Questions for discussion may include:
How to spend L&D budget (individual budget vs. centralised function?)

How to effectively plan for L&D?

What areas to spend L&D on? (e.g., skill building, leadership skills, well being)

How to promote mental and physical well being at work?

How to support senior people in their learning?
GUEST SPEAKER
This month, our breakfast will also feature a guest presentation from Brett Putter on "The 3 fundamental mistakes companies make when defining their culture". Brett is the founder & CEO of CultureGene, a company culture consultancy helping high-growth technology companies, to prepare for and execute, at scale. He interviews founders and CEOs of successful high-growth companies to better understand how they defined, developed and implemented their company culture and has published the 40+ interviews on the CultureGene blog.
FORMAT
We ask participants to share challenges and solutions from their own experience around a given point. Attendees can compare notes on their approach to all things people related, and we keep the conversation flowing by asking the right questions and keeping the flow natural as we rotate between topics. This is a very interactive event, and we pride ourselves on cultivating an open atmosphere for honest discussion.
Breakfast is on hand to make sure everyone has food for thought :-) and events are held at White Collar Factory, overlooking Old Street tube station.
ATTENDEES
We invite a select group of HR Business Partners, Heads of L&Ds/Culture/People and people who are passionate about people to get together and discuss the top issues they face and best practices for solving them. We keep each breakfast small, and the intimate nature keeps the discussion high quality as well as provides a great opportunity to network with likeminded peers.


TAKEAWAYS
As well as learning on the day, we'll summarise the discussion and follow up with a list of suggested resources and actions that you can take immediately.