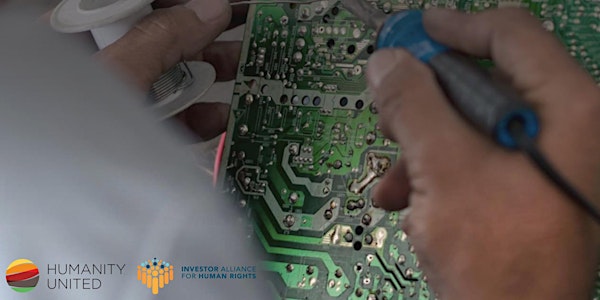 Breakfast Briefing: Investing in Human Rights: Practical Approaches to Engaging Companies on the "S" in ESG
When and where
Location
San Francisco Marriott Marquis, Room: Foothill E 780 Mission Street San Francisco, CA 94103
Description
Breakfast Briefing: Investing in Human Rights: Practical Approaches to Engaging Companies on the "S" in ESG
The complexity and multitude of social and human rights issues linked to a portfolio have long hindered investor's ability to engage meaningfully on the "S" in ESG. Recently, however, this paradigm has begun to shift, as new tools have made it easier for investors--from shareholder advocates to passive investor--to understand and act on social and human rights risks. These tools, including KnowTheChain, Ranking Digital Rights, and the Corporate Human Rights Benchmark are increasingly vital for investors as new legislation requiring greater social reporting by corporations has increased investor risk. Whether it's forced labor risks, the integration of the Sustainable Development Goals, or digital rights considerations, investors are finding meaningful ways to engage on social issues.
Humanity United and Investor Alliance on Human Rights are bringing together leading investors to discuss how they are using these tools to actively engage with companies in their portfolio and inform their decision-making and portfolio construction. Attendees will learn how these tools can be used effectively and how they are reshaping the way social issues are measured in investor portfolios. Participants will also learn how investors can engage with the Investor Alliance for Human Rights, a collective action platform connecting institutional investors with tools and strategies to promote corporate respect for human rights.
Who is eligible to attend: Open to all UN PRI attendees.
Confirmed speakers include:
Anna Pot, Manager Responsible Investment, APG

Paloma Munoz Quick, Program Director, Investor Alliance for Human Rights

Rebecca Mackinnon, Director, Ranking Digital Rights

Victor Wong, Director, Global Sustainability at Gap Inc.

Kilian Moote, Project Director, KnowTheChain

Bennett Freeman, Senior Advisor, KnowTheChain, Corporate Human Rights Benchmark, BSR
Continental breakfast and coffee will be served.