Description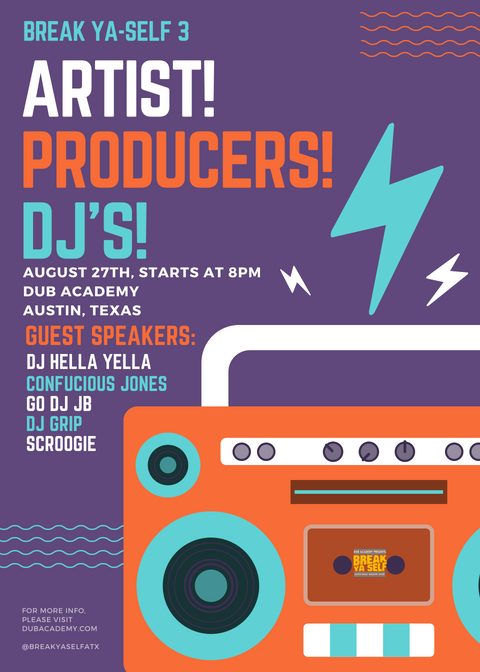 Calling ALL Producers, DJ'S, and Artist to Austin's first monthly Industry Music Mixer!
In this industry of music now days, most artist and producers have trouble connecting with each other directly. Break Ya-Self ATX is designed to connect Artist, Producers, and Dj's all in one room for a chance to play your newest music.
ARTIST SHOWCASE
PRODUCER SHOWCASE
DJ SHOWCASE
FREE FOOD & DRINKS
NETWORKING EVENT
ARTIST/PRODUCER SUBMISSIONS MUST COMPLETE TICKET PURCHASE AND SEND MUSIC TO breakaustin@dubacademy.com FOR A SLOT!
1 TICKET PURCHASE LIMIT (Let's give others a chance!)
BREAK YA-SELF!
VENDORS-
Vendor Sponsorship:
5 Minute Feature & Brand Introduction
1 6ft Covered Table for Product Placement
Video/Commercial Display
Brand/Logo Placement on all Promo.
Power Outlet Available