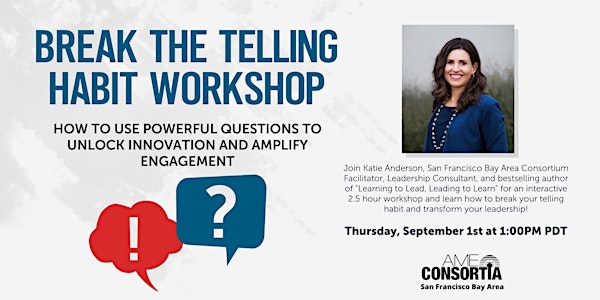 Break the Telling Habit Workshop (Live On-Line)
Discover how to use powerful questions and purposeful listening to make your leadership more effective and empowering.
Refund Policy
Refunds up to 7 days before event
Eventbrite's fee is nonrefundable.
About this event
Break the Telling Habit Workshop
Led by Katie Anderson for the AME San Francisco Bay Area Consortium and guests
-------
"It may seem simple, but asking questions with intention is a very powerful concept. I left the Break the Telling Habit workshop with real skills that can be used immediately in my leadership role. I am both humble and empowered to empower others. Thank you, Katie." - Brian Miller, President of Midwest Precision, Inc. - Tulsa
"The Break the Telling Habit workshop was an excellent reminder and sharpening of my coaching skills, what Katie provides is a very simple and 'easy' to apply approaches that if intentionally applied with discipline can have immediate results. I was able to apply the question coaching principles within 24 hours and shifted one of my leaders from a fixed mindset towards intentional learning." - Shawn Carner, Head of Operational Excellence - Vacaville at Genentech
Workshop overview
Join this highly interactive 2.5 hour live on-line workshop with internationally recognized leadership consultant and best-selling author Katie Anderson and learn how to break your telling habit and transform your leadership!
You'll spend over an hour of our time together practicing creating and asking powerful questions, where you will both practice giving and receiving live coaching question so you can know for certain exactly how to bring this learning home and start applying it in your organization.
You'll learn how to use powerful questions and purposeful listening to make your leadership and coaching more effective and empowering, freeing you from the endless hamster-wheel of having to be the expert who has have all the answers, and teaching your team how to learn and create solutions that far exceed what any one person could come up with alone.
In this workshop you'll learn:
The surprising ways that your telling habit is damaging your organization and your leadership.
Why not all questions are created equal, and the sneaky trap we fall into that looks like asking good questions … but is really hampering your team.
The 3 types of questions you must master to be an effective leader and coach ...and the 1 to avoid
How to know when you really should be telling, rather than asking. This is an integral part of the leadership continuum, and one you need to learn how to navigate.
What is the telling habit and why do you need to break it?
All managers want to lead innovative, creative teams. Ones that are capable, confident, and engaged. But for some reason, yours just isn't working out that way.
Your team finds itself trying to solve the same problem over and over again. Projects stall. And people do their jobs, but just go through the motions, without contributing to making work better.
And, frustratingly, you find that you're the only one willing to take ownership of issues and come up with solutions. Which means that people come to you for answers all the time, even for little things that you know they could figure out on their own.
You can give them the answers, sure. (Or what you think are the answers. It feels quicker and you have experience and knowledge, and there's so much to get done!)
But in doing so, you find that you become the bottleneck for all projects. Your team feels passive, disempowered, and they stop thinking for themselves. And innovation and engagement give way to status quo.
The solution to this problem isn't figuring out how to give better answers.
It's learning how to ask better questions.
Because as great of a leader or coach as you are, you're only one person. Plus, what you think is the right answer might not always be the best one. The true breakthroughs happen when you get multiple people equally motivated to work on an issue.
If you can learn to break the "telling habit" and start tapping into the power of effective questions, you open up whole new horizons of possibility for your organization, your team, and yourself!
Doing so not only teaches your team how to take ownership of problems, it also empowers them to take ownership of finding the solutions — which means that you now have a whole team's worth of bright, creative thinking on problems, instead of everything coming back to you.
Format
This in an interactive workshop that will be held on Zoom.
Please plan on having your camera on and be prepared for interactive discussion and breakout sessions where you will practice asking questions, working on a problem, and giving feedback.
You will receive a Zoom link in advance of the workshop.
Can't join live? Don't worry, by registering you will get access to the complete live recording of the workshop and discussion and the course materials. But we encourage you to join live, as this is where you will have the chance to practice, discuss, and get feedback!
Course includes:
2.5 hour facilitated interactive learning session with Katie Anderson
Effective Questions Guide with six pages of question prompts and tips
Daily Reflection Template to support your ongoing practice
Access to the reply of the video for 30 days so you can refresh your practice
BONUS: How to Ask Effective Questions Guide by Isao Yoshino and Katie Anderson
Investment
This workshop is sponsored by the AME San Francisco Bay Area Consortium and is open to all to attend. Investment rate varies based on AME Consortia membership level.
AME San Francisco Bay Area Member Companies: $100 per person
Other AME Consortia Companies and NWHPEC: $150 per person
Other participants: $250 per person
Session is limited to 36 participants.