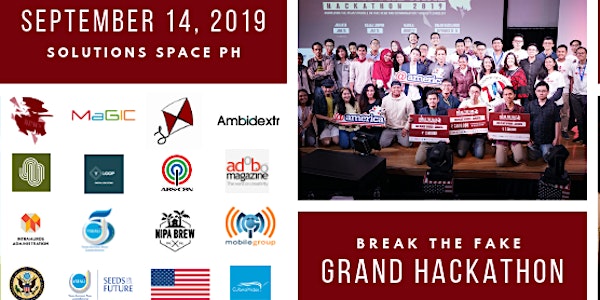 Break the Fake Grand Hackathon
When and where
Location
Solutions Space PH 5F, JCS Building 119 Dela Rosa Street corner Castro Street, Legaspi Village Makati, Metro Manila 1229 Philippines
Description
The rise of digitization has mainstreamed the conversation on socio-political issues, and the power balance has shifted to citizens who are now more engaged than ever on pressing issues our country is facing.
But while we celebrate the democratization of media, its arrival brought along some unprecedented risks. The proliferation of fake news and trolls are continuously spreading across social media and digital platforms in the Philippines, maligning public opinions on social and political issues and corrupting the credibility of institutions that serve as the moral fiber of our society. Hence is the need for a calibrated response.
This resulted to the formation of the Break the Fake Movement, an independent group of young leaders from different professions and sectors organized last 2017, have committed to fighting this pressing concern by organizing activities and events that will engage the public especially the youth.
This year, the movement won a grant from the U.S. government, through the YSEALI Seeds for the Future 2019 and in partnership with Cultural Vistas, to implement the Break the Fake Hackathon 2019, an innovation competition that aims to gather the brightest minds across ASEAN to implement innovations and creative applications that will help address fake news and disinformation.
The Grand Hackathon culminates the series of hackathon conducted in 3 key cities in Southeast Asia - Manila, Kuala Lumpur and Indonesia. In this event, the 3 winners from the local hackathons will compete for the Grand Prize of P100,000.00.
For more information and updates, please like the Facebook page at www.facebook.com/breakthefakeph.
Also follow the YSEALI Seeds on social media for updates at @YSEALISeeds on Twitter, Instagram, and www.facebook.com/yseali on Facebook.
For hackathon-related updates, visit our Instagram page: https://www.instagram.com/breakthefakeph2019/