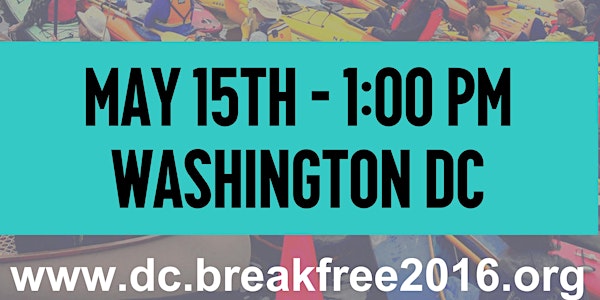 Break Free 2016 - Action to Stop Drilling - Central Virginia Bus Trip
Location
Lafayette Square
Lafayette Square
Washington, DC
Description
Sierra Club, 350, and many partners are organizing an action in Washington, DC on Sunday, May 15th, 2016 - and we need a huge presence of Virginians there!
There's a groundswell building, and you're invited to be part of it. Coordinated actions across the globe will send a clear message that it is time to break free from fossil fuels and invest in a just transition to 100% renewable energy.
A bus will leave from Staunton at 7:30 am (Note: this time is earlier than previously advertised) via Charlottesville and then to Washington DC. Final route details:
Staunton Stop: WalMart parking lot, 1028 Richmond Ave, Staunton, VA 24401. Load in at 7:30 am and leave for Charlottesville at 7:45 am.
Charlottesville Stop: East side of the Giant Shopping Center parking lot, near the Mobil gas station at Rolkin Road, departing for Washington DC by 9 am.
See you next Sunday!