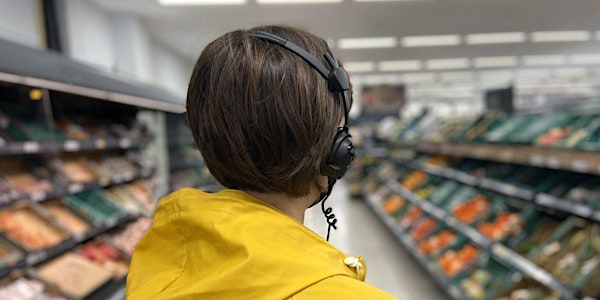 Bread and Butter with Alicja Rogalska
Join Mapping Local Ecologies and artist Alicja Rogalska for a supermarket-based audio workshop exploring significant sites in New Cross.
When and where
Location
Sainsbury's 263d New Cross Road London SE14 5UQ United Kingdom
About this event
Led by Alicja Rogalska, Bread and Butter is a workshop that will take Rogalska's project Pretend You've Got No Money as a starting point - an undercover audio tour of a supermarket focusing on the politics of food production, distribution and consumption. The participants will be encouraged to explore the local Sainsbury's and other nearby sites in New Cross and their political and social significance, focusing on global connections in the hyperlocal context. They will then collaboratively create an alternative guided tour of the area, mixing factual information, alternative narratives and collective actions.
Session Schedule
Part 1 - Audio tour through Sainsbury's supermarket
Meeting in front of the large Sainsbury's by the New Cross Gate station, participants will explore the supermarket through Alicja Rogalska's audio tour Pretend You've Got No Money. Following this, we will commence to explore nearby sites in New Cross, thinking of its functions, and how it is embedded in the local context, its global connections and its social and political significance. The group will then jointly walk to the CCA café (Red Lion Café) where we will briefly reflect on the tour and take a short coffee break.
Part 2 - Creating our own New Cross audio guide
Split into smaller groups, the participants will be encouraged to record short stories and sound pieces about the location for a hypothetical audio-tour of the area.
After this, the group will rejoin to exchange thoughts and reflect on the day.
Please note, to access the audio tour, participants are encouraged to bring their mobile phones and respective headphones. The audio guide is available via Spotify, Dropbox (mp3) or Soundcloud. If you require technical equipment, please let us know in advance if possible.
Accessibility notes
This workshop begins at the Sainsbury's supermarket in New Cross, and subsequently involves walking around the area of New Cross
Total walking duration is estimated at 1 hour
Goldsmiths CCA café is wheelchair accessible, with disabled WCs available
The workshop will be conducted in English
If you have any specific accessibility questions, please email mappinglocalecologies@gmail.com
About Alicja Rogalska
Alicja Rogalska is a Polish-born interdisciplinary artist based in London and Berlin. Her practice is research-led and focuses on social structures and the political subtext of the everyday. She mostly works in specific contexts making situations, performances, videos and installations in collaboration with other people to collectively search for emancipatory ideas for the future. Rogalska graduated with an MA in Cultural Studies from Warsaw University and an MFA in Fine Art from Goldsmiths College.
She recently presented her work at Kunsthalle Bratislava (2021), Kunsthalle Wien (Vienna, 2020-2021), OFF Biennale (Budapest, 2020-2021), Tabakalera (San Sebastian, 2020), VBKÖ (Vienna, 2019), Art Encounters Biennale (Timișoara, 2019), Tokyo Photographic Art Museum (2019), Biennale Warszawa (2019), Museum of Modern Art (Warsaw, 2019), Kyoto Art Centre (2019) and Muzeum Sztuki (Łódź, 2019). Recent residencies include the DAAD artists-in-Berlin fellowship programme (2021), City of Women Festival (Ljubljana, 2019), Stuart Hall Library (London, 2019), PARADISE AIR (Matsudo, 2018), Copenhagen International Theatre (2018), MuseumsQuartier (Vienna, 2018) and IASPIS (Stockholm, 2017).
Re-developed in 2021 by Artsadmin as part of What Shall We Build Here festival, Pretend You've Got No Money by Alicja Rogalska was originally designed for a local supermarket in Flemingsberg, Sweden as part of a Local Minima project with Vision Forum. Narrated by Anna-Maria Nabirye. Sound by Martin Clarke.
About Mapping Local Ecologies
Mapping Local Ecologies, a part of the Residents programme at the Goldsmiths Centre for Contemporary Art, presents a schedule of regular events and activities aimed at re-discovering and re-engaging with historical and newfound narratives within the locale of New Cross and South East London at large.
In the form of a research group, the year-long project aims to explore local oral histories and accounts seeking to address themes of gentrification, local identity, and community building. The events will be led by various guest contributors such as community members, local artists and networks within the broader Goldsmiths student ecology.
To learn more, visit mappinglocalecologies.com, find us on Instagram, or join our mailing list.
Image: Pretend You've Got No Money (2021), Alicja Rogalska, courtesy of the artist.