Description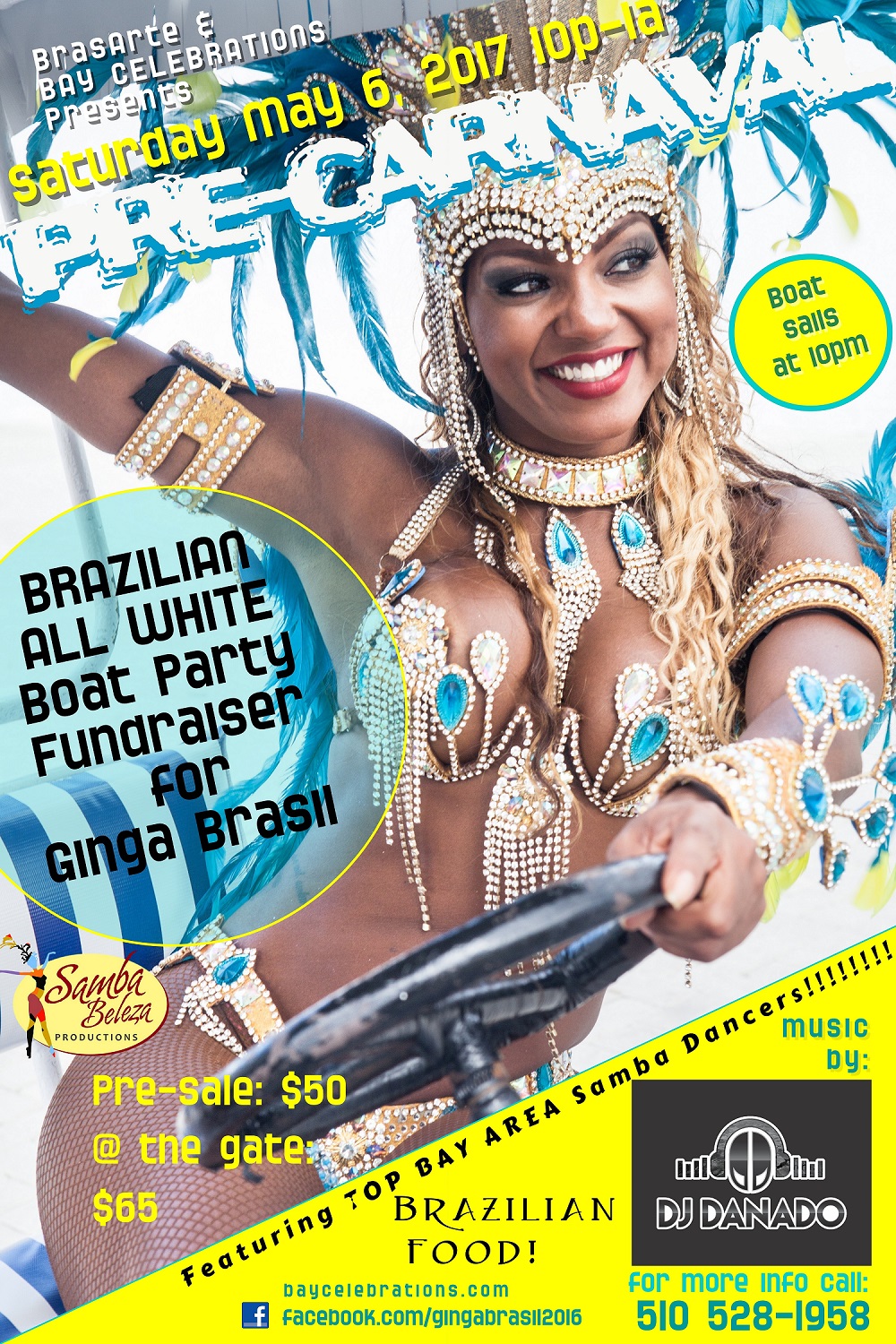 Carnaval San Francisco season is here!!!! Come party Brazilian-style at BrasArte's all-white Pre-Carnaval fundraiser boat party May 6th from 10 pm - 1 am. Party like you're in Brazil as we cruise the San Francisco Bay with DJ DANADO one of San Francisco's hottest Brazilian DJ's, who will be on deck with the hottest Brazilian music and Top 40. Special guest Brazilian Samba dancers will be performing and there will be authentic Brazilian food and a no host bar. Proceeds from this event will fund carnaval expenses for "Ginga Brasil", the contingent representing BrasArte at Casa de Cultura. Boat sails at 10pm and returns at 1 am.
Tickets expected to sell out, secure your ticket now! Venha!!!! Viva Carnaval!!!!!
Location: Jack London Square
Loading time will be at 9:40pm.
Embarcadero and Broadway
Behind Plank

Jack London Square in Oakland
Yes there will be drink specials designed just for you.
Come have some great times with us once again on this beautiful boat cruise over the bay area waters, while we get our boogie on to some great music, meet, great, & vibe with good folks, see the many wonderful surrounding sights, travel under Bay Bridge's and enjoy this wonderful excursion on SF Bay!
**Boat departs at "10PM SHARP!!"
We "MUST" leave on time and keep on schedule folks. The boat will not wait for you so please arrive extra early to get good parking and familiarize yourselves with the area. There are big parking lots in the Jack London Square area close to our departing place, and public parking on the streets, but can be busy with the many restaurants and shops so please prepare. There are many places to eat & drink by the nearby boat boarding location after you park so coming early is highly recommended to situate yourselves, avoid any stress, and grab a drink or a bite to eat in this beautiful area while you're waiting.

((( BOAT DEPARTURE ADDRESS ))) ~>>> 1 BROADWAY, OAKLAND, CA 94607

...in the Jack London Square (area of Oakland) at the very end of Broadway Street (also next to Lungomare restuarant - in case you need another reference).

*Boat returns at 1am.

*Please remember to bring your PHOTO ID's to be checked thru security and for ticket purchase confirmation. Please bring your ticket print-outs (if possible). *If you have bought multiple tickets, please have these persons with you on arrival before entering the boat to avoid confusion! This is a 21+ event.

About the boat: "Bay Celebrations" is a locally owned, double decked riverboat style vessel powered by twin engines. The boat is wheel chair accessible and features a full bar and indoor / outdoor areas. The boat moves slowly for maximum comfort and will tour the lovely waters of the SF Bay with viewings of the Bay Bridge, Golden Gate Bridge, and Alcatraz. This boats' capacity is 145 people.

*We highly recommend that you eat a good full meal before arriving to the boat keep your tummies full during the entire boat ride. Alcohol on an empty stomach is no bueno! There will many beverages (water, alcohol, soda, juice, etc.) sold at the 2 boat bars. We strongly suggest bringing a thick jacket as it can get chilly & windy during the evening hours and out on the deck. No backpacks and only good vibes on this journey...
Let's have some fun!

Please 'like" our public facebook page: https://www.facebook.com/baycelebrations/?ref=hl
Feel free to join our facebook group for what's next for what's next https://www.facebook.com/baycelebrations/?ref=hl
Here is our website events and more infomation http://www.baycelebrations.com/