Sales Have Ended
Ticket sales have ended
Tickets will be available for purchase at the Wildcatter from 12 PM General Admission $ 15.00 Kids 10 and under free Admission
Sales Have Ended
Ticket sales have ended
Tickets will be available for purchase at the Wildcatter from 12 PM General Admission $ 15.00 Kids 10 and under free Admission
Description
are teaming up to bring the most authentic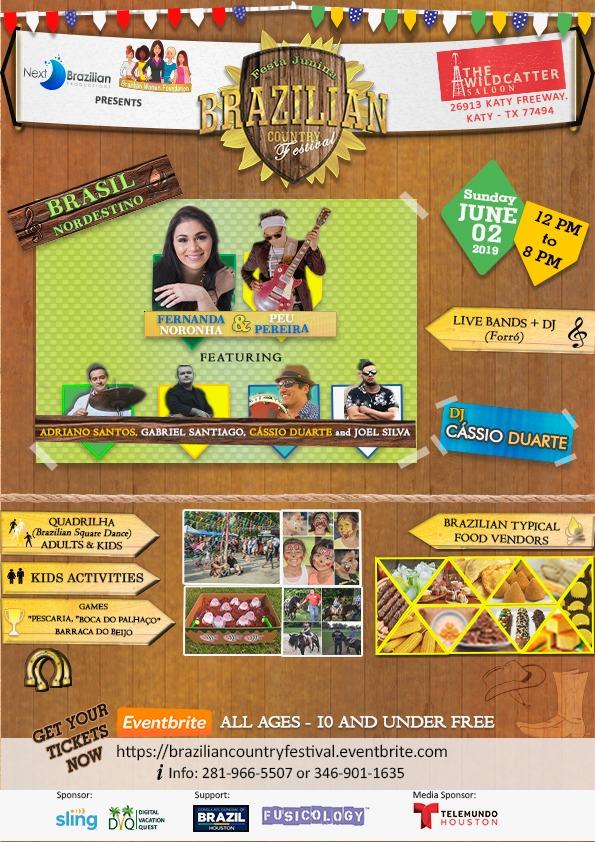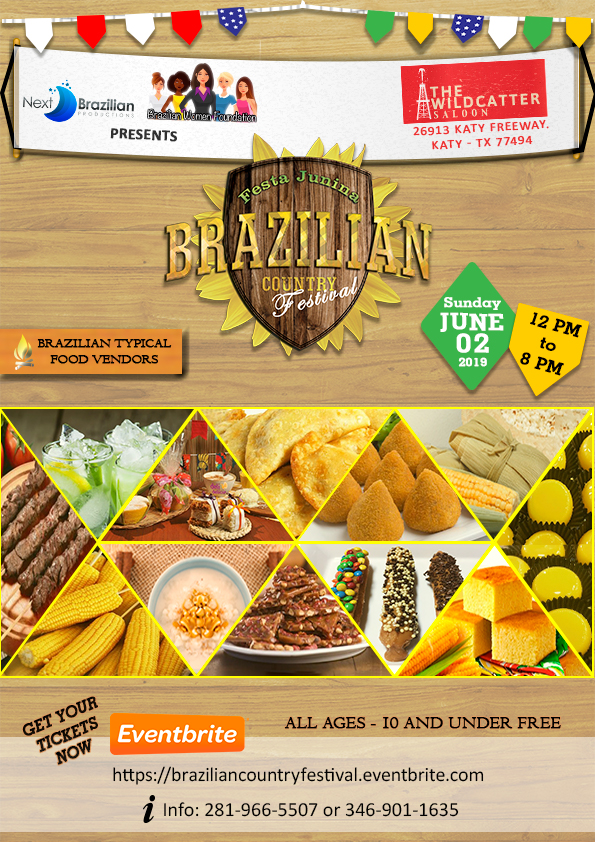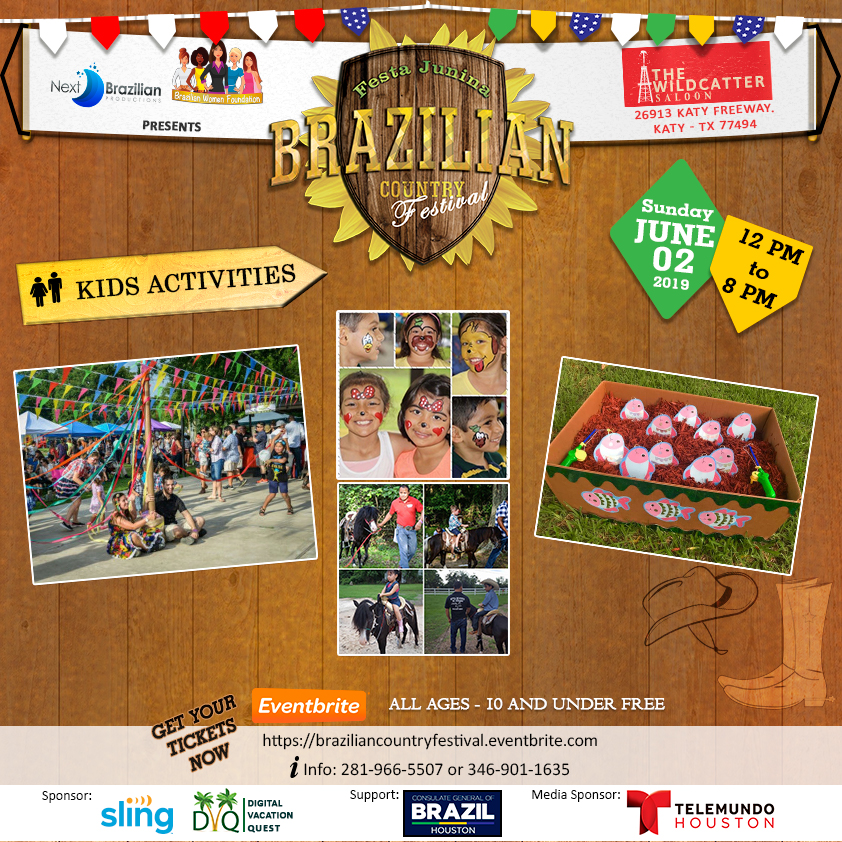 The Wildcatter Saloon and Pavilion is quickly becoming the premier outdoor venue in Katy, is a charming and country venue just 32 miles from downtown Houston, featuring a perfect environment to connect kids and adults with outdoor recreation.
A TRADITIONAL BRAZILIAN COUNTRY FESTIVAL - FOR ALL COMMUNITIES.
Put on your boots, cowboy hat and come celebrate with us. It is time for our harvest celebration with the Brazilian Country Festival 2019. Organized by

Brazilian Women Foundation &

Next Brazilian Productions

this festivity brings a bit of Brazil's countryside traditions to Houston such as kids activities & games, traditional food & drinks, and live bands performances.
**A family-friendly event for people of every nation!
Traditional games: "Pescaria, "Boca do Palhaço" and more
Featuring headliner
Fernanda Noronha singer and composer
- The 2018 Brazilian Press Awards Winner ( Best Female Vocalist ) returns to Houston accompanied by music director & guitarist
Peu Pereira
and musicians
Gabriel Santiago, Adriano Santos, Joel Silva and Cassio Duarte
presenting her Project "Brasil Nordestino" with the purpose of promoting the Northeast sounds of Brazil in The United States, with songs that celebrate one of the most expressive celebrations of the Brazilian Culture, the "Brazilian Festa Junina".and her show include repertoire with classics of the "Traditional Forró"; "Xote"; Baião; Xaxado, Lamento Sertanejo, among others rhythms that are traditional in this festivity.
◙◙◙◙◙◙◙◙◙◙◙◙◙◙◙◙◙◙◙◙◙◙◙◙◙◙◙◙◙◙◙◙◙◙◙◙◙◙◙◙◙◙◙
DJ and Percussionist Cassio Duarte will be spinning the best of traditional "Festa Junina - Brazilian Country music.

Those attending will be treated to typical Brazilian food from a variety of vendors, which includes barbecue skewer and different dishes such as Pamonha (sweet corn cake) and Canjica (sweet maize porridge) and much more.
Caipirinhas - Caldo de Cana - Coconut Water - Guarana
Attendees are encouraged but not mandatory to dress up like farmers and country style to enjoy and dance the Quadrilha (Brazilian square dance) as they were in Brazil's countryside.
General Admission: ✭ $ 15.00 - Cash Only - ATM available
✭ Kids 10 and UNDER FREE.
Free off-street parking or private parking for a fee.
No outside Food or Drinks Allowed -
You can bring your own beach chairs -
Free off-street parking and private parking for a fee.
This event is sponsored and supported by:
Sling TV Brazilian & Digital Vacation Quest
Consulado-Geral do Brasil em Houston, Sergio & Doris Travel, Doris Santos Realtor
Media Sponsor: Telemundo Houston
FACEBOOK EVENT LINK:
https://www.facebook.com/events/2007321856242209/
Facebook Event Page:
https://www.facebook.com/braziliancountryfestival/
Got a business? Got a Question? Get in touch!
SUBSCRIBE TO OUR NEWSLETTER
Don't miss out on shows and giveaways!