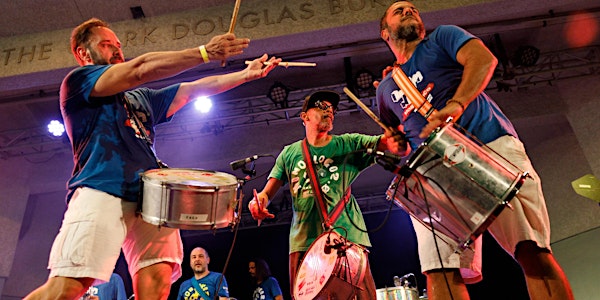 Brazilian Carnaval Matinee 2023 featuring MONOBLOCO
Celebrate Carnaval through the sounds, samba & euphoria of Brazil! The most celebrated Brazilian brand of innovative batucada Monobloco!
When and where
Location
Candela La Brea 831 South La Brea Avenue Los Angeles, CA 90036
About this event
Brazilian Nites Productions & Brazilian Play and Learn present:
The Los Angeles institution of true Latin party spirit, community, family friendly and rhythms will seduce all party-goers when the 21st Brazilian Carnaval Matinee of beckons revelers on Sunday, March 5, 2023 at Candela La Brea. A faithful replica of the real Carnavals in Rio and Bahia, Carnaval is the most authentic and extravagant party on the West Coast and has consistently sold out for the past 21 years takes place in the spirit of Carnaval celebrations in Brazil & around the world. Featuring the most celebrated Brazilian brand of innovative batucada Monobloco directly from Brazil plus Kizambo Brass Band, LA Samba Dancers and DJ Potira.
Kid's activities organized by Brazilian Play & Learn, specialized in teaching Portuguese and the Braziian culture to kids and teens by using storytelling, traditional games, dance, songs, and arts and crafts. Costumes are encouraged.
L.A.'s official, and longest running party tradition happens in the heart of Miracle Mile . This hybrid dance party and Brazilian music concert offers patrons the chance to indulge the senses and lose themselves in a relentless sea of samba, surrendering to irresistible beats behind the anonymity of sequins, masks and feathers. The national cocktail of Brazil – the Caipirinha – will also be available for purchase. Caipirinhas are made with Brazil's most common distilled alcoholic beverage Cachaça, mixed with sugar and lime and poured over ice. This light and refreshing cocktail blends perfectly with the heat and non-stop energy of Carnaval. " Costumes are encouraged!
The joyous energy of the Rio de Janeiro carnaval comes to the US! Monobloco is a "bloco", or street band, that parades during carnaval in Rio de Janeiro and is also a professional touring band. The group became popular by creating powerful cover versions of Brazilian hits, stepping outside of the samba genre. Classics by Tim Maia, Jorge Benjor, Alceu Valença, and many others were transformed into samba anthems and attracted fans from a whole new generation. During the world-famous Rio de Janeiro carnaval Monobloco has its own parade, which today attracts over half a million people to the streets to dance and sing. Monobloco has performed extensively around Brazil and internationally, including at the Olympics and in Central Park. The group has also released several live and studio albums including the 2010 release called "10", which was nominated for a Latin GRAMMY for Best Samba/Pagode album.
The Los Angeles Samba Dancers are specialized Brazilian Style Carnival Dance Company. The choreographer and founder Joany Macias has been parading in Rio de Janeiro's Brazilian Carnaval at the Sambadrome with the prestigious Salgueiro Samba School. She has crossed continents and cultural barriers with her inspiring and spirited dance offering the American audiences an exceptional live entertainment experience!
Blending eclectic Brazilian beats with urban cultures, DJ Potira believes the natural fit of all different types of music, and her Brazilian background help her read any audience, whether its to get a venue jumping or to set the mood to an art gallery cocktail reception. Adapting her DJ sets to the environment and audience is her forte. She goes above and beyond to create a mix best suited for the event on hand. She doesn't drown her audience with Main Stream, but rather creates an amazing well balanced musical landscape that sets the tone for the perfect evening.
Thank you to the support of the Brazilian Consulate of Los Angeles
Sponsors: REMO
PROGRAM of the CARNAVAL:
Doors: 4pm - 6pm - Activities with Brazilian Play and Learn & DJ Potira
6pm - DJ Potira
6:30pm - Kizambo Brass Band
7:30pm - MONOBLOCO / Samba Dancers
9:30pm - DJ Potira
10:00pm - Until next year!