Description

Art&Design Gallery & LAAP cordially invites you to:

BRAZILIAN

a

r

t

IN MIAMI

2
Curated by: Angela Oliveira & Diego

Mendonça
This "carnival style" exhibition will feature the lively & colorful works of more than 60 Brazilian Artists. Filled with music, art, food, and drinks including the famous Brazilian "caipirinha", the party starts on Tuesday,
July 18th at 8pm
.

Come join the fun and see how the works of these artists will light up Miami with their Brazilian flair.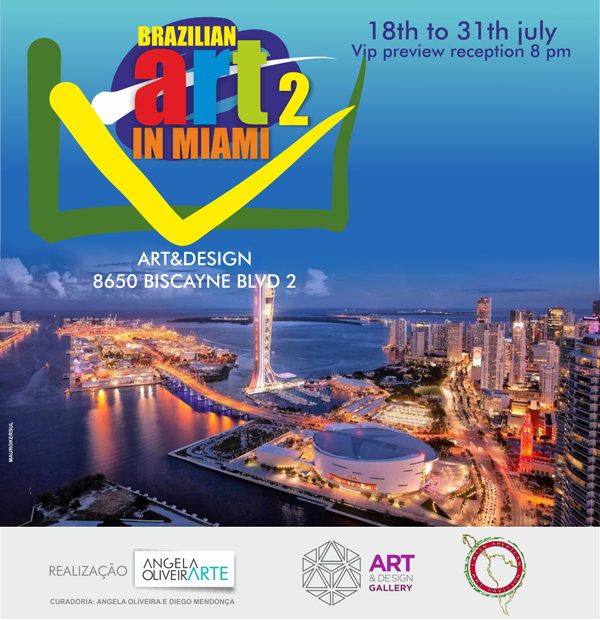 "In this exhibition I tried to explore a free theme with varied styles and the result was a composition where the color of the works show the hope and joyful soul of the Brazilian people, whereas even in a crisis like the current one the country faces, they do not lose their sense of strength and optimism... I hope we can present a balanced and harmonious exhibition."

-Angela Oliveira
MAURO KERSUL / RICARDO MUNHOZ / PAULA PORTELLA / BRUNO PORTELLA / KAKATI / PAULA PAES LEME / CHARES OAK / DILZA ARAUJO / NORBERTO NOSCHANG / ALEXANDRE JORGE / SERGIO FERREIRA / FABIO NERY / CLEUZA GONCALVES / ANDRE ANDRADE / SANDRO WARD / VALERIA TOTTI / RICARDO RAPOSO / PETTERSON SILVA / RAFAEL LUDICANTI / ADEMAR M. GALVAO / SANDRO DEL PIRES / ROGERIO PEIXOTO / LEONARDO BUENO / VANIA BERGONSI / JULIANA SALOMAO / GINA CASTELO BRANCO / CIBELE ALVES RODRIGUES / CLAUDIA CABRAL / LUCIANA GOMES / SOLANGE RIBEIRO / ANGELA FALCOMETA / SILVANEY VASCONCELOS / MARCELO CAMUNHAS / MARTA SPAGNOL / CARMEN FREAZA / ANNY CARVALHO / CARLOS MEDINA / PATHY ESSE / DIEGO MENDONCA / HENRIQUE VIEIRA FILHO / CRISTIANE PICERNI / ANA GOMES / SELMO TREIGER / MIRELA FIORESY / LEOPOLDO MARTINS / DANILO BORGES / LUAN RIBEIROVISK / CELIA RA / ADRIAZEVEDO / MARIA NAZARE SANTOS / ROSANNA VAZ / MARCIATUCA / AURINO JOTTAR / MONIQUE SABOYA / CAROL PIMENTEL / LEONARDO LABRIOLA / SANDRA MONTENEGRO / FABIO PANTONI / GERMANA ZANETTI / ANA SANTIAGO / JOAO MACCHADO / CARLA STANCATI / ALEX ALLEN /BRENNO BAESSA / ENIO GODOY / MARIA MALLMANN / LUCIENE AGUIAR / SU REVERSE / TATIANA REVERSE / MARIO RUSCHEL BURGOA