Description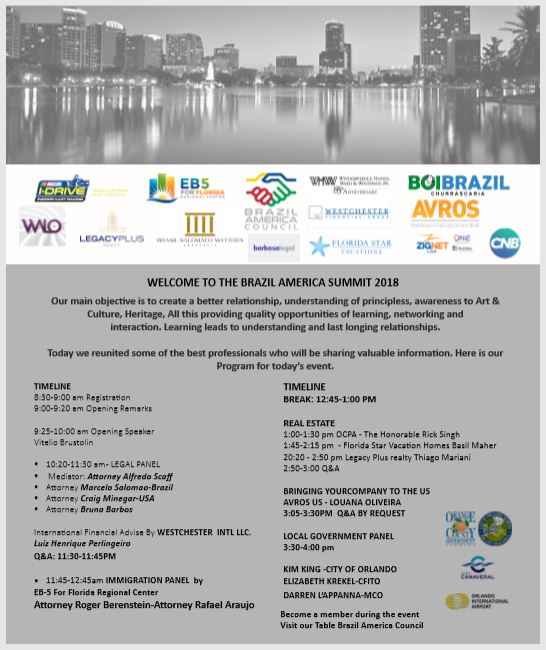 The Brazil America Legal and Business Summit has the purpose of inform, educate, and offer a level of information never promoted in the past. With the participation of highly skilled professionals in the legal field, both Brazilian and American, we hope to attract a good audience.
LEGAL PANEL Mediator: Attorney Alfredo Scaff Filho
BABC President Brazil




OPENING SPEAKER
Professor Vitello Brustolin

Professor Vitello Brustolin
Professor at Institute of Strategic Studies and International Relations of the Fluminense Federal University (INEST-UFF). Fellow and Researcher at Harvard Law School and Harvard Department of the History of Science. Website: http://scholar.harvard.edu/brustolin | Adjunct Professor at School of International and Public Affairs of Columbia
University
ATTORNEY MARCELO SALOMAO
The Offices of BRASIL SALOMÃO AND MATTHES S / A ADVOCACIA, work in the areas of Taxes, more directly related to issues related to ICMS, including oral submissions and opinions, Contractual Partnership, Administrative Law and all involving commercial and Tributary issues, with several books and articles published in renown publications.
With Offices in Brazil located at Ribeirão Preto, Campinas, Franca, Goiânia, Belo Horizonte, Três Lagoa (MS) e Rondonópolis (MT) they Excel in their area of expertise and rank among the top 3 firms in the country as published by Analise Magazine recently.
Professor at IBET, as course coordinator in Ribeirão.Preto, SP. Also a guest Tributary Law Teacher in several Post Graduation Classes in the Country.

Winderweedle, Haines Ward and Woodman
Partner Attorney Craig Minegar-Legal Aspects of Real Estate in the US
Attorney Craig Minegar-Legal Aspects of Real Estate
For 80 years, Winderweedle, Haines, Ward and Woodman has woven a rich heritage of quality, ethical representation for its clients both large and small. As a trusted advisor, the Winderweedle name has become synonymous with lasting, highly regarded relationships. As one of Florida's oldest and most respected law firms, clients are attracted to its superb reputation.
With an accomplished group of partners and associates, ever-expanding areas of practice, and multiple locations across Central Florida, Winderweedle further solidifies its place in the legal landscape in Central Florida and beyond.
LUIZ HENRIQUE PERLINGEIROAsset Protection
Do you have a plan B?
PROGRAM
• First Line of Protection: Transferring Assets Overseas
•
Second Line of Protection: Immigration
• International Tax Planning
• International Agreement for Exchange of Tax Information:
FATCA e OCDE
International Structures of Protection and Succession: Trust Private Foundation -
ATTORNEYS RAFAEL ARAUJO & ROGER BERNSTEIN
EB 5 and Immigration
IMMIGRATION PANEL
Roger Bernstein the CEO of EB-5 for Florida Regional Center. He is also a partner in the Miami office of Saul Ewing Arnstein & Lehr LLP and a member of the firm's Immigration and EB-5 Practice Groups. He is a Florida Board Certified immigration attorney with 20 years of practice devoted exclusively to immigration law and is a recognized expert in EB-5 Investor related issues. He focuses his practice on advising high net worth individuals, developers and regional centers in navigating the complexity of the EB-5 program. Mr. Bernstein spent six years with the U.S. Department of Justice serving as an INS trial attorney, sector counsel to the INS' Inspections and Investigations Divisions and INS Asylum Officer. Prior to joining the firm, he co-founded Bernstein Osberg-Braun, LLC in 1998 and has since focused his practice on assisting immigrant investors, acquiring employment based visas and complex immigration litigation.
Mr. Bernstein has represented and counseled foreign governments, Fortune 500 companies and large-privately held
companies. He has also successfully acquired non-immigrant visas and residency for hundreds of individuals who desired to live and work in the United States.
A graduate of Brown University and the University of Miami School of Law, Roger Bernstein serves as Chair on the Miami–Dade County Enterprise Zone Advisory Council. He previously has served as Chair of the Florida Bar Immigration Certification Committee, the Board of the American Jewish Committee, the Great Florida Bank Advisory Board. He is admitted to practice law in Florida, the 11th Circuit Court of Appeals and the Supreme Court of the United States. He speaks conversationally in Spanish and Japanese.
Rafael De Araujo, COO
Rafael De Araujo is the COO of EB5 for Florida Regional Center LLC and has been the principal attorney of the Law Office of Rafael De Araujo PA since its founding in 2010. Fluent in Portuguese and a dual citizen of the United States and Brazil and, Mr. De Araujo's practice caters to a primarily international client base and specializes in the areas of Real Estate and Commercial Transactions, Corporate Law, and Investor Immigration.
Prior to practicing law, Mr. De Araujo was trained in business development by Fortune 500 companies like Stryker Instruments and BellSouth, where he distinguished himself with sales achievement awards and an aptitude for leadership. At BellSouth he was selected by management to represent his department as a member of the Executive Council to foster inter-departmental synergy and selected by his peers to represent them as their Union Steward.
Mr. De Araujo is a graduate of Florida International University School of Law (2009) where he participated in the Immigration and Human Rights Clinic, and earned his BA degree in Political Science with a minor in Business Law from the University of Miami (1997).
Mr. De Araujo is a member of the Brazilian American Chamber of Commerce, as well as the Real Property, Probate & Trust and International Law sections of the Florida Bar.
EB5 FOR FLORIDA Regional Center
10800 Biscayne Boulevard, Suite 825
Miami, Florida 33161
AVROS US - RENE DUVECOT
WAILOdtp PANEL - MARKETING AND TECHNOLOGY
https://youtu.be/lC1QDmzDlL8
REAL ESTATE PANEL
OCPA Rick Singh[/caption]
OPENING SPEAKER
The Honorable
Orange County Property Appraiser Rick Singh

Broker Jacob Abdala
Florida Star Vacation Homes-Basil James Maher
Orange County Government
Central Florida International Trade Office
Elizabeth Krekel
Carol M Palacio
Office of Economic Trade & Tourism Development
Central Florida International Trade Office - Elizabeth Krekel
Carol M Palacio-Office of Economic Trade & Tourism Development
City of Orlando
Luis Martínez Multi Cultural Director to Mayor Buddy Dyer
Kim King - Business Development for the City of Orlando