Brazen Body Confidence: A Workshop for Body Confidence & Emotional Eating
Event Information
Refund policy
Contact the organizer to request a refund.
Eventbrite's fee is nonrefundable.
BRAZEN BODY CONFIDENCE: Online Workshop for Body Confidence and Emotional Eating
About this event
Are you SO OVER the negative thoughts you consistently have about your body no matter how you look?
Are you feeling WEIGHED down by the voice that you hear every single time you look in the mirror?
Are you TIRED of being stuck in an anxiety / shame / guilt spiral every time you eat something that you feel isn't "good for you"?
Are you SO DONE WITH being stuck in an anxiety filled relationship with your body and food?
Do you have intense cravings for foods that you WISH you knew how to get away from?
Do you find yourself in binge eating spirals only to feel so low about yourself afterwards?
Is how you are feeling about your body impacting your overall confidence and self worth?
Are you tired of being at war with your body and DYING to be able to have more love and acceptance for your body?
Are you SO DONE WITH hiding from the mirror and feeling panicked every time you have to put on a bathing suit?
ARE YOU READY for freedom and confidence about your body and your relationship food?
ARE YOU READY to break free of the patterns that have been holding you back for years?
ARE YOU READY to learn how to develop love and appreciation for your body like never before?
GET READY to cut the cords with insecurity and learn how to breathe love and confidence through every cell of your body.
In this 3 hour intensive workshop I am going to take you through proven tools and techniques such as Emotional Freedom Techniques (Tapping) that will help you to heal your relationship with your body and food and step into the BOLD love, confidence and peace with your body and your life!!
THIS stuff WORKS. I promise. I can't wait for you to experience this magic!
If you are someone who has spent thousands of dollars on resources, workout plans, diets, therapy, coaching and still find yourself feeling stuck with your body and/ or with food - you are SO in the right place.
These tools have transformed my life and my clients lives (NOT just their relationship to food and their body but literally every single part of their lives) and they are tools you are going to take with you always and forever.
You are going to leave feeling empowered, awakened and ready to take some serious action in your life!
Spaces are VERY limited and this is an exclusive offer!
This workshop is regularly priced at $350 and valued at over $500
BONUS OFFER:
When you register for the BRAZEN BODY CONFIDENCE workshop you will receive a 45 minute bonus training video to get you started on your empowered relationship with your body before the workshop even starts!
Participants will also receive an exclusive customized BONUS right after the training that no one except YOU will receive
TESTIMONIALS:
"Before I joined this workshop I was a little lost and had almost given up on my journey to loving and accepting myself. The workshop taught me incredible skills and feel so calm and content with my emotions now and more in control. I am so excited to see what the next few weeks bring and to learn more about Tapping and putting my new skills to use! I couldn't recommend this workshop enough, Giulia is such an incredible teacher and made us all feel so loved, safe and welcome!! I can't wait to hopefully work with Giulia again soon 💗 I am so grateful to you for putting together this course so thank you!!!"
Rebecca
"This was an extremely helpful workshop which broke down the magic of EFT and included a step by step process. I really enjoyed doing the tapping with the group- it really helped make the process stick with me and showed how quick and powerful EFT can work"
Julie H.
"Before I joined the workshop I was feeling controlled by my emotional eating, and the obsession with avoiding sugar (which made me want it ever more!) Since experiencing this workshop I feel more in control + know that I have the power within me to better cope with emotional/binge eating. I feel the greatest gift from this workshop is the confidence to add tapping to my morning ritual, have a better understanding how to tap through the hard stuff, and add it to my affirmation practice. I love that I can use tapping to raise my vibes as well as work through the old limiting beliefs that no longer serve me! I was a believer in EFT before, this workshop with Giulia just blew my freaking mind! If you have never tried EFT, or you are a student of the work already, I highly recommend signing up for anything she has to offer. You won't leave empty handed, and Im certain you will leave with a smile on your face"
Holly C.
"I've alway had a love hate with body image and food cravings. Before the workshop I was really struggling with the body image and changes that come with getting older. Since the workshop I feel so much more equipped with the tools Giulia showed us during our time together to help heal and overcome the stories I was telling myself. This is not my first time working with Giulia and I keep coming back because she has always provided a safe space for each person to open up, be vulnerable and share without judgement. I would totally recommend this to anyone who is looking to further their relationship with themselves and add more tools to their tool box!"
Cat B.
"Before this workshop I was feeling pretty down about myself and how I relate to my body, which was why I joined. Giulia's workshop revealed to me that I was using food as a coping mechanism to try and make up for the areas of life I can't have control of. It taught me valuable techniques that I am able to apply in every day to gain insight into why I am feeling the way I am feeling and helped me gain perspective on my actions. As well as making me feel much more comfortable being in my body. I think it applies to many areas of life and would recommend anyone who is struggling with self-acceptance in any area of their life to join. Also, if you're ready to be immersed in an amazing community full of love and acceptance, this is definitely the experience for you!"
Rita P.
"Before I joined the workshop I would cope with emotional eating. By working with Giulia, using EFT, I have more space and open-ness to choose how I want to cope instead of instantly falling into the same pattern. The open-ness is transferring over to any area of my life where I self-sabotage and thats AMAZING! Thank you Giulia <3"
Ksenia A.
"This workshop helped me to see some connections between confidence and injury issues that I'm having with my body, and how they relate to and are impacted by other things in my life. It brought me new insight, and allowed me to explore these issues in a very safe space. This wasn't just about body acceptance but exploring your mind body connection, and how your limiting beliefs about your body can deeply impact other areas of your life. Highly recommended!"
Altaira N.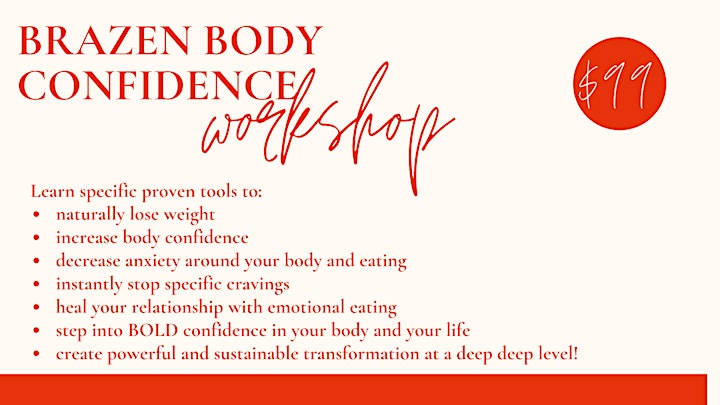 Date and time
Location
Refund policy
Contact the organizer to request a refund.
Eventbrite's fee is nonrefundable.
Organizer of Brazen Body Confidence: A Workshop for Body Confidence & Emotional Eating
Hi I'm Giulia, Transformational Body Positivity and Confidence Leader.
I help women end the battle with their bodies and inner critic so they can develop the confidence and radical self acceptance that transforms not only their relationship with their body, but their entire lives.
I'm a Master Reiki Healer, Certified and accredited EFT Practitioner, Certified Transformational Coach and the founder of Brazen Soul Rebellion. 
Say hi on Instagram! https://www.instagram.com/brazensoulrebellion/
If you're ready to overcome your inner critic, I've got a free video course for you below