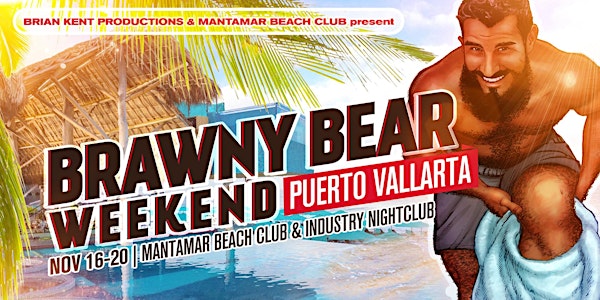 Brawny Bear Weekend 2022 - Puerto Vallarta
Brian Kent Productions, Mantamar Beach Club and Industry Nightclub
Performers
Ralphi Rosario, Tony Moran, Cindel, The Perry Twins, Brian Kent, Dan Darlington, T'Don Marquis
Diego Alvarez, Hoolio KMacho
Location
Multiple Venues
Various
Puerto Vallarta, JAL 48380
Mexico
Puerto Vallarta's newest Bear Weekend kicks of Thanksgiving once again!
About this event
Get ready to kick off Thanksgiving Week once again....
After last years successful weekend event, Brian Kent Productions and Mantamar Beach Club join forces to bring you an epic WEEK you won't soon forget!
Experience BRAWNY BEAR WEEKEND 2022 spanning over FOUR DAYS and featuring SEVEN international DJs at TWO stunning venues with a BRAND NEW TEA DANCE ON THE BEACH featuring Tony Moran and Ralphi Rosario together for the first time ever back to back!! Prepare yourself for mind blowing sunsets, amazing music, bears of all shapes, colors and sizes and lazing on the dazzling sandy beaches.
MANTAMAR BEACH CLUB will host all four daytime pool events. It's a sophisticated and trendy beach club located in one of the most famous gay destinations in the world. Immerse yourself in a vibrant oasis of energy with an atmosphere full of classic daytime T-Dance music by DJ'S RALPHI ROSARIO, TONY MORAN, CINDEL, THE PERRY TWINS, DAN DARLINGTON and T'DON MARQUIS, BRIAN KENT!
Friday, Saturday and Sunday Nights we go to the newly remodeled and biggest gay nightclub in Puerto Vallarta, INDUSTRY NIGHTCLUB! Boasting gigantic LED screens, a state of the art sound system and a chill lounge, INDUSTRY is one of the hottest venues around. Club goers travel to events around the world to experience the seductive beats and music of DJ RALPHI ROSARIO, CINDEL and BRIAN KENT....a truly stellar line up that will keep us going till dawn.
It's also Brian Kent's birthday celebration which is sure to add laughs to the whole weekend!!
Join us for an exciting weekend of new friends, old friends and lots of fun!
_____________________________________________________________________________________
Prepárate para dar inicio a la Semana de Acción de Gracias una vez más....
¡Después del exitoso evento de fin de semana del año pasado, Brian Kent Productions y Mantamar Beach Club unen fuerzas para traerte una SEMANA épica que no olvidarás pronto!
¡Experimenta el FIN DE SEMANA DE BRAWNY BEAR 2022 que abarca CUATRO DÍAS y presenta SIETE DJ internacionales en DOS lugares impresionantes con un NUEVO TEA DANCE ON THE BEACH con Tony Moran y Ralphi Rosario juntos por primera vez en forma consecutiva! Prepárese para alucinantes puestas de sol, música increíble, osos de todas las formas, colores y tamaños y descansar en las deslumbrantes playas de arena.
MANTAMAR BEACH CLUB será el anfitrión de los cinco eventos de piscina durante el día. Es un club de playa sofisticado y moderno ubicado en uno de los destinos gay más famosos del mundo. ¡Sumérgete en un vibrante oasis de energía con una atmósfera llena de música clásica T-Dance diurna de DJ'S RALPHI ROSARIO, TONY MORAN, CINDEL, THE PERRY TWINS, DAN DARLINGTON and T'DON MARQUIS, BRIAN KENT!
Los viernes, sábados y domingos por la noche vamos al club nocturno gay más grande y recientemente remodelado de Puerto Vallarta, ¡INDUSTRY NIGHTCLUB! Con gigantescas pantallas LED, un sistema de sonido de última generación y un chill lounge, INDUSTRY es uno de los lugares más populares. Los asistentes al club viajan a eventos en todo el mundo para experimentar los seductores ritmos y la música de DJ RALPHI ROSARIO, CINDEL and BRIAN KENT... una alineación verdaderamente estelar que nos mantendrá en marcha hasta el amanecer.
¡También es la celebración del cumpleaños de Brian Kent, que seguramente agregará risas a todo el fin de semana!
¡Únase a nosotros para un emocionante fin de semana de nuevos amigos, viejos amigos y mucha diversión!
SCHEDULE OF EVENTS
Thursday, Nov 18
12pm-8pm DJ T'Don Marquis
Mantamar Beach Club
Friday, Nov 19
12pm-8pm The Perry Twins
Mantamar Beach Club
11pm-4am DJ Cindel
Industry Nightclub
Saturday, Nov 20
12pm-8pm DJ Dan Darlington
Mantamar Beach Club
11pm-4am DJ Ralphi Rosario
Industry Nightclub
Sunday, Nov 21
12pm-8pm DJ's Ralphi Rosario AND Tony Moran
Mantamar Beach Club
11pm-4am DJ Brian Kent
Industry Nightclub