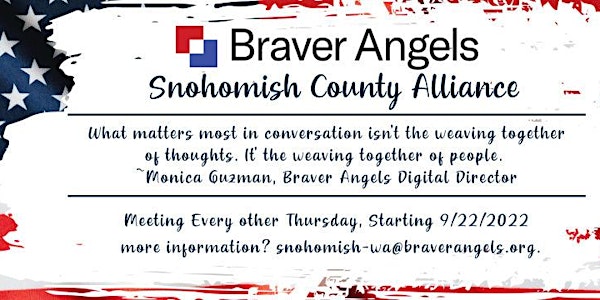 Braver Angels Snohomish County Alliance Meetings
Snohomish County Alliance will be meeting bi-weekly for planning purposes to prepare us for 2023.
About this event
BRAVER ANGELS SNOHOMISH COUNTY ALLIANCE welcomes you to join us every other Thursday for our planning sessions as a new alliance.
WHO WE ARE We are working class citizens that represent the exhausted majority who have chosen to stand together and with our boots on the ground in an effort to depolarize Snohomish County by addressing the identifiable crises in our community with dialogue and sustainable solutions.
VISIONTo create local opportunities to discuss, promote growth and implement sustainable solutions to the polarizing issues affecting our unalienable rights of life and liberty and pursuit of happiness.
MISSIONTo develop lasting community relationships by engaging with the unheard voices in the community in an environment of trust and respect.
more info? snohomish-wa@braverangels.org