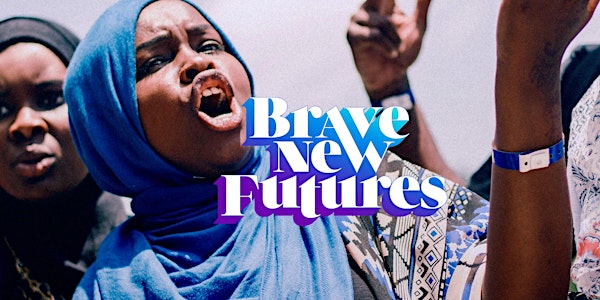 BRAVE NEW FUTURES 2022 Virtual Festival Registration
Register to participate in the Brave New Futures 2022 Virtual Festival. Join us for various events, workshops and townhalls!
About this event
The 2022 Brave New Futures Festival is coming to you online from Friday, July 8th to Saturday, July 9, 2022.
With this year's Festival centering around examining our futures, we understand that it is time that enables change. We invite you to participate, to support and witness this vision for the future with love and grace.
This year we are joining together virtually, which comes with a new set of challenges, but also unique opportunities.
ALL INFO AT BRAVENEWVOICES.ORG • ALL TIMES PACIFIC DAYLIGHT TIME
Friday | July 8
All Events below are CC, ASL, PUB, and Youth Access noted**
4:00 pm - 6:00 pm • Opening and National Youth Open Mic • CC, ASL, PUB
Saturday | July 9
10:00 am • Opening Of Day II • CC, ASL, PUB
10:00 am -11:30 am • National Youth Town Hall • CC, ASL, PUB
12 pm-1:30 pm • Afrofuturism Workshop with Special Guests • CC, ASL, Youth Access
2:00 pm - 4:00 pm • Best Of Brave New Futures Showcase • CC, ASL, PUB
4:00 pm - 5:30 pm • MC Olympics • CC, ASL, PUB
Abbreviations:
CC denotes Closed Captioned.
ASL denotes Interpreter Services Available
PUB denotes Public on YouTube Broadcast
PRIVATE denotes registered attendees only
*Please note that additional ASL Services will be provided by arrangement with BNV Participants
*NOTE: You are able to register 1 ticket per order (this helps us keep track better). Please also be prepared to provide a functioning/ your own email address, this will be the main form of communication and where updates will be sent*
**NOTE: SOME workshops/townhalls have caps on them. They will be first come first serve. Once the meeting is full, the room will be locked and you will have to join another event. If they are public you will be able to watch them on youtube.
***NOTE: If you wish to register as a group under a company and join the BNV Network, please email bravenewfutures@youthspeaks.org
There are two ticket types offered here:
Youth (13-19) who will gain all access to the events and be able to participate in town halls, workshops, and late nights.
Brave New Leaders/ Adults (20+) will gain access to all-age events via streaming and will have access to the Brave New Leaders Workshops.
Donations are welcome! You can enter any amount on the donation ticket.
We bring young people to Brave New Futures so they can tell their stories, receive the stories of others, and build community. We bring young people to Brave New Voices with the hope that they will leave inspired, nourished, heard, proud, connected, expanded, open, thoughtful, and transformed in their understanding of themselves and what is possible.
By attending, you agree to our community guidelines: At Youth Speaks, we are committed to welcoming those that may not have been welcomed elsewhere because of discrimination. We do not discriminate on the basis of age, gender, gender identity, race, national or ethnic origin, language, religion, political beliefs, sexual orientation or physical ability, or immigration status. Further, we require that none of our program participants or affiliates will engage in discrimination. We recognize that discrimination can take many forms, including micro aggressions, overt statements of bias, and biased decision-making. All of these forms of discrimination are prohibited.