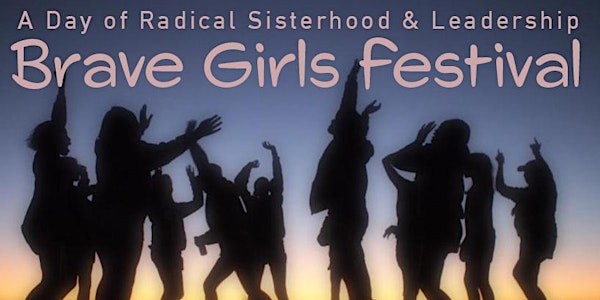 BRAVE GIRLS NYC FESTIVAL: A DAY OF RADICAL SISTERHOOD & LEADERSHIP
When and where
Location
The Assemblage NoMad 114 East 25th Street New York, NY 10010
Refund Policy
Contact the organizer to request a refund.
Description
On October 6, 2018
BRAVE girls from Southern Africa are in NYC to host the
1st ANNUAL BRAVE GIRLS* FESTIVAL:
A Day of Radical Sisterhood & Leadership for young women
BRAVE, Girl be Heard and GGE invite girls from across NYC to come together with BRAVE girls from South Africa, Tanzania and the US for a day of exploration, workshops, and sisterhood, organized with and by girls (and some pretty incredible women). Join us for dancing, live music, filmmaking, more dancing, photography, storytelling, meditation, yummy food, and opportunities to exchange stories and ideas with girls from around the world who are committed to change just like you.
EXPLORE what is at stake for girls around the world.
SHARE YOUR STORY through writing, video, and poetry
DEFINE FEMINISM for a new world.
DANCE YOUR EMOTIONS
CREATE RITUALS around sisterhood to bring back to our own communities.
LOVE in ACTION through meditation, yoga and more.
CONNECT with visionaries in politics, law, architecture, journalism, science and more.
SPEAK YOUR TRUTH
WRITE a manifesto for yourself and girls worldwide.
And then we will DANCE some more.
Because, as feminist and anarchist Emma Goldman said, "If I can't dance, it's not my revolution."
* BRAVE believes in practicing radical inclusivity. Girls* refers to gender-expansive youth and we invite all girl-identified youth to bring your fullest selves! Workshops and conversations will be geared for ages 13 and up.
TELL ME MORE ABOUT THE DAY
Doors open at 9:30. Please register in advance so we can check you in. In the morning we will get to know each other and share our stories so we know what is at stake for girls around the world. And then we will dance. Emotions in Motion is an epic journey of dance through emotions inspired by African, tribal dance and free-form dance with world-renown teacher Bernadette Pleasant. We will offer a light snack and the afternoon will be filled with workshops including Feminism 101, meditation, yoga, journalism, a sisterhood manifesto, plans for activism in your own community and more. We will end with a ritual for sisterhood and say our goodbyes by 5 PM.
I'M SO IN. HOW CAN I HELP?
Sponsor
a girl to attend the festival at $100 per girl
Join us on Saturday, October 6th and help us amplify the voices and power of young women.
Spread the word to your networks. We want to reach girls from across the city and around the world.
BRAVE a South African non-profit organization that empowers and inspires girls to be leaders, supporting girl-led initiatives and building a network of girl and women leaders across the African continent and around the globe.
Each year BRAVE trains underserved girls as journalists and activists, then takes girls between the ages of 14-18 on road trips to interview other girls, meet other girls, leaders, and organizations working to improve the lives of girls and their communities, and produce digital stories and films to raise awareness about what they learn. The South African girls, who live in some of the most dangerous communities in the country, write a weekly column for the Cape Town newspaper and other national publications, as well as for the United Nations Girl Education Initiative blog (see attached examples, and you can also see the first officially published piece, written by Anna and Rabiya from Tanzania, here. )
Workshops are designed by and for young women ages 13 and up. Girls are front and center but you don't have to be a girl to attend. We welcome women of all ages to be there to join us for all workshops and, of course, the epic dancing. We are committed to creating a safe and inclusive space for self-identified girls and women. It is paramount that everyone feels safe and included regardless of age, race, sexual orientation and gender identification. Workshops will be led by diverse and powerful women and girls. We will be talking about sexuality, the female body, femininity and masculinity and how to change the world. If this is a conversation you want to take part in, we welcome you with open arms.
HOW MUCH DOES IT COST TO ATTEND?
The day is free for girls. If you have the capacity to sponsor a girl, please consider doing so.
A light offering will be served mid-day.
WHERE DO WE GO FROM HERE?
Our goal is to send each girl home with tools she can use daily to navigate the challenges in her daily life, a personal manifesto, connection to a global sisterhood and ongoing support through our BRAVE network.


We want to take this festival on the road. Next year on the African continent. The following… you tell us. HELP us bring BRAVE to a city near you.
I HAVE AN IDEA FOR THE NEXT FESTIVAL, HOW CAN I SHARE IT?