Description
BrAva Mom Prom is a charity fundraiser that seeks the support of women age 21 and over (moms and non-moms) for a magical night to raise funds for childhood cancer. This year's event takes place in the Washington County Jr. Fair Building in Marietta, Ohio. Tickets go on sale at 7 p.m. EST, FRIDAY, JANUARY 18, 2019! Visit the site at www.bravamomprom.com for details!

TICKET INFO:
• Tickets go on sale at 7 p.m. ET, on Friday, Jan. 18, 2019 via www.bravamomprom.com Tickets link.
• Tickets are $50 each.
• There will be a two-ticket-per-transaction limit.
• You will have 10 minutes to complete your transaction. You will need the first and last name, phone number, email and age of EACH attendee.
• Admission tickets will be the ONLY ticket type for sale on Jan. 18. You may return to the ticket site Jan. 25 or later to purchase raffle tickets, luminaries and tank tops.
• Paper tickets (print at home) or mobile tickets (on your phone) ARE needed at the door. Once you have purchased your tickets, you will get an email from Eventbrite with your tickets. You may also need them for special offers various vendors may be offering for guests prior to the event. (For example, we might find a formal wear shop willing to offer a percentage off your purchase with your ticket!)
• Please DO fill out the information to add your name to the waitlist in the event that tickets sell out.
• If your name does come up on the waitlist, you will have the opportunity to purchase ONLY ONE ticket. If you do not think you will want only ONE ticket down the road, please don't join the waitlist. We are trying to limit the work of the committe in contacting those on the waitlist and explaining that there is only ONE TICKET available for said waitlist person.
• If you are unable to attend or have any questions, please direct any and all communication to bravamomprom@gmail.com!


FREQUENTLY ASKED QUESTIONS (FAQs)
Do you have to be a mom to attend BrAva Mom Prom?
NO! Mom Prom is open to all women age 21 and over, whether they are moms or not. This event is to celebrate and empower women, all the while showing that women can make a difference for a cause. Women make the world go 'round!
Can I bring my husband/boyfriend/dad/son/brother?
Nope, sorry. Mom Prom is a ladies-only event! Grab your girlfriends and celebrate with a night out, away from the stress and responsibility your role as a woman sometimes creates.
My daughter/niece/friend/sister is not yet 21, but would like to attend the event. Can she come and just avoid the alcohol?
No. This is strictly a 21-and-over event, because alcohol will be served. To protect BrAva Fight and the Washington County Fair Board, we will not admit guests under 21 years of age. IDs will be checked, so please honor this request.
So what is Mom Prom anyway?
Mom Prom is the ultimate girls-night-out charity event where women can dress up, hang out, sample amazing foods from local vendors, dance the night away and honor moms affected by childhood cancer all in the name of supporting an important cause. Never has doing good felt so right!
How much are tickets? How do I get mine?
Tickets are $50 a person and available only through www.bravamomprom.com. Tickets go on sale on Friday, Jan. 18, at 7 p.m. ET. In prior years, tickets have sold out very quickly, so please be ready! Once you purchase your ticket, you do may print out the ticket or you may simply use your email confirmation as a mobile ticket at the door.
If I plan to attend with a group of women, do we need to buy tickets together or is it "general admission"? Will there be seating?
All tickets are general admission, and there are no assigned tables or seats. There will be tables and chairs, but we hope you'll spend most of your time on the dance floor, with your friends at the photo booth or taking a chance on your favorite raffle items.
What should I wear?
Mom Prom is a dressy affair. While we expect a range of dresses, from dressy casual up to formal gowns, you should wear something that makes you feel special! Dress to your comfort, wear your choice confidently and feel like a million bucks!
Do I need to bring my camera?
We're lucky to have the services of several amazing professional photographers for the entire event, who will be snapping away photos of guests in all aspects of BrAva Mom Prom. Those photos will then be available online after the event. If you want to bring your own camera (at your own risk,) feel free, but we do have the professional photographer ready to worry about that stuff while you party the night away with your girlfriends!
Do I need to bring money to the Mom Prom?
You may want to bring cash to buy additional raffle tickets. You may also want to bring some cash in case you want to buy a drink at the cash-only bar. HOWEVER, we have the capability to run both credit and debit cards, so you could feasibly do the event cash-free!
Is there a special transportation or hotel room discounts for women attending the Mom Prom?
Yes! Please see the Hotels and Transportation link at www.bravamomprom.com.
What if something comes up after I buy a ticket and I can't attend the Prom?
Tickets are refundable through April 15 ONLY. If you are not able to attend, contact us at bravamomprom@gmail.com and we will release the ticket to those on the wait list, in order of registration. You CANNOT sell or transfer your ticket on your own, as we reserve the right to honor those on the wait list with the chance to attend. After April 15, if you are unable to attend, your ticket price becomes a DONATION to BrAva, which we truly appreciate.
Am I able to buy raffle tickets even if I am not a ticket holder for the actual event? Do I need to be present to win?
No and yes. NO, you may not purchase raffle tickets for the event if you do not have an admission ticket and plan to be in attendance. YES, you must be present to win.


NEW for 2019!
BrAva Mom Prom Tank, in sizes XS - 2X (available Jan. 25 - April 9)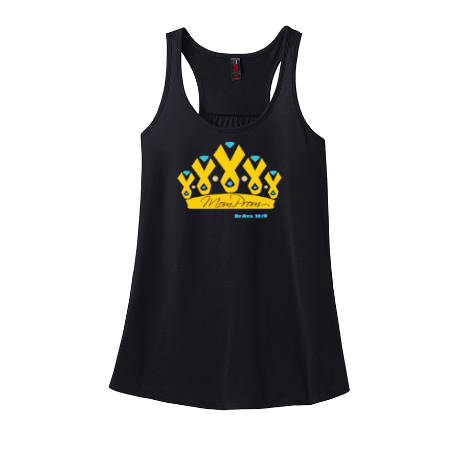 BrAva Mom Prom T-shirt, in sizes XS - 4X (available Jan. 25 - April 9)