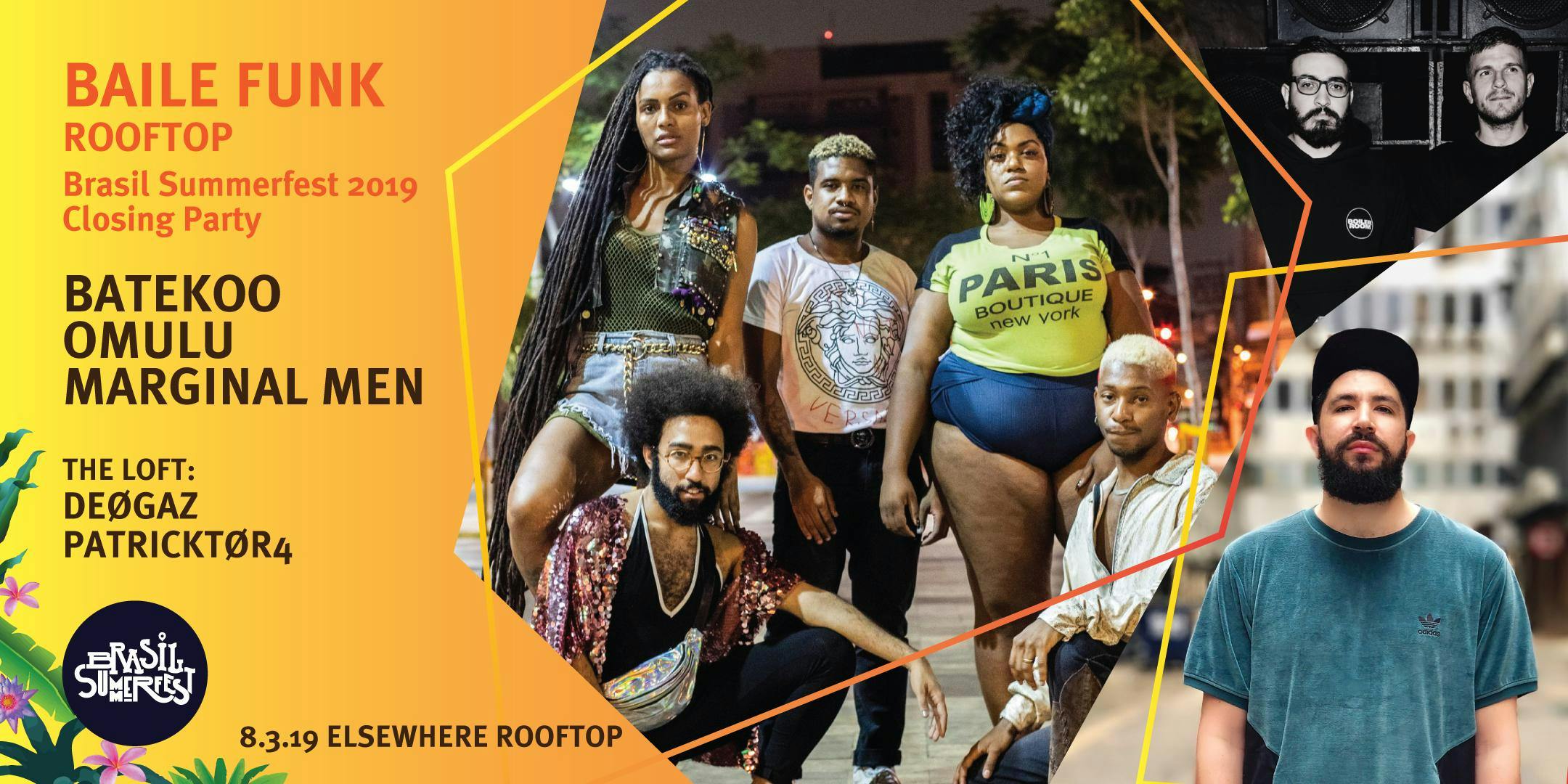 About this Event
**This event will not accept the Saturdays + Sundays RSVP for free rooftop entry before 4pm listed on the Elsewhere website
Brasil Summerfest: Baile Funk Rooftop Festival Closing Party
Festival closing party featuring baile funk's hottest party collectives and genre bending DJs from Brazil. 
BATEKOO
BATEKOO is the premiere LGBT, Afro-Centric party collective in Brazil. The collective was born in Salvador, Bahia in 2014 as a party made by black producers for the black marginalized community. Nowadays, it has a configuration of a movement that aims to increase value and promote black culture and its aesthetics. Since its creation, BATEKOO's goal is to empower urban youth all over Brazil, focusing on generating a safe space to all the minorities from the LGBT community. The vibe you'll find at a BATEKOO party is a mixture of urban Afro-American with Brazilian funk events that happen in the favelas. The DJ sets range from baile funk, trap, kuduro and hip hop. In 2018, BATEKOO was recognized as São Paulo's best party by Folha de São Paulo, the country's main newspaper. 
Red Bull documentary on BATEKOO
https://soundcloud.com/batekoo
OMULU
Rio de Janeiro producer and DJ Omulu aka Antonio Antmaper is one of the creators of Rasteirinha, a blend of funk carioca with reggaeton and axé. Ask him about Brazilian funk's global success and he'll tell you that he had something to do with it. "I feel a little responsible for this second baile funk world wave," he says. "I first sent MC Bin Laden and Brinquedo songs to Diplo, and I think he introduced it to Skrillex, who made 'Bololo Ha Ha' known everywhere." The rasterinha-bass-mestre continues to release dancefloor monsters and tour the world over. 
MARGINAL MEN
The Rio de Janeiro bass bandits Marginal Men have become synonymous with explosive DJ sets. The duo is made up of Gustavo Elsas and Pedro Fontes who were creators of Wobble, a party voted 'best party' by Rio 2014 Night Prize. Since then, Marginal Men has been performing festivals in Brazil and around the world, and releasing bass crushing productions with collaborators including MC Bin Laden, Branko, MC Toy, and many more.
https://soundcloud.com/marginal-men
::: In the Loft :::
PATRICKTØR4
Recifé based DJ and Radiomaker Patricktør4 is one of Brazil's main underground DJs. His sets deconstruct the music of Brazil and that of the world. From northeastern Baião, African Kuduro to Carioca's baile funk, Latin Pará's Tecnobrega to Cumbia Digital, the result of these combinations makes his sets full of high energy.
https://soundcloud.com/patricktor4
https://www.facebook.com/djpatricktor4/
DEØGAZ
DJ and production duo Gaspar Muniz and Deo Jorge have been working the decks behind clubs like Output and Le Bain and have garnered fame with their Onda party during Rio de Janeiro carnival. Ready to release an EP of Brazilian edits, Deøgaz mixes deep tropical cuts and Afro-diasporic rhythms. 
ABOUT BRASIL SUMMERFEST
Brasil Summerfest is the country's premier contemporary Brazilian music & arts festival showcasing some of the country's most dynamic artists, as well as film screenings, art displays, talks and special events that celebrate the diverse cultural offerings of Brazil. This event is the festival's 2019 closing party.
Performers
Date and Time
Location