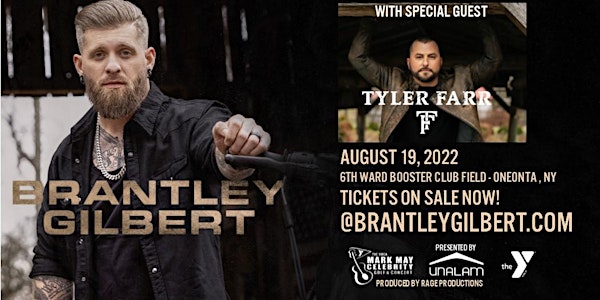 Brantley Gilbert with special guest Tyler Farr
Performers
Brantley Gilbert
Tyler Farr
Location
6th Ward Booster Club Field
7 Scrambling Ave
Oneonta, NY 13820
Country Music star BRANTLEY GILBERT with special guest country music star Tyler Farr
About this event
About Brantley Gilbert
With back-to-back Platinum albums and a grassroots following millions strong, Brantley Gilbert's music has been shared, covered and adopted as the soundtrack to Saturday night and Sunday morning by audiences around the world. The Georgia native who started as the defiant life-of-the-party can still go 'til sunrise, but he's also emerged as something far greater: the leader of a massive tribe of hard-working, fun-loving believers for whom electric guitar-shredding, rapping, and twang can go hand-in-hand-in-hand. They call themselves the BG Nation, and when the BG Nation watches Gilbert on a stage, they don't just see a star. They see themselves. Seven No. 1 hits punctuate his career: "Country Must be Country Wide," "You Don't Know Her Like I Do," CMA Awards Song of the Year nominee "Dirt Road Anthem," "My Kinda Party," RIAA 5x Platinum-certified "Bottoms Up," "One Hell of an Amen" and collaboration with Lindsay Ell "What Happens In A Small Town." Gilbert's landmark record Just As I Am clinched the 2014 American Music Award for Favorite Country Album. Earning praise from the New York Times, NPR, American Songwriter, and more, Gilbert has mined a rich vein of conflict between the party and the pew on all of his albums. Instead of toiling in limbo, unable to enjoy good times for fear of Judgment Day, Gilbert fully lives––rowdy friend, man of faith, devoted husband, smitten new father––just as he is.  For additional information, visit BrantleyGilbert.com or follow him on Instagram and Twitter @BrantleyGilbet and on Facebook @BrantleyGilbertMusic.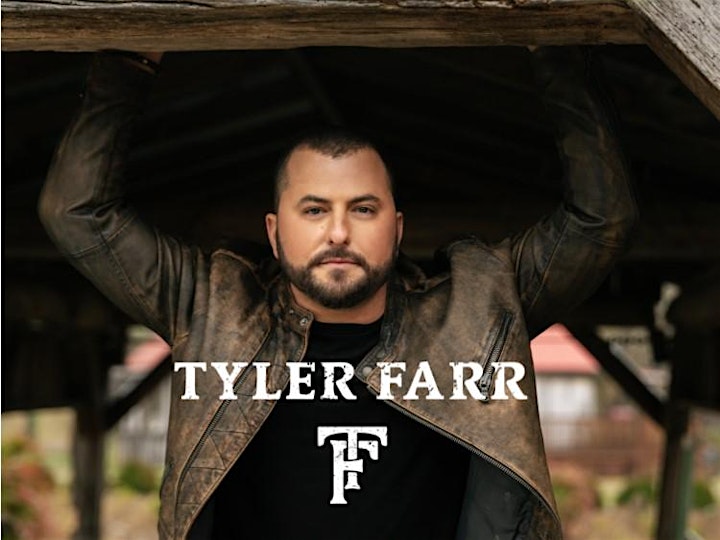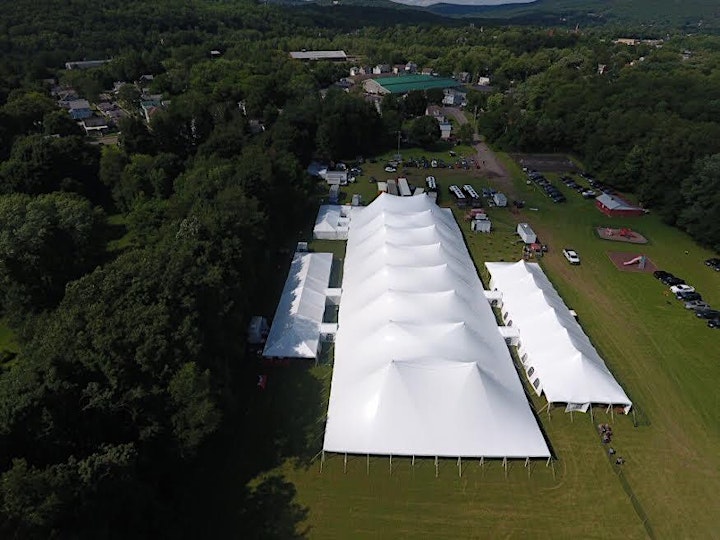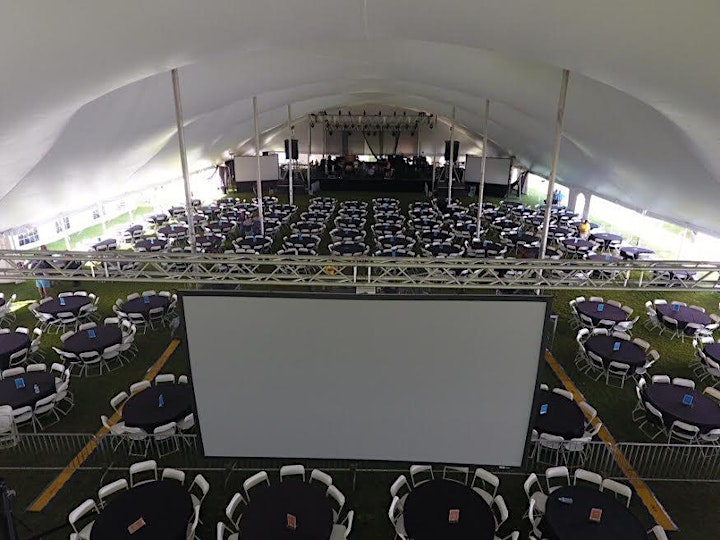 SCHEDULE and TICKET DESCRIPTIONS
Doors: 5:00pm FOOD, DRINKS, MUSIC, CELEBRITIES, LIVE and SILENT AUCTIONS
Tyler Farr @7:00pm
BRANTLEY GILBERT @8:45pm
NO WEATHER TO WORRY ABOUT ITS ALL UNDER 50,000 sqft of tent!
LOOJK WHAT YOUR YOUR TAX DEDUCTIBLE TICKET GETS YOU!
BRANTLEY GILBERT PIT TICKET IS AN ALL INCLUSIVE TICKET
EVERY SEAT IS LIKE BEING IN FRONT ROW
INCLUDES:
OPEN BAR 5-9:30pm Top-self mixed drinks ,beer and Wine.
· FULL DINNER (BUFFETT, Meat dish, Seasoned Fish, Chicken, Hor Dourves stations with a variety of appetizers along with the famous Shrimp Bar, and incredible Dessert Bar)
· PRIVATE AIR-CONDITIONED BATHROOMS
· BRANTLEY GILBERT PIT IN FRONT OF STAGE FOR ALL FRONT BG TICKET HOLDERS
GO RIGHT TO FRONT OF STAGE DURING PERFORMANCES OR SIT BACK AND RELAX. EVERYONE HAS THE OPPORTUNITY FOR A FRONT ROW SEAT
· FREE 2-MONTH ONEONTA Y-MEMBERSHIP
BG 2 TICKETS INCLUDE:
FREE BEER AND WINE 5pm-9:30pm
FOOD GALORE apps, meat, chicken, fish dishes!
PRIVATE BATHROOMS
FREE 2-MONTH ONEONTA Y-MEMBERSHIP
BG 3 TICKETS INCLUDE:
PICK A CHAIR IN THIS AREA IN THE ROWS OF SEATING
ITS CLOSER TO THE STAGE
FREE TO MOVE ABOUT IN BOTH GA SECTIONS
FOOD and DRINKS Available (beer, wine and mixed drinks)
BG 4 GENERAL ADMISSION TICKET:
BRING A CHAIR OR BLANKET OR JUST DANCE
GOOD LOCAL FOOD Available
BAR SERVING BEER, WINE
UNDER A TENT OR UNDER THE STARS
DANCE AWAY
ALL PROCEEDS GO TO ONEONTA YMCA TO SUPPORT LOCAL FAMILIES!
CELEBRITIES THAT ARE SCHEDULED TO ATTEND :
Mark May, Lou Holtz, ESPN John Anderson, ESPN John Buccigross, ESPN Rece Davis, ESPN Chris Cotter, ESPN Rod Gilmore, George Rogers, Keith Byers, Pete Johnson, Ken Huf, Joe Washington, Johnny Roland and many more!!!!!!!!
Check out our Celebrity Golf Tournament held at beautiful ONEONTA COUNTRY CLUB Golf Course in ONEONTA NY. Mark May brings all his friends from his days as a hog for the Washington Redskins, his time as a TV personality on college gameday with ESPN, CBS, TNT, ABC.... back to his hometown. Come join us for a fun filled day and evening. Past celebrities include NYG, SportsCenter hosts John Anderson, John Buccigross, Barry Melrose, Neil Everett, Lou Holtz, SU coach Jim Boehiem and many many NFL, NHL, NBA, MLB, College basketball, players coaches and family!
FOR GOLF AND OR SPONSORSHIP GO TO: www.Oneontaymca.org
RULES
COVID RESTRICTIONS: NONE
No umbrellas, coolers, alcohol or outside food or beverages. Concessions and a 21+ beer tent will be available at the event. - No, re-entry, & No smoking.
COVID 19:
An inherent risk of exposure to COVID-19 exists in any public place where people are present. COVID-19 is an extremely contagious disease that can lead to severe illness and death. Senior citizens and guests with underlying medical conditions are especially vulnerable.
By visiting our establishment, you voluntarily assume all risks related to exposure to COVID-19.