Description
Are you already a real estate investor looking for a greater return?
Are you interested in learning what it takes to own and manage a vacation rental?
Are you curious about real estate investing and want to learn more?
Then this three-day educational training event in beautiful Branson, MO is just for you!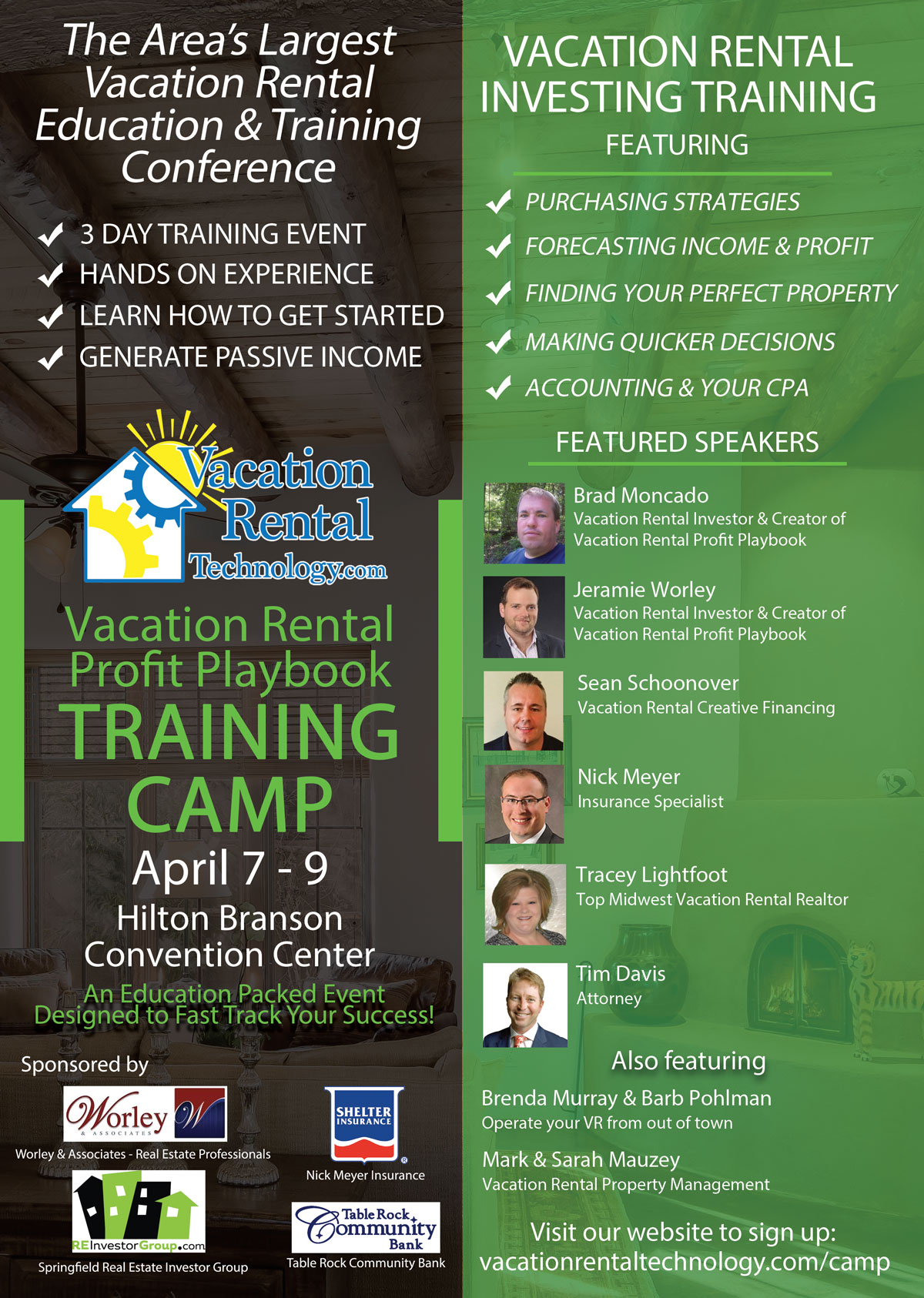 The 3-day educational training event is taught by real estate investors Brad Moncado & Jeramie Worley. Brad & Jeramie have helped countless entrepreneur-minded individuals get started in vacation rentals. From finding the actual property, negotiating a deal, and making your first money - they know how to get you started. For the experienced investor, they have helped with easier ways to manage properties, increase ROI, and accelerate growth with a power team around you.
In this 3-day event, they will cover everything you need to know to get started and the advanced topics to have an easy-to-mange thriving passive income business. No matter what stage you are in, you will leave the event with the actionable steps to be a better vacation rental investor and grow your business.
Take a look at the sample of topics that will be covered during the 3-day educational event.
Day 1
9am – Checkin and overview of the day's schedule
Morning Session Topics
Make accurate values of income potential
History of the market & what makes it tick
Rules to help you make quick decisions on properties
Lunch Break
Afternoon Session Topics
Using a realtor to buy & sell a vacation rental
Determine the area, size, and property that is right for you
Creating a proforma for banks and financing
Financing Strategies
Day 2
Morning Session Topics
Essentials for your success
Marketing your property online (VRBO, Airbnb, etc)
Operating your property from anywhere
Lunch Break
Afternoon Session Topics
Building your power team
Protecting your properties
Accounting and your CPA
How to manage
Day 3
Morning Session Topics
True stories from vacation rentals
The best way to clean your properties
Advice from experts
Lunch Break
Afternoon Session Topics
How to handle emergencies
Do's & Dont's learned on the job
Calendar Management
And that isn't even all of it! We have so many educational and fun things planned for the event. You do not want to miss this!
Learn more about the event here: http://vacationrentaltechnology.com/camp

See you there!