Brand:YOU, "Identities That Make Statements"

Thursday, May 19, 2011 from 6:30 PM to 9:30 PM (PDT)
Event Details
NOTE: THERE WILL BE TICKETS AVAILABLE FOR $15 AT THE DOOR. 
If you are interested in hearing about future events, 
Become a NetIP SF Bay Area Member, 
Join our Facebook Group or 
Become our Friend on Facebook.
Note: Like our last 10 events, this event will sell out early so buy your tickets while they are available.
The event will be followed by a Wine and Cheese Reception.
About the Event
Brand:YOU, "Identities That Make Statements" is a seminar that talks about success in business or whatever realm you are exploring.
You will get the inside scoop: secrets and hidden rules of success of people on the move from all walks of life. You will learn how the branding principles and strategies developed from the commercial world may be used to achieve your business and personal potential. 
In short, YOU are a Brand.
In the personal branding mindset, you are your most important asset, an asset like education that no one can take away from you. This seminar will tell you how to maximize the value of that asset, both in terms of self actualization, becoming who you can be and in terms of human capital, maximizing the financial value of your career. Yet personal branding is not taught in school and has become the most neglected aspect of education.
Top entertainers, politicians and athletes have long used branding principles and strategy to create Stardom. Now, savvy professionals, business people and entrepreneurs are also using self or personal branding to become more successful.
We will study the lives of successful entrepreneurs and well known business executives at this seminar which will talk about professional success in terms of getting paid what you're worth, landing the promotion you deserve, or launching a start up that lasts. Self branding doesn't just benefit you but it is a strategic process that benefits the company you are working for or building.
This seminar is for people who want to reposition and rebrand themselves for a second act. It is for entrepreneurs, professionals, and business owners who want to fuse their personal and company brands into identities that will help them achieve maximum impact. It is for kids and teenagers and even their parents who want the best school brand stamped on their resumes because it will give them a good head-start. It is especially for women, who were told as children "don't upstage your brother" or "it's not nice to call attention to yourself".  The truth is if you don't brand yourself, someone else will!
About the Location
This event will be held at Kiev Training Room in Building 40 at Google Headquarters in Mountain View, CA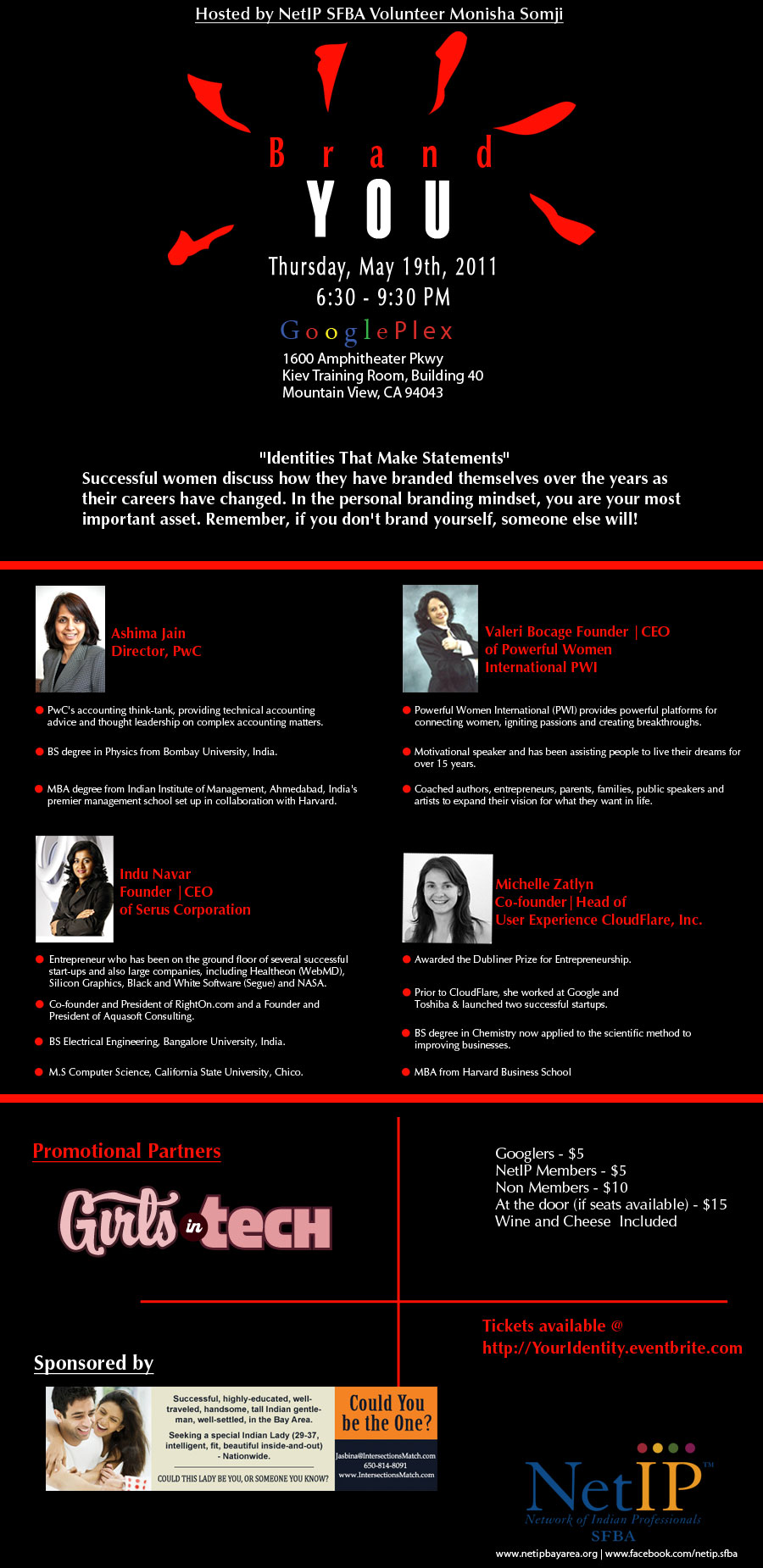 When & Where

Kiev Training Room, Google Headquarters, Building 40
1600 Amphitheater Pkwy
Mountain View, CA 94043


Thursday, May 19, 2011 from 6:30 PM to 9:30 PM (PDT)
Add to my calendar
Organizer
Over the years, NetIP has become a premier networking brand in our community. It is the unequivocal voice for an emerging group of South Asians, who excel in every aspect of western society, from business to politics to the arts. The rise of NetIP and its affiliated chapters reflects a general "Coming of Age" by South Asian professionals. We are proud to state that many of our present members and past alumni now hold respected positions of leadership in the private, public, and non-profit sectors all over the world. We aspire to be the facilitating vehicle used by South Asian professionals to improve and enhance the communities in which we work and live.