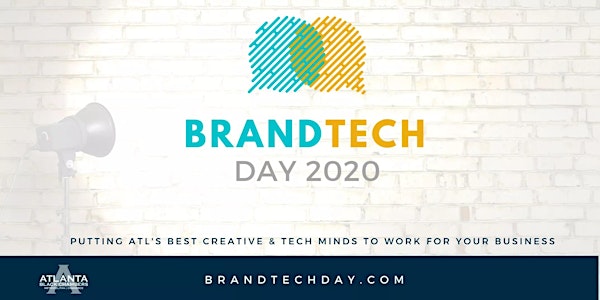 BrandTech Day 2020 | Mini-Conference for Entrepreneurs
Atlanta's biggest mini-conference bringing branding and technology together for entrepreneurs and personal branders.
By Atlanta Black Chambers
When and where
Date and time
Saturday, October 10, 2020 · 7am - 12pm PDT
About this event
As an entrepreneur, we know you wear a lot of hats. In fact, we know there's a 66% chance that you're personally responsible for at least three (if not all) of these areas in your business: branding/marketing, IT, sales, operations, finance, human resources, customer service, and product development. The vast majority of Atlanta Black Chambers business owners don't feel confident that their business is identifiable in the marketplace and at least a third of business owners feel that keeping up with technology advances is a major concern.
Branding and Tech are two of the biggest struggle areas for many ATL-area business owners. 
That's why we created BrandTech Day.
Why? Because we get it. Everybody needs help in the beginning but no one ever feels they have the funding needed to pay large agency fees or get practical IT help. BrandTech Day makes these critical services affordable for the everyday entrepreneur. Everybody can use that break - at least for one day! We're offering BrandTech Day to small to medium-sized business owners for a power-packed, mini-conference day of one-on-one consultations tailored specifically to your business with both branding and tech experts, hot-topic BrandTech workshops and - of course - our Virtual BrandTech Exhibitor Hall and Artist Gallery. It's part of an effort by some of ABC's best creative and tech minds to help provide some much-needed help to fellow entrepreneurs in Atlanta and beyond.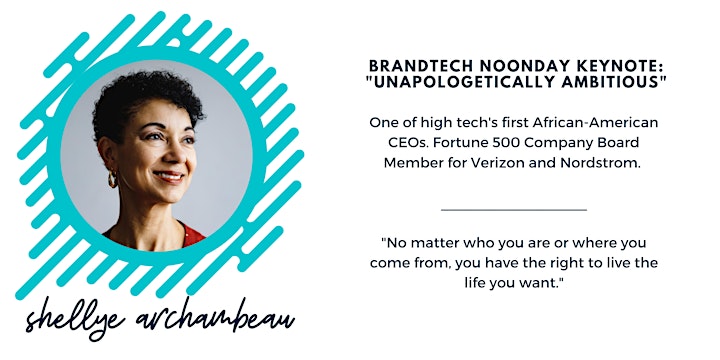 Meet our Keynote Speaker
BRANDTECH DAY NOON KEYNOTE
Shellye Archambeau | San Francisco Bay Area
One of high tech's first female African-American CEOs, BrandTech Day Keynote Speaker Shellye Archambeau is a recognized global business leader whose name frequently appears in Forbes, the New York Times, Business Insider and more. Shellye's on the board of Fortune 500 Verizon and Nordstrom as well. While many know of Archambeau's tremendous accomplishments as a trailblazing female executive pioneer, few know the backstory of the shy, gangly black girl who set her sights on becoming a CEO at sixteen years old. Shellye turned that ambition into a practical and focused action plan to build massive success. Her message is clear: no matter who you are or where you come from, you have the right to live the life you want.
@shelarchambeau | shellyarchambeau.com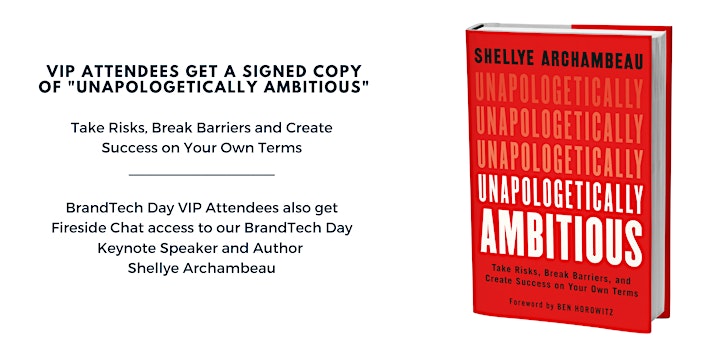 BrandTech Day VIP Attendees will receive a signed copy of Shellye's new book "Unapologetically Ambitious" - to be released just days before BrandTech Day kicks off! VIP'ers also get an exclusive invitation to a fireside chat with the keynote.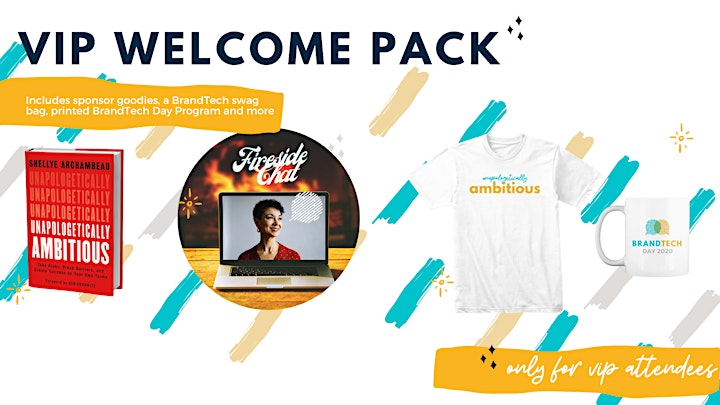 A day valued at over $475+ now available to you - through Tues. 1 Sept. only - at $100 for VIP Access.
It's true, we only have a very limited amount of VIP spots for this event, so please save your spot while you can. Additionally, ABC members can enjoy special sponsorship pricing at a 20% discount. Hope to see you there! 
Save 30% right now from full day-of pricing (while tickets last).
TICKET TYPES
General Admission Tickets: This ticket includes access to the BrandTech Day general sessions as well as the BrandTech Day workshops, the BrandTech Day Virtual Exhibit Hall and Art Gallery. It does not include one-on-one consultations tailored for your business.
All-Access Tickets: This ticket includes everything in the General Admission ticket, plus it includes the one-on-one consultations tailored for your business (which you are entitled up to 3 such consultations included in your price). It is not required to utilize any or all of the consultations. Consultation access may not be passed on to any other attendee. | Visit brandtechday.com to check out our 2020 Consultant lineup available to you.
VIP Tickets: This ticket includes everything in the All Access ticket, plus a signed copy of our lunchtime keynote Shellye Archambeau's book "Unapologetically Ambitious," a shipped VIP BrandTech Day Welcome Package that includes the printed physical program and a BrandTech Day T-Shirt as well as sponsorship goodies crafted specifically for VIP Ticketholders. Finally, VIP attendees only are exclusively invited to our special fireside chat with BrandTech keynote speakers.
___________________________________________
About BrandTech Day Consultations: In addition to the breakout sessions, individual consultations will be available to those who purchase the BrandTech Day All-Access Tickets. Attendees will receive consultation selections a few weeks prior to the event and will also have time to send in materials and links for their consultants to review. View consultants here.
About BrandTech Day Workshops: Workshops are available to all attendees. You will receive additional communication allowing you to register for your workshops of preference in advance. View workshop details here.
About the organizer
Since January 2, 2005, the Atlanta Black Chambers has been a proactive force throughout the region. Establishing sustainable businesses within our membership is our number one priority. Ensuring our member businesses and organizations remain relevant, competitive and sustainable for future generations is our mission.