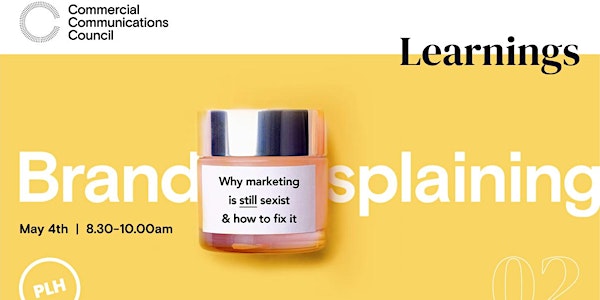 Brandsplaining: Why Marketing is still sexist and how to fix it
Brandsplaining: Why Marketing is still sexist and how to fix it
About this event
Jane Cunningham and Philippa Roberts (She/Her)
Co-authors of Brandsplaining: Why Marketing is still sexist and how to fix it
Co-founders and Directors of PLH Research
Philippa Roberts and Jane Cunningham are the co-authors of 'Brandsplaining: why marketing is still sexist and how to fix it' published by Penguin last year.
The book - described by Penguin as a cross between Invisible Women and Ogilvy on Advertising – is based on 15 years of market research with female audiences. It examines how and why sexist tropes continue to dominate, the strengths and failings of 'fempowerment' communications, and the 'sneaky sexism' that now characterizes much of modern marketing. The authors then propose a set of ten innovative principles – built out of their research – to create marketing that is fresh, exciting and, at last, sexism free.
Described by Dr Aarathi Prasad as "an outrageously important book. Erudite, funny and deeply engaging" Brandsplaining has been an Amazon Bestseller since its launch in September last year.
In their talk, Jane and Philippa will introduce us to three key themes from the book followed by a Q and A to discuss and explore way to better connect with female audiences.
Jane and Philippa are also the co-founders and directors of the research agency PLH: the UK's leading research consultancy specializing in female audiences.