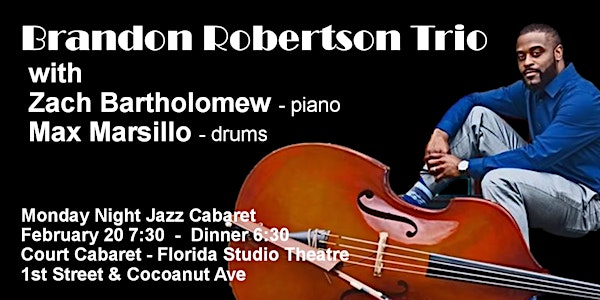 Brandon Robertson Trio- MNJC
Brandon released his first album "Bass'd on A True Story," which reached #16 on the iTunes Top 200 Jazz Releases.
When and where
Location
John C. Court Cabaret 1265 1st Street Sarasota, FL 34236
Refund Policy
Refunds up to 7 days before event
About this event

John Court Cabaret at Florida Studio Theater
1265 First Street, Corner of Cocoanut Ave
Doors Open for Dinner/Drinks at 6:30 P (priced separately)
Performance Begins at 7:30 P
Tickets Available Beginning Wednesday, January 4, 2023
Brandon Robertson Trio
Brandon Robertson, Zach Bartholomew & Max Marsillo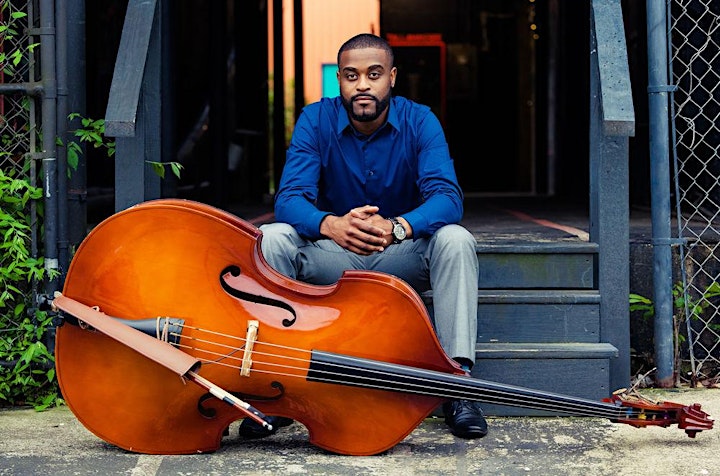 Brandon Robertson: World-Acclaimed Jazz Bassist brings a soulful flavor to Southwest Florida
By Dr. William S. Barnett www.wsbarnett.com
Brandon L. Robertson is an internationally acclaimed Upright/Electric Bassist originally from Tampa, FL. Brandon's soulful music will stir your soul and fill your heart. Florida Gulf Coast University is blessed to have him on its faculty. He is inspiring and mentoring some of the greatest jazz musicians in Southwest Florida. I am honored to welcome him to our Beethoven 250 Series!
In 2009, he graduated from Florida State University with a Bachelor of Arts in Music with a focus on Jazz Studies. In the same year, Brandon became a member of the popular Florida-based jazz trio The Zach Bartholomew Trio. In 2012, the trio released their first album entitled "Out of This Town", which received notable reviews from jazz critics. In 2015, Brandon performed at the world-famous Dizzy's Coca Cola Club in New York City with the nationally recognized FSU Jazz Sextet joining members of the JALC Orchestra.
Aside from being an active musician, Brandon is also an advocate in Jazz/Music Education. Brandon has presented jazz clinics, workshops, masterclasses, and guest performances in schools K-12 throughout Florida, Georgia, and Texas. In the Spring of 2016, he earned his Master of Music in Jazz Performance at Florida State University. During this two-year period, he directed jazz ensembles, small jazz combos, taught various music-related courses at the University each semester, and performed with traveling national acts visiting the campus. He was also a faculty member of Abraham Baldwin Agriculture College School of Music in Tifton, GA where he taught applied bass and helped assist with the jazz ensemble.
As a prominent bandleader, Brandon has taken his band on multiple national tours, headlining at some of the top jazz venues in the country, such as The Palladium, Open Stage, Blues Alley, Andy's Jazz Club, The Jazz Showcase, The Jazz Kitchen, Cliff Bells, NightTown, The BOP STOP, The Jazz Estate, Shapeshifter Lab, The Side Door, Twins Jazz, Velvet Note, B-Sharps Jazz Club, and many others. To add to his impressive resume, Brandon has performed with notable acts such as The World Famous Count Basie Orchestra led by director Scotty Barnhart, Vocalist Carmen Bradford, Laila Biali (2019 JUNO Award Winner), Tony Lindsay (11x Grammy Winner and singer for Carlos Santana), Jason Marsalis, Marcus Roberts, Marty Morell (Drummer of Pianist Bill Evans: 1968-1974), Vocalist Carla Cook, George Clinton, Vocalist Kenny Washington, Dan Miller (Former Member of The Harry Connick Jr. Big Band), Lew Del Gatto (Former Member of the SNL Band), Charlie McCoy (International Harmonica Player, Country Hall of Fame), Eric Alexander, Wycliffe Gordon, Greg Tardy, Marcus Printup (Member of the JALC Orchestra), Warren Wolf, and Dick Hyman. Brandon has also toured 22 countries in Europe traveling from the Mediterranean, up the capital of Iceland.
Brandon has performed in the South Carolina Jazz Festival, Savannah Jazz Festival, Sanibel Jazz & Blues Festival, The Landings Music Festival, Florida Jazz & Blues Festival, and In May of 2017, Brandon made his debut as a Headlining Act at the 2017 International Jacksonville Jazz Festival in Jacksonville, FL.
Currently, Brandon is the Director of Jazz Studies & Director of the Basketball Band at Florida Gulf Coast University in Fort Myers, FL. He is now an honorary member of the Kappa Kappa Psi Mu Upsilon Chapter at Florida Gulf Coast University. In 2018 Brandon was part of a nominated-documentary for a Suncoast Emmy Award for best documentary for educational collegiate programs featuring the FGCU Jazz Ensemble.
Brandon has currently released his first album "Bass'd on A True Story" through Canadian label Slammin Media/Believe Distributions. The album has reached #16 on the iTunes Top 200 Jazz Releases.
Covid Requirements:
The Jazz Club of Sarasota follows CDC guidance regarding Covid safety policies. Facemasks are recommended but not required at this time. This policy could change as community health conditions change.