Description
BRANDMAN UNIVERSITY ALUMNI COLLOQUIUM
Please join us at the January 14, 2017 Immersion for the opening keynote presentation by Scott Mautz-Make it Matter.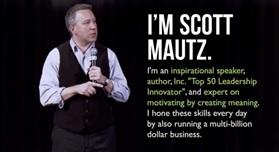 How many people find a true sense of meaning and fulfillment in their jobs? Unfortunately, studies show that most do not. In fact, 70% of workers are actually disengaged and are experiencing a greater search for meaning at work then in life. Their bodies may put in long hours, but their hearts and minds never really punch in. And that's a terrible dilemma for organizations trying to motivate their workforces to do more with less.
Make It Matter is the antidote to crisis levels of disengagement and absence of meaning at work. This upbeat, original book shows how managers can craft meaning – the motivational tour de force of our times. In so doing, they can connect, inspire, and catapult employees (and themselves) into new realms of productivity and well-being that sustains. Join Scott Mautz and the doctoral faculty as he shares his research during an engaging and dynamic keynote presentation.
*Scott's book will be on sale following the keynote.
FOLLOWING SCOTT'S PRESENTATION ALL ALUMNI/DISSERTATION STUDENTS ARE INVITED TO JOIN SCOTT MAUTZ FOR AN EXTENDED CONVERSATION ON HIS THESIS
9:00-10:30 Pacific Ballroom Immersion Keynote Speaker: Scott Mautz
10:30-10:45 Break and Book Signing
10:45-11:30 A Conversation with Scott Mautz
11:45-12:45 Lunch and Networking
1:00-2:30 Career Advising and Job Seeking Roundtable
Below is the reservation link for the Hilton Orange County/Costa Mesa that our guest can use to make online reservations: Book your group rate for Brandman Alumni Colloquium
Please contact edd@brandman.edu with any questions.