Branding for Startups: Crafting and Sharpening Your Brand Story
Description
GET YOUR STORY STRAIGHT
Prior to launching, it is imperative that new startups get their go-to-market story focused and single-minded. This workshop will show you how to get your brand story both sharp and sticky. Specific topics will include the following:
Common mistakes in brand positioning
Determining the foundation for your story: WHAT you offer vs. HOW you operate vs. WHAT you stand for
Developing a brand "handle"
Case examples from B to C and B to B companies
GUEST SPEAKER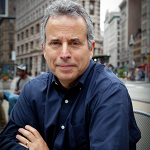 This workshop will be led by Allen Adamson, branding and marketing expert and author of BrandSimple, BrandDigital and Shift Ahead.
WHO SHOULD ATTEND
Open to all NYU affiliates.
PRO TIPS
To avoid long check-in lines, bring your printed PAPER registration ticket.
AGENDA
5:15 -- Check-In
5:30 -- Workshop
7:00 -- Event End